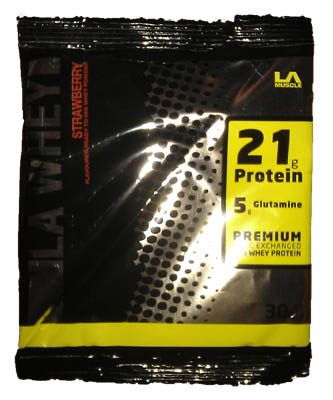 When the opportunity arose to bag a sample of LA Muscle's LA WHEY in Strawberry flavour, I decided to check it out and compare against the other whey proteins and flavours on the market, to help myself and other supplements takers. Arriving in a foil packet, the sample contained 30g of whey protein powder – one serving, which I decided to take one night after training in ju-jitsu.
Opening the packet, the whey didn't smell particularly of strawberry. Instead, it smelt a bit synthetic compared to other whey proteins. I mixed the 30g of protein in with 300ml of water and shook. The powder seemed to mix well enough which led me onto the taste test. Unfortunately, the LA Whey tasted worse than it smelt. It tasted nothing like strawberry, instead it tasted quite artificial, like I would assume unflavoured powder would (I've never had unflavoured so can't 100% comment). Due to the taste, I struggled to finish the protein shake off and poured the rest away.
For premium ionic exchanged CFM whey protein, containing 21.2g of protein, 5g glutamine, 4.3g of carbs (of which 4.1g are sugars) and 1.8g of fat, providing 498kj of energy, I was rather disappointed.
Looking at other reviews on their website, they seem to have quite a few fans who've gone on to buy tubs and tubs of the stuff, so if you aren't too fussy on flavour it may work for you, but as someone judging from the taste from a sample sachet, I won't be likely to persue this particular whey protein.
LA WHEY is available from £49.99 (908g)
Rating: