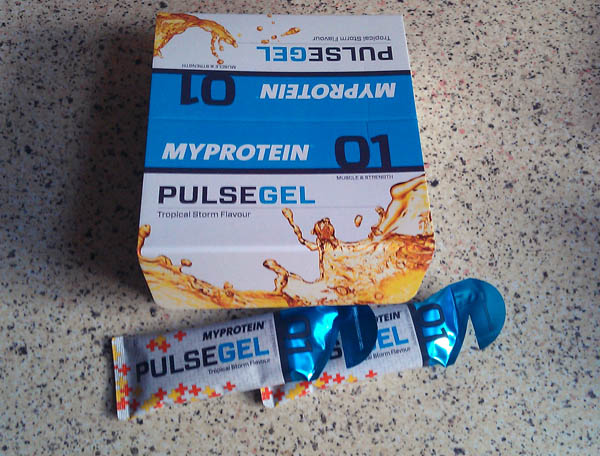 Sometimes before training, it's good to get an extra kick – a burst of energy that will help you see through the session, especially if you've been working all day too. There's nothing worse than getting part way into your martial arts class or weightlifting session and feeling tired and exhausted. Fortunately, there's a group of supplements on the market called pre-workout gels which are just the thing to tackle this issue, and in this review I will be taking a look at one of them called Myprotein Pulse Gel in Tropical Storm flavour.
Recommended Consumption
When you purchase Myprotein Pulse Gels from their official website, they'll come in a box of 12. Each squeezey sachet-tube contains 50g of caffeinated gel that will give you that much needed burst of energy during your training.
With a choice of Berry Blast or Tropical Flavour, the latter of which I'll be giving my opinion on in this review, the sachets are small enough to put in your coat pocket on the way to the gym, ready to consume 15 minutes before training. Myprotein advise only to take one sachet in a 24 hour period, due to the caffeine content. I always think it's best to take one after having something to eat, so I usually have a nibble 2 hours before I train and then a Pulse Gel 15 minutes before taking to the mat for grappling or sparring, whatever we might be doing in class that day. Keeping hydrated by drinking plenty of water is also a must too, particularly when taking pre-workout gels.
Myprotein Pulse Gel Sachet and Taste
The Myprotein Pulse Gel sachets are rectangular in shape with what looks like a Pacman-shape end. This cut out allows you to rip the sachet at the end and squeeze the yellow-orange gel out of the packet. Be careful not to spill it down yourself, as the gel itself is bordering on more liquid than thick like a yoghurt.
The Tropical flavour of Pulse Gel is quite tangy and super sweet and can make you pull some very strange faces indeed when consuming! The taste isn't awful, it's just a bit zingy and once you've consumed the entire contents of the sachet, the tropical flavour aftertaste is quite pleasant.
Effects of Pulse Gel
After consuming a Myprotein Pulse gel sachet, I felt pretty normal. No tingling, increased heart rate or any other effects you might associate with caffeine intake.
During my training session, I didn't feel any weird sensations whatsoever, but I was more awake than usual and felt that I could do more than I normally could without becoming tired. Even after the training session finished, I could have happily continued rolling on the mat with my fellow students.
Ingredients
Besides from caffeine, Myprotein Pulse Gel contains some other popular pre-workout, energising ingredients including beta alanine and arginine alpha ketogluterate.
The full ingredients list is as follows: Water, Tapioca Starch, Beta Alanine, Citrulline Malate, Taurine, Acetyl L Carnitine, Arginine Alpha Ketogluterate, Gelling Agent (Hydroxpropyl Methyl Cellulose), N Acetyl L Tyrosine, Caffeine, Guarana Extract, Natural Flavour, L Novaline, Sweetener (Sucralose), Preservatives (Sodium Benzoate, Potassium Sorbate), Niacin, Vitamin B6, Riboflavin, Thiamin and Vitamin B12.
Pulse Gel also contains contains 1500mg of Beta-Alanine, 1500mg of Citrulline Malate, 1000mg of Taurine, 750mg of Acetyl-L-Carnitine, 750mg of Arginine AKG, 300mg of N-Acetyl-L-Tyrosine, 221mg of Caffeine, 150mg of Guarana Extract, 50mg of L-Norvaline and  Vitamins B1, B2, B3, B6, B12: 100% RDA in each 50g sachet serving.
But what kind of nutritional value does each sachet of Myprotein Pulse Gel provide? Well, the label on the back of the sachet states that the gel proves 138kJ of energy, with no fat, 2.3g of carbohydrates (none of which are sugars), 3.9g of protein and 0.02mg of salt.
Overall Opinion
I like these Myprotein Pulse Gels. Whilst the taste can initially be a bit tangy on the ol' tastebuds, it's actually quite pleasant with its tropical fruit flavour. The pre-workout gel sachets are easy enough to take with you to the gym and the ease of opening the sachet by hand makes for fuss-free consumption. I like the fact it has no adverse effects, as I dislike the tingling feeling that I had with Optimum Nutrition's Beta Alanine. Despite its caffeine fill, I never felt wired but instead comfortably alert during the training session and able to take my training to the next level. If you decide only to take them every now and again, the gels have around a 10 month 'best before' date, leaving you with plenty of time to consume them.
Rating:
Myprotein Pulse Gels are available at £16.99 for a box of 12 from Myprotein in either Tropical or Berry Blast flavour
Make sure to check out our MyProtein voucher code page to see if there's any discounts, offers or freebies before purchasing.