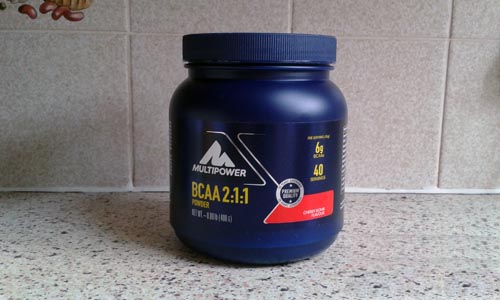 I'm not one of those people who have every supplement going. I tend to stick to what works for me and my current training programme, so currently my supplement cupboard contains pre-workout powders, whey protein, protein bars and BCAA powder. The BCAA works extremely well as a recovery drink both post and day after training and I'm always on the lookout for new flavours of BCAA that tickle my tastebuds and provide the recovery that I need after a hard session on the mat.
In this review, I'll be discussing Multipower BCAA 2:1:1 in Cherry Bomb flavour.
Multipower BCAA 2:1:1
I love taking BCAA powder. I don't know why, but it's my favourite of the lot, mainly because it often gives me a refreshing kick and helps prevent me from being sluggish and tired both during and after martial arts training or doing some weights. Multipower BCAA 2:1:1 is no different.
Opening the 40 serving, 400g tub of Multipower BCAA 2:1:1, I'm greeted with a fine white powder with a sweet scent. With the little scoop provided, I add two scoop fulls of the powder (10g in total) to a shaker bottle containing 200ml of water as instructed on the tub's label.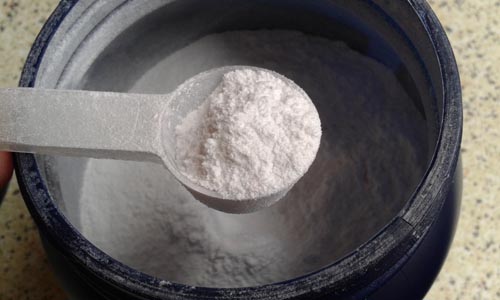 After shaking the mixture for 10-15 seconds, the BCAA drink turns a vivid cerise pink colour and is completely mixed. Taking the lid off, you can smell the fruity flavour.
Drinking the Multipower BCAA liquid is an absolute pleasure. Super smooth in taste with a light, fluid texture like water, there's no lumps of powder whatsoever. The strong cherry flavour hits the tastebuds so intently that it makes you stand to attention with its refreshing taste. Sweet but not overly so, the Cherry Bomb flavour is extremely addictive and I find myself consuming the entire BCAA drink in one go. There's no way I'm putting the shaker down for a single second! Consuming every last drop, there's no powder left at the bottom of the shaker bottle.
Some BCAA powders can be mixed in glass of water but this is not one of them. If you do this, you'll find it incredibly difficult to mix and thus the mixture won't taste right. Multipower BCAA 2:1:1 must be mixed in a shaker bottle where it mixes with ease and in it's entirety, leaving a delicious, mouth-watering recovery drink.
Ingredients and Nutritional Value
Multipower BCAA 2:1:1 contains Branched Chain Amino Acids (30% L-Leucine, 15% L-Valine, 15% L-Isoleucine), Maltodextrin, Acidifier: Citric Acid, Acidity Regulator: Tri Sodium Citrate, Flavouring, Sweeteners: Sucralose, Acesulfame-K; Palm Oil, Anti-Caking Agent: Silicon Dioxide and Colour: E122, the latter of which may adversely affect children's activity levels and powers of concentration). The powder may also contain traces of Egg, Milk and Soya.
For each 10g serving, Multipower BCAA provides 59kJ/14kcal of energy, 0.1g of fat, 2.2g of carbohydrates (0.2g of which are sugars), 0.15g of salt, 3g of L-Leucine, 1.5g of L-Isoleucine and 1.5 of L-Valine.
Multipower BCAA 2:1:1 is not suitable for pregnant or breastfeeding women, children or minors under the age of 18 and should not be used as a substitute for a varied diet and a healthy lifestyle. Those with impaired kidney function and those on a low-protein diet should consult their GP before taking this product.
The 2:1:1 L-Leucine, L-Valine and L-Isoleucine ratio helps to stimulate protein synthesis, encouraging muscle growth and repair after a workout. The higher percentage content of L-Leucine over the other two essential amino acids increases the muscle protein synthesis and the 2:1:1 ratio is suited to give you the fat burning qualities of L-Isoleucine and the energy of L-Valine to fight fatigue, encourage recovery and give you that bit of extra energy when the BCAA supplement is taken before or during training.
Overall Opinion
Multipower have done it again. I've been mightily impressed by their supplement range of late and the Multipower BCAA 2:1:1 is no exception. It mixes incredible well, possibly the best of the BCAA's I've tried so far, and it's taste is so smooth that it's as though I'm drinking flavoured water. The Cherry Bomb flavour is indeed 'da bomb' and is so strong and refreshing on the taste buds that it's not only wonderful to consume but quite moreish too! I definitely feel more energised taking the BCAA after a workout than when I don't and I feel it's a great addition to supplement my martial arts training, particularly where strength, muscle building and endurance is concerned. This BCAA drink is an absolute winner in my eyes on all fronts.
Rating: