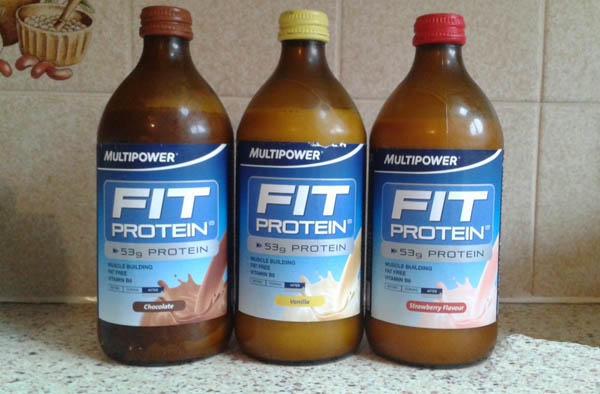 If you're into taking supplements or looking after yourself, then protein-rich nutritional products are one of the major supplements that you can take if you're into the fitness lifestyle. Ideal for repairing and growing the muscles after weightlifting, martial arts classes or sports training, protein is often available as whey powder but in more recent times, supplement brands such as Multipower have been producing ready to drink (RTD) protein drinks that can be consumed straight from the bottle without any need of a blender bottle or the mixing of powder and water/milk.
In this review, I'll be taking a look at the range of Multipower Fit Protein drinks.
Multipower Fit Protein
Available in a variety of flavours including Banana, Chocolate, Strawberry and Vanilla, Multipower Fit Protein is a ready-to-drink, protein-carbohydrate drink with skimmed milk retentate and milk protein (heat treated) that helps to replenish, grow and repair muscles after training. The high carb content is perfect as a recovery drink to replenish the muscles and to promote glycogen synthesis to aid regeneration and growth.
With the bottle labels recommending to store Multipower Fit Protein in a cool place, I put all my bottles in the refridgerator until I was ready to cosume them.
I train Ju-Jitsu mostly in the evenings and so there's nothing better than coming home to a protein drink. Taking a cool bottle of Multipower Fit Protein from the fridge, a quick shake is all that is needed before consuming.
No matter what flavour I tried, be it chocolate, strawberry or vanilla, the strong taste hits your tastebuds straight away. Though the scent of the drink is hard to distinguish through the small opening of the glass bottle, the flavour itself is so bold and delicious that it tastes exactly like the fruit or flavour you were expecting with no lumps at all, just a smooth, taste-sensation texture. Storing the drinks in the fridge also give a refreshing edge to the protein-carb drink too to make it absolutely irresistable and absolutely thirst-quenching.
Whilst all the flavours are absolutely delicious, I must admit that the strawberry flavour must be the best tasting strawberry protein drink I've tried as it actually tastes of strawberries. Most protein drinks taste only a little like what they're meant to but Multipower Fit Protein drinks taste exactly like the flavour they're labelled as and they're all the better for it!
Ingredients and Nutritional Value
There's slight variations of ingredients between the flavours of Multpower Fit Protein.
Banana flavour contains Skimmed Milk Retentate (94%), Sucrose, Flavouring, Vitamin B6, Stabilizer: Carrageenan.
Chocolate flavour contains Skimmed Milk Retenate (91%), Sucrose, Milk Protein (3%), Fat Reduced Cocoa Powder (1.3%), Vitamin B6, Stabilizer: Carrageenan.
Stawberry flavour contains Skimmed Milk Retenate (94%), Sucrose, Flavouring, Vitamin B6, Stabilizer: Carrageenan, Colour: E120.
Vanilla flavour contains Skimmed Milk Retenate (91%), Sucrose, Milk Protein (3%), Flavouring, Vitamin B6, Stabilizer: Carrageenan.
Due to the milk content, these protein drinks are unsuitable for those with an allergy to lactose but the drinks are gluten-free, aspartame-free and also suitable for vegetarians.
Check out the table below for the slight varients on the nutritional value per bottle of Multipower Fit Protein.
| | | | | |
| --- | --- | --- | --- | --- |
| Nutritional Value Per 500ml | Banana | Chocolate | Strawberry | Vanilla |
| Energy | 1788 kJ / 421 kcal | 1825 kJ / 430 kcal | 1788 kJ / 421 kcal | 1788 kJ / 421 kcal |
| Fat | 1g | 2g | 1g | 1g |
| – of which are saturates | 0.5g | 1g | 0.5g | 0.5g |
| Carbohydrates | 50g | 50g | 50g | 50g |
| – of which are sugars | 50g | 48g | 50g | 50g |
| Dietary Fibre | <0.1g | 2.5 | <0.1g | < 0.1g |
| Protein | 53g | 53g | 53g | 53g |
| Salt | 1.3g | 1.3g | 0.6g | 1.25g |
| Vitamin B6 | 1.2mg | 1.2mg | 1.2mg | 1.2mg |
Overall Opinion
The Multipower Fit Protein drinks are ideal to take to the gym or even on a picnic on a nice summer's day as there's no need to mess about with shakers, powder and water which often results in a mess that needs to be cleaned up. Just a little shake of the bottle is all that's needed before consuming and once you've drank the entire bottle, which is so easily done in one sitting due to the amazing taste of the Fit Protein, you can easily dispose of the bottle. No dirty shakers to clean out or to forget about in your bag.
Refreshingly delicious when consumed straight from the fridge, these particular RTD protein drinks are terrific for anyone looking for a hit of protein and carbs where taste matters.
Rating: