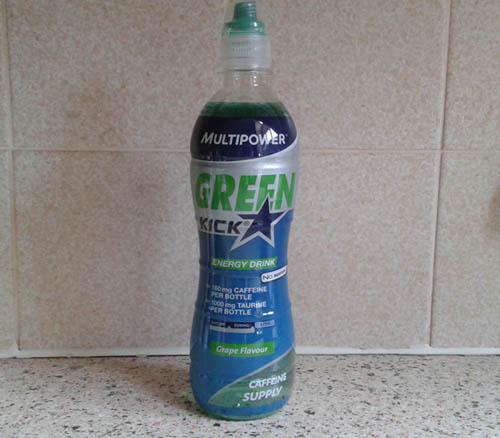 We've all been there. Sometimes it's just one of those days when you need an energy boost to get you through training. Luckily, there's products on the market to help with this and Multipower Green Kick is one of them!
Check out my thoughts on the Multipower Green Kick energy drink in my review below.
Multipower Green Kick
Sold in packs of 12, the 500ml bottles of Multipower Green Kick come in grape flavour.
The pea-green coloured drink is really delicious and tastes just like grape. It's not fizzy or carbonated instead tasting quite flat and soft which means it goes down easily and won't make you feel bloated. It's unassuming flavour means it's very easy to drink way more than you need to, especially on a hot, thirsty day, so you must keep a mental note not to drink too much in one sitting, after all it's filled with caffeine, taurine and guarana extract!
In order to drink the Green Kick, you have to push down the green nozzle top of the bottle which allows the liquid to flow out. When you've finished drinking and no longer applying pressure to the top, you'll find that no drink spills or leaks out of the bottle. This is a handy mechanism for anyone who's going to the gym with this energy drink or even popping it in their bag or on their person during sports, be it cycling or running. The shape of the bottle too, like an hourglass, makes it easy and comfortable to hold as your hand wraps around the narrower middle.
Using Green Kick Energy Drink
If I'm training in the evening after work or a tiring day, I often need an energy boost to get me through the punishing Ju-Jitsu classes. The warm-up, roll and padwork can be killer if I'm tired or low on energy and so I usually take a pre-workout if I'm feeling like sleepy or lethargic prior to training.
Multipower Green Kick is an ideal replacement for pre-workout powder if you're looking to be awake and alert. Taking the 500ml bottle to the gym with me is simple: just chuck the bottle in my bag and no need to mix any powders up. The bottle's handy push-down nozzle top means it won't leak in my gym bag either.
I've discovered that Green Kick is extremely potent stuff. I've never drunk more than half of the 500ml liquid during a training session as there's just no need to. A third of the bottle is plenty to get through a two hour session and will make you fully alert. The flat yet sweet-like-nectar taste is very addictive so you have to watch you don't take more than you need as too much can leave your tummy sloshy which isn't good when you're bouncing around doing padwork or constantly switching from press ups and to sit ups.
I can safely say my experience with Multipower Green Kick has been positive. Sometimes I'm sceptical of energy drinks as I often find they don't give the energy boost they promote but that's certainly not the case with Green Kick. It truly gives you the kick you need to push through training which is exactly what you want. I would say be careful though if you have a low caffeine tolerance. After training twice in a day, two hours in the afternoon and then another two hours in the evening, I had Green Kick on both occasions and may have overdone it with the energy drink. I found in the evening that I felt as though I was burning up around the neck area and I felt a tad unwell. My neck was turning a little red and I realised I'd consumed too much caffeine in a certain timeframe. After learning my lesson, I had no further issues with Green Kick, knowing only to consume small amounts during training and not to overdo it. As I say, it is very potent stuff!
Ingredients and Nutritional Value
Multipower Green Kick contains Water, Sucrose, Acidifier Citric Acid, Taurine (0,2%), Acidity Regulators: Calcium Chloride, Dipotassium Phosphate, Magnesium Carbonate; Flavour, Caffeine (0,03%), Guarana Extract (0,02%), Preservatives: Sodium Benzoate, Potassium Sorbate; Sweeteners: Acesulfame-K, Sucralose; Colours: E104, E131.
Each 500ml bottle provides 347kJ/81kcal of energy, 18.3g of carbohydrates (17.9g of which are sugars), 160mg of caffeine and 1000mg of taurine. The caffeine and taurine, combined with the guarana extract, are known to provide energy boosts which makes them ideal ingredients for a workout drink such as Green Kick.
Green Kick is suitable for vegetarians and vegans and is aspartame-free, gluten-free and lactose-free.
Overall Opinion
With a delicious grape flavour, Multipower Green Kick certainly packs a punch to keep you alert when training in martial arts or other sports. It's refreshing and does the trick and the great thing is that it's drinkable straight from the bottle so no faffing about mixing powder and water. This means there's less mess to wash up too! I prefer Green Kick to Multipower's other product Red Kick due to the taste and potency and for the fact that Green Kick isn't fizzy like its red counterpart. It does what it says on the bottle and gives you the kick you need when consumed before or during training.
Rating:
Save
Save