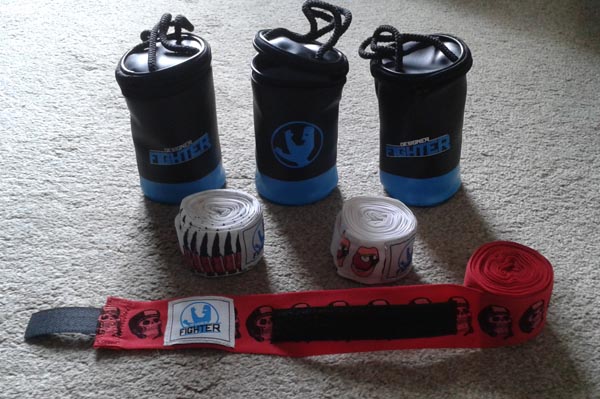 Boxing hand wraps aren't just for wearing underneath your boxing gloves to provide extra support to your wrists and hands when striking. They're also great for wrapping your hands for shadowboxing or for barefist bagwork. I've even worn them during Ju-Jitsu and grappling classes when I've injured my wrists to offer myself support as well as being a visually identifier for my class mates to stay well away from any joint locks on that particular wrist.
Many hand wraps come in a range of colours but very rarely do they have a design. This is where brand Designer Fighter have stepped in. Their range of hand wraps offer more than just your plain coloured ones. With a variety of designs available, they inject fun into hand wraps to make training that bit more positive.
Each pair of Designer Fighter hand wraps come in a cute, leatherette, black and blue carry pouch. The circular prism shape pouch has a zip fastened flap at the top with crossover carry rope attached which acts as a handle. Emblazoned with Designer Fighter text and image logo, this little carry case is a wonderful addition to the hand wraps and makes for an excellent portable storage case for them when not in use.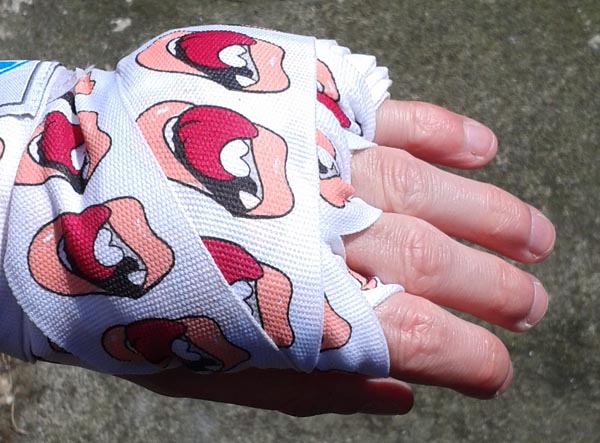 Made from a smooth nylon material, the stretchy Designer Fighter hand wraps measure roughly 177 inches in length, plenty to wrap your wrists sufficiently with. One end has the thumb loop, which i don't tend to use when wrapping my hands, whilst the other has a velcro strap with a Designer Fighter patch stitched an inch and a half away from the velcro strip on the fabric itself. Depending on which design you choose, the image is printed throughout the entire length of the fabric.
Designer Fighter have five designs to choose from. We had the great fortune to check out and test three of them: Hot Fighter, Sharpshooter and Gravedigger. The Hot Fighter design looks to inspired by the Rolling Stones lips albeit this pair must belong to a fighter as they sport a missing tooth. It's a bit of an unusual design, I must admit, and guys may well shy away from this particular design in favour of the cooler, edgier prints. One such design is the sharpshooter which features a row of red and navy bullets, perfect for someone who's sharp and accurate with their striking. Finally, my favourite design of the bunch is the Gravedigger. Printed on red fabric insteaf of white, the design consists of a skull wearing a headguard. They look badass and the red wraps really work well for this particular design. Other designs include Dropping Bombs, which features a radiation symbol on yellow wraps, and Gifted on the Ground, which features a present giftwrapped with a BJJ black belt.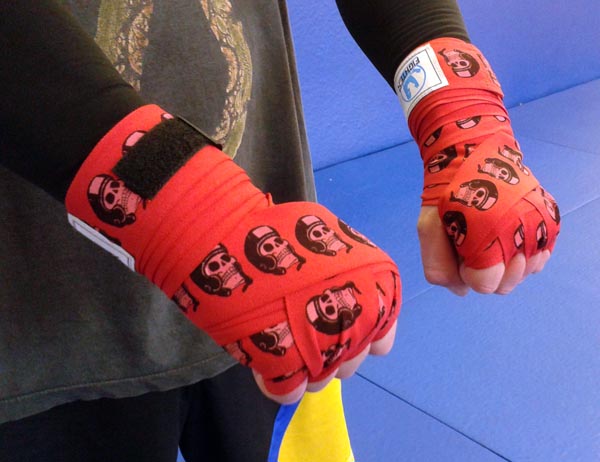 Compared to a pair of cotton handwraps, these Designer Fighter hand wraps are made from a smoother, slippier fabric which means when wrapping your hands the fabric is more likely to move out of position if you're not careful. However, the wraps are stretchier too which means you can wrap your hands tighter than you can with ordinary cotton hand wraps.
I compared these hand wraps to a pair of cotton ones and found that, providing they were wrapped in the same way, they both offer the same amount of protection as each other. Whether it's punching with just the wraps on or wearing underneath boxing gloves, they offered the same protection whilst being jazzier in design than your standard plain hand wraps.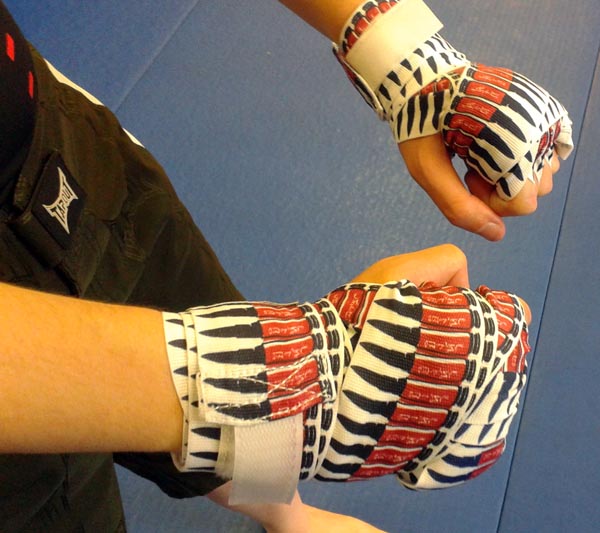 When wearing hand wraps you want them to fit snug and secure. The velcro strap is long enough to fasten the wraps tightly after wrapping and is securely stitched onto the fabric. There are no issues with the construction of the hand wraps. In the aesthetic department, the Lips and Sharpshooter designs which I received have a minor ink bleed on a small section of the wraps but it isn't noticeable when wearing them to train with. This certainly doesn't hamper the praticality of the wraps themselves and is often hidden underneath layers of fabric when the hands are fully wrapped.
Competitively priced against the plain coloured cotton hand wraps (that don't come with a snazzy carrying case), the Designer Fighter hand wraps offer fighters and martial artists, even fitness enthusiasts, something a little bit different to what's currently on the market. They're here to say you don't have to have boring wraps – you can spice it up! I must admit we had great fun wearing them during training and the eye-catching designs put a little smile on our face when punching the bag and pads opposed to the plain ones where you don't even give the wraps a second thought other than if the hands are wrapped properly to provide the right protection.
If Designer Fighter can provide custom options for individual fighters and clubs, then I think that will really appeal to the market, especially to those looking to get themselves known in the competition circuit or even for gyms to promote their club.
Much like jazzy boxing gloves, if you're looking for wraps that offer everything your standard hand wraps do but with that extra oomph to make you stand out from the crowd, then Designer Fighter might have just what you need.
Designer Fighter hand wraps are available for £7.99 a pair.