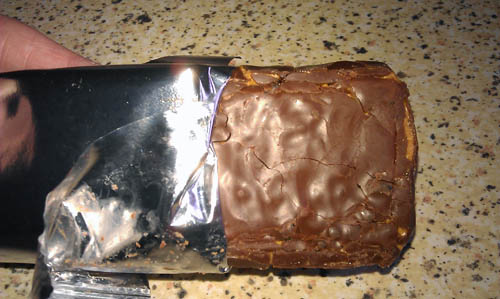 As I train in Ju-Jitsu 3 to 4 times a week, usually in the early afternoon or evenings, I like to snack on protein bars as a bit of a pick-me-up, as well as giving my body a hit of protein to help repair and grow my muscles. I've tried various flavours from different brands, some of which I've enjoyed and others I've disliked, but all seem to have a common theme of being mainly oaty or tasting a tad synthetic.
Myprotein have just launched a brand new protein bar, aptly named Protein Chox. The Myprotein Protein Chox 60 grams bars that I received were in two different flavours, Cappucino and Maple and Pecan. My samples got squashed in the post, so please excuse the photos, though this did not affect my enjoyment. If you were to buy these in the shops, they'd come in a box of 12 and therefore not be as punished at the hands of the postal service.
Despite being compressed, the protein bars remained intact for the my consumption and review. First, the Cappucino bar.
CAPPUCINO PROTEIN CHOX
As soon as I peeled back the packet, the Cappucino aroma hit me. I dislike drinking coffee but love Cappucino chocolates, so imagine my delight when the Protein Chox bar was also covered in chocolate. Yum! Many other protein bars look quite oaty but Protein Chox resembled a chocolate bar.
Taking a bite, the texture is soft and smooth, with a slight chewiness. The bar is split into 3 sections:
the top layer of chocolate
middle layer of cappucino
bottom layer of soft biscuit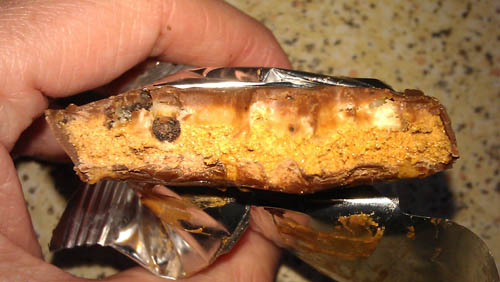 Unlike some protein bars, Protein Chox is quite moist and the Capuccino flavour is absolutely delicious. Made from real coffee, it seems there's been a lot of effort to make this a great tasting bar, but also retain its qualities as a protein bar, delivering when the body needs it most.
A 60g bar contains Fat: 5.7g of which saturates 3.1g, Carbohydrates: 25g of which are sugars 15g, salt: 0.06g and the all-important 21 grams of protein. Each 60g bar is said to provide 952kj/228kcals of energy too. If you compare the protein content to other similarly priced bars, Myprotein Protein Chox sits above the likes of Optimum Nutrition Whey Crisp (15g) and CNP Professional Flapjack bar (18g), offering good value for money.
One thing that I'm always aware of is Best Before dates, even if I don't always follow them. Judging from the dates on the packet, Protein Chox are expected to last a year before their Best Before date. I heartily advise keeping them in a cool place though due to their chocolate content.
MAPLE AND PECAN PROTEIN CHOX
Maple and Pecan aren't a strong a flavour as Cappucino is, so upon opening the bar it didn't smell of much besides chocolate but looked very much like its coffee counterpart.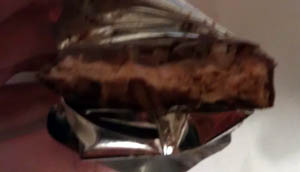 A bite into the Protein Chox bar and you can taste the real Maple and Pecan nuts in a tasty but subtle way. Soft and moist like the Cappucino bar, the texture is smooth, and not a nut extravaganza like a Snickers bar, thankfully.
Again, the Maple and Pecan bar resembles a similar structure, except the biscuit-like layer is in the middle, above the nuts.
A 60g bar of Maple and Pecan Protein Chox differs slightly in content to the Cappucino flavour. The bar serves 1013kj/242ckal of energy and contains Fat: 8g of which saturates 3.2g, Carbohydrates: 23g of which are sugars 15g, salt: 0.05g and 22 grams of protein. Therefore, if you're looking for the bar which gives your body a more protein, it'd be the Maple and Pecan flavour.
Both bars are made in a facility that handles Egg, Soy, Gluten, Crustaceans and products thereof, so if you happen to be allergic to any of those products, stay clear.
Overall Opinion on Protein Chox
These Myprotein Protein Chox bars are pretty darn delicious and with such a wealth of protein concealed in these tasty, chewy chocolatey bars, it's hard not to like them. The flavour comes flooding through as soon as you bite into them and they're an absolute pleasure to devour and taste less like a supplement and more like a commerical chocolate bar. Because of this reason, and the fact they're packed full of the nutrition you can find in similar products which lack the taste, I predict these bars will become a protein bar of choice. Myprotein can definitely count me as a fan!
Rating: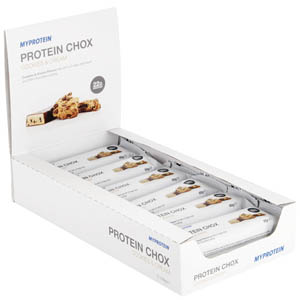 Myprotein Protein Chox are available for £19.99 for a box of 12 direct from Myprotein's website.
The Protein Chox are available in 4 flavours: Maple and Pecan, Cappuccino, Caramel Nut and Cookies & Cream
Make sure to view our Myprotein voucher codes before purchasing to take advantage of any live offers applicable to your order.