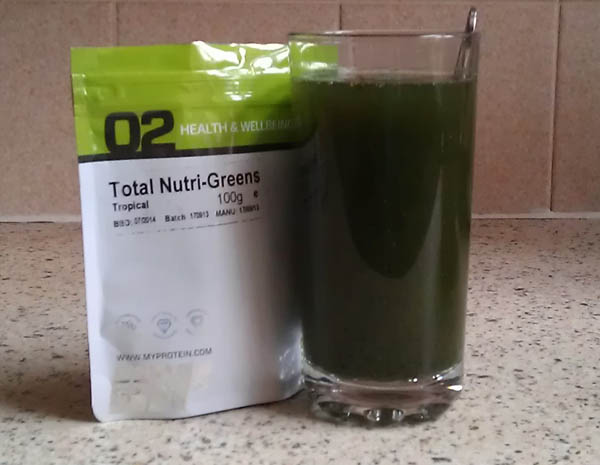 I am a fussy eater. I like certain vegatables like broccoli, parsnips and potatoes, and enjoy a selection of fruit, such as apples, pineapple, melon and grapes, but I never seem to get my five a day. Ever. To be honest, I'm lucky to get three a day, so when a sample sachet of MyProtein Total Nutri-Greens landed in my lap and promised to fill me with all the 5 a day goodness and much more, I was both excited and a little sceptical. Could this powder really give me the nutrition that I've been lacking? Let's find out:
MyProtein Total Nutri-Greens
A quick look on MyProtein.com explains that MyProtein Total Nutri-Greens provide a range of 22 super foods, fruit powders and algae brimming with antioxidants. Sounds delightful and just what my body is lacking. The powder comes in two flavours: unflavoured and tropical, and in this review, I'm testing the tropical flavour.
The tropical flavoured MyProtein Total Nutri-Greens officially contain Soy Lecithin, Spirulina, Flavouring, Apple Fibre Powder, Barley Grass Powder, Wheat Grass Powder, Oat Fibre Powder, Pomegranite Seed, Alfalfa Grass Powder, Chlorella Broken Cell Wall, Citric Acid, Soy Sprout Powder, Acerola Berry, Red Beet Root Powder, Siberian Ginseng, Carrot Powder, Tomato Juice, Astragalus Root Powder, Spinach Leaf, Brocolli Powder, Gingko Biloba, Green Tea Leaf, Grape Seed, Elderberry Whole Fruit Powder, Blueberry Whole Fruit Powder, Beta Carotene, Sweetener (Sucralose). Wow. There's fruits I've never tried in there and ones I've never heard of, so already I'm impressed with how much healthy foods this supplement contains.
The recommended intake is 10 grams of MyProtein Total Nutri-Greens powder mixed with 250ml-300ml of water, juice or protein drink, to be taken, at most, twice daily. The MyProtein website even suggests that the powder can be sprinkled onto your food.
I opted to try the powder mixed with 280ml of water for breakfast for 5 days and here is my feedback:
Aroma and Colouring
Open the resealable packet and the MyProtein Total Nutri-Greens powder is a healthy looking pea green colour. The powder has a slight hint of green foods aroma to it, along with a sweeter scent which no doubt indicates the tropical flavour. The aroma stays pretty much the same as I scoop the recommended 10 grams dose into a glass of water. The Total Nutri-Greens colouring is quick to take over and turns the liquid into a deep green, with some of the powder clotting into clumps. Mixing it with a spoon, I can see all the powder breaking down and particles mixing together, though I'm unable to get the mixture to dissolve completely.
I'm left with what looks like a mossy green drink, that is quite the definition of healthy. I keep a spoon in the glass at all times, as I find that the powder likes to settle at the bottom, so I give it a good stir each time before drinking it.
Taste
I've not tasted the unflavoured, but Tropical flavoured MyProtein Total Nutri-Greens is delicious! Sweet but not too overpowering, the tropical hint compliments the tasty green super foods. The texture of the drink is slightly bitty but otherwise quite smooth, with the Total Nutri-Greens drink going down a treat without any nasty aftertaste. This is ideal for someone as fussy as I am, as I'm quite a stickler when it comes to my tastebuds.
Effects
Having taken MyProtein Total Nutri-Greens for breakfast for the last 5 days, I can definitely say I've experienced a change. The rest of my daily diet has stayed the same but I feel more awake and alert, buzzing with energy. Is it down to the Nutri-Greens? Who can say, but I certainly feel better off whilst taking them than I did beforehand.
I'm an asthma sufferer who trains in Ju-Jitsu and in my class this week, I found myself suprisingly wheeze free, despite my usual need to take my inhaler every lesson after the initial intense exercise. My asthma is mild and only occurs after sprinting and sudden bursts of energy, but to find myself not needing my inhaler at all is something I will monitor whilst taking the Nutri-Greens. I cannot say whether the powder has helped, but it's something I will certainly take into account.
Overall Thoughts
As someone who'll probably never get their 5 a day, MyProtein Total Nutri-Greens is a delicious alternative, filling my body with all the healthy foods and antioxidants used to prevent cell and tissue damage. After feeling much more alert, I can definitely see myself consuming this nutritional supplement for the foreseeable future.
Rating:
MyProtein Total Nutri-Greens is available directed from MyProtein.com in two different weight packs, 330g and 660g, in unflavoured or tropical flavour.
Unflavoured starts from £14.99 and Tropical from £16.49
Make sure to check out our MyProtein voucher code page to see if there's any discounts, offers or freebies before purchasing.