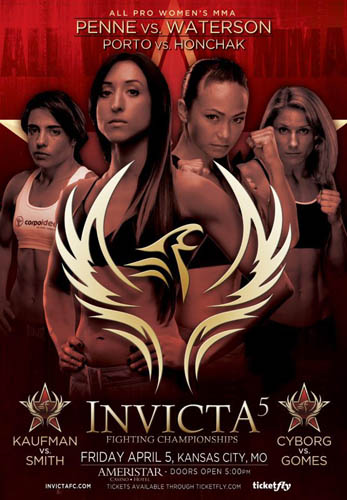 This upcoming Friday 5th April, get ready for the show of a lifetime as 26 pro female MMA fighters battle it out in 13 bouts at INVICTA FC 5, headlined by Jessica Penne vs Michelle Waterson and Vanessa Porto vs Barb Honchak.
Other fights on the night include:
Cris Cyborg vs Fiona Muxlow (Muxlow replaced an injured Ediane Gomes)
Sarah Kaufman vs Leslie Smith
Zoila Frausto Gurgel vs Jennifer Maia
Kaitlin Young vs Lauren Taylor
Julia Budd vs Mollie Estes
Bec Hyatt vs Jasminka Cive
Simona Soukupova vs Cassie Rodish
Jessamyn Duke vs Miriam Nakamoto
Katja Kankaanpaa vs Juliana Carneiro Lima
Alex Chambers vs Jodie Esquibel
Rose Namajunas vs Kathina Catron
The event, which is taking place in Kansas City from 6pm on Friday 5th April 2013, is dedicated to Ramon 'The Diamond' Dekkers, the Dutch former world thai boxing champion who tragically lost his life on 27th February 2013.
For just $9.95, you can watch all 13 fights on internet PPV by visiting invictafc.com Pre-order your PPV today!