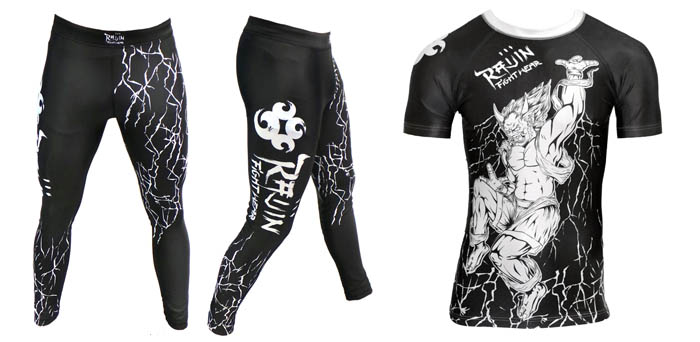 Midlands based fightwear company, Raijin Fightwear, have announced the re-arrival of their striking Lightning Grappling Spats after the first batch they put up for sale sold out that very same day.
Alongside the Grappling Spats, which are mainly used in no-gi BJJ, is the brand new short sleeved Raijin Demon rashguard, identical in design to its long sleeved brother.
Both the Raijin Fightwear Grappling Spats, also known as compression tights, and Raijin Fightwear Demon Short Sleeved Rashguard, are very competitively priced at £34.99 and are available from sizes Small to XXL
Both items are made from 80% polyester 20% elastane and are perfect to wear when training MMA or BJJ, particularly no-gi grappling BJJ. The sublimated designs mean the print will not peel or fade, and the soft, smooth fabric creates a barrier between your skin and the person your training with, preventing you from catching skin infections that can be encountered when rolling.
For more on these Raijin Fightwear designs and others, including t-shirts and caps, visit raijinfightwear.com