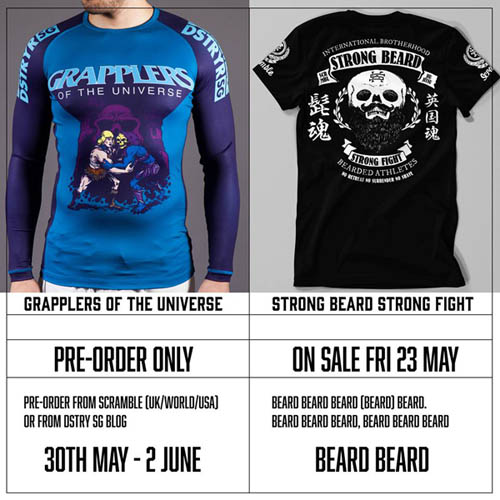 BJJ and lifestyle brand Scramble have announced that their Strong Beard Strong Fight t-shirt, for all those facial haired grapplers out there, will be going on sale on Friday 23rd May 2014. The t-shirt will be launched in the evening in the UK, which will, in turn, be the morning of 23rd May for American customers.
The following weekend from 30th May til the 2nd June 2014, pre-orders will launch for Scramble's collaborative effort Grapplers of the Universe long sleeved rashguard, which they worked on with DSTRY SG. The rashguard features He-Man and Skeletor grappling on the front of the rashguard. We must say, it looks bloody awesome from the photo!
Strong Beard Strong Fight t-shirt will be available to purchase from Scramble's website, alongside the pre-order of Grapplers of the Universe rashguard. The rashguard can also be pre-ordered from the DSTRY SG blog.