Welcome to August edition of Martial Artist of the Month, a section dedicated to YOU – the martial artists of the world.
In this month's edition, we interview Thai-boxer, Tom Bowker.
Please can you tell us a bit about yourself?
My name is Tom Bowker, I am 16, and I live in Bolton, England. I am a blue grade armband in Thai boxing, and have red belt with yellow stripe in Judo.
How old were you when you got into martial arts and what made you want to learn?
I started to do martial arts when I was 7. I started doing Judo, Boxing, and Kick-boxing. I wanted to start because I had watched it on TV and thought "I want to do that", so my mum took me down to do Judo but everyone was a lot bigger than me and I didn't really enjoy it that much so my dad took me down to do boxing for a little while and I wanted to just learn how to fight.
Which martial art did you learn first?
I started of doing Judo for 2 years and then went into boxing and I did that for about 1 year. I stopped doing martial arts because I wasn't interested any more but then when I was 13 I joined a kick-boxing gym and trained there for a few month but I just didn't feel like it was for me. When I turned 14 I wanted to do boxing and found a gym and started to train. After about 3 months I decided I want to do something else, so I searched everywhere and found a local Thai-boxing gym about 10mins away from me, so I went down to train and I loved it and have been going ever since.
Have you entered any competitions or participcated in any demonstrations?
I entered my first competition in 2012 in Southport, which was a Thai boxing fight, it was my first fight, and I was a yellow grade armband in Thai-boxing. I was nervous because it was my first one, unfortunately u lost by split decision. After the fight I loved it so in 2013 I had another one which was on my home show at holiday inn, after losing my last one it made me want to win so bad, I won it by unanimous decision. 4 Months later I had another on the same show and I won by unanimous decision again.
I have taken part in a few demonstrations – 2 in the Bolton town centre, 1 at BCC Garage and 1 at Westhoughton High School
Which is your favourite weapon and why?
I have not really trained with any weapons just yet, but if I had to pick one I would say nunchucks.
Which martial arts are you currently studying and at which clubs?
I am currently training Muay Thai at Bolton Muay Thai and I love it lots of great instructors and training partners.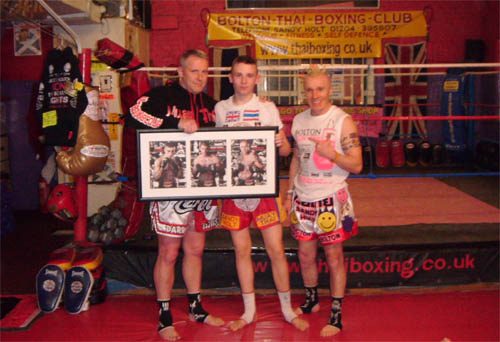 Which is your favourite technique?
I think my favourite technique is probably left body kick or spinning kick. They are not really exiting moves but I like to use them all the time especially left body kick which I use a lot in my fights, and spinning kick which I like to practise in training a lot.
Who inspires you in the martial arts world?
There are lot of people that inspire me to do Martial arts, I like to watch UFC and there are lots of fighters in there that inspire me like Anderson Silva and Shogun Rua because they are great Muay Thai fighters. Also Tyrone Spong a great stand up striker that has competed in K1, Glory, Showtime and lots more.
What are you most proud of in your martial arts career?
I would say my most proud moment is when I won my 2nd fight and got a Fight of the Night award. It was not just getting fight of the night but winning the fight because it was the first win I had got.
Have you any advice to give to other martial artists out there?
Listen to everything you get told because if you don't listen you won't learn. Also believe in yourself and push yourself.
What's your favourite martial arts film?
I have lots of favourite martial art films but the best one of them all has to be Rocky. I remember seeing my dad watching it when I was young and then I started to watch it all the time.
Thanks very much, Tom, for your time!
You can Follow Tom on Twitter @tombowker97
If you'd like to be considered for Martial Artist of the Month , be sure to drop us an email.