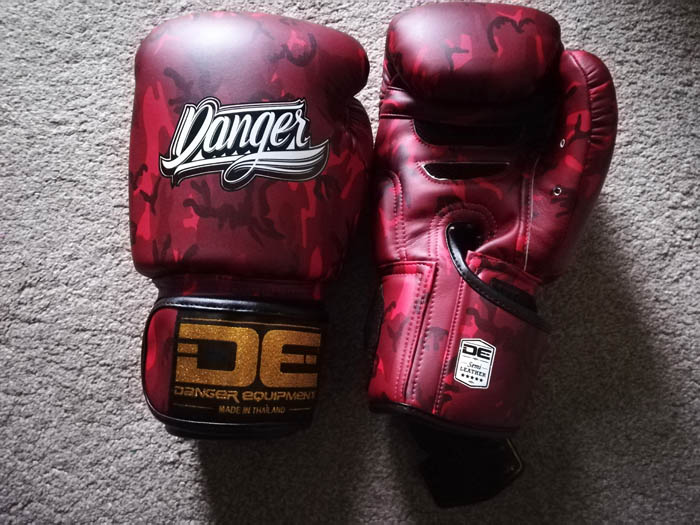 The thing I love about martial arts is that it encompasses a range of techniques from strikes to locks, throws to submissions and I'm a great believer in learning as much as possible in each style to get a rounded fight game whether you're taking to the cage or ring, doing it for fun or fitness, or want to be able to defend yourself in a threatening situation.
One of my favourite aspects of martial arts that really gives me a workout and improves my cardio, strength and technique is boxing. Whether it's Muay Thai with kicking, kneeing, punching and elbows, or boxing – hitting the bag, hitting the pads or sparring with a training partner, the art of striking is one that's important to incorporate in your training plan whether you're flying solo or with a partner.
Whilst I do my fair share of bare knuckle striking training at Ju-Jitsu, the majority of the time I'll use boxing gloves especially when on the bag and sparring against someone – neither of us wants broken bones and we especially don't want a bloody nose or black eye if we can help it.
In this review, I'll be taking a look at Danger Red Army Edition Boxing Gloves in 14oz.
Danger Red Army Boxing Gloves
"These are my boxing gloves. They are many like them but these gloves are mine." Okay, so that might not exactly be the line from Full Metal Jacket but what is true is that whilst boxing gloves may look similar to each other in appearance, they can differ wildly in quality. The Danger Red Army Boxing Gloves are one of the more favourable brands on the market, made in Thailand but without the price tag of rival brands Fairtex and Sandee. That's not to say they lack in quality though. Far from it. Having never held a pair in my hands before I was looking forward to seeing just what the gloves were like, having heard many positive things about the brand.
Design and Features
When I first received the boxing gloves, I was impressed by the solid feel and appearance of the glove. These are boxing gloves that are ready for action and don't mind getting stuck in which is a good job as I like to put some power into my punches, especially if I'm working the bag or the pads. Of course, I take it easier on a training partner. I opted for the 14oz weight as I like to use the same pair of gloves for bag and pad work as I do sparring instead of having separate ones. 16oz are usually too heavy for the bag and 10oz far too light with little protection for sparring so 14 oz is a happy medium that can work in favour of both types of training.
One of the first things that struck me about the Danger Boxing Gloves was the construction of them. They look and feel well-made and of high quality. The stitching is well done with double stitching at most of the stress points, particularly where Danger have inserted extra padding such as the outer side of the hand (pinky side) which is a great area for blocking and catching kicks, and the inside arch of the fingers which helps when making a fist inside the glove. The latter area is accompanied by black mesh fabric which is separated into three sections, travelling from the palm towards the fingers. This is to improve breathability of the hands when punching which helps to maintain a better temperature inside the glove, keeping the hands cooler, and helps prevent excess sweating of the palms and fingers inside the glove. No doubt this will also help with odour issues too with the gloves able to dry out a bit better.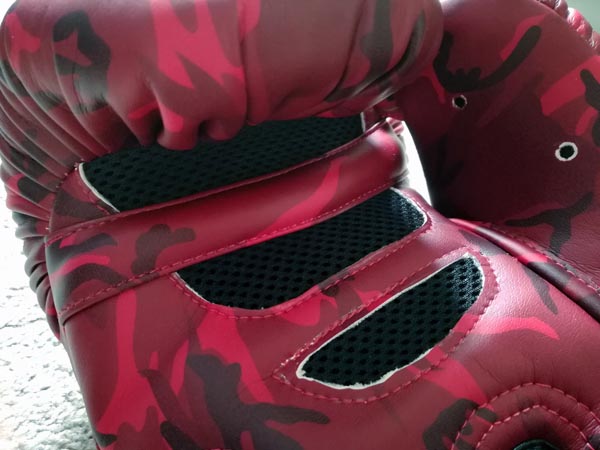 The thumb section of the glove is attached to the main fingers which I kind of like as it helps to pull in and protect my thumb from damage when striking and avoids the risk of eye pokes. The inside of the thumb features three strategically-placed air holes to further improve breathability and keep a better temperature inside the boxing gloves.
The 4 inch cuff of the glove features a 3 inch broad velcro strap that securely wraps around the wrist fully and appears to be durable enough to withstand many fastens in its lifetime. The interior of the cuff features padding which offers protection to the wrist when the gloves are being used, particularly for strikes against a heavy bag and power punches. The shorter cuff is also meant to aid better movement to throw elbows and the like in Muay Thai though the gloves themselves come quite far down my forearm thanks to my short arms.
Boxing gloves have padding but the quality and amount of padding can differ glove to glove, brand to brand. In these Danger Boxing Gloves, no matter the oz weight, the gloves feature four layers of shock absorbent foam padding. This benefits both the gloves and the user as the glove area which makes contact with the bag and the body of your opponent is less likely to compact or breakdown compared to the way other gloves can do with inferior padding solutions. Not only does this increase its life expectancy at optimal condition but is also a blessing for the protection of both your fingers and your opponent.
Like most gloves, the interior of the Danger boxing gloves are lined with a nylon-esque fabric which is particularly useful for its non-absorbent qualities which helps the gloves dry out after use.
Appearance and Construction
The appearance of the boxing gloves are probably the least important but is what we all look at first. The red army camouflage print is subtle compared to some garish, eye-popping designs out there but has enough about it to say "hey, look at me". The back of the glove features the Danger brand logo which appears to be vinyl printed on the back. With most gloves this is usually the case and after time these logos wear off with usage and rubbing against other gym items in the kit bag. I suspect these gloves will suffer the same fate though so far the print remains intact. The glove cuff is stitched with a patch bearing the 'DE Danger Equipment – Made In Thailand' logo in shimmering, glittery gold thread whilst the weight and 'Semi-Leather' emblem are printed further along the circumference of the cuff.
The Danger Boxing Gloves are more affordable due to their semi-leather construction which will appeal to vegans and the like who care about the welfare of animals and may be ethically against using leather goods. Despite its name, the gloves don't contain leather but feature three layers of synthetic leather: the first layer being made of Polyurethane (PU) and the second and third layers of microfibre. Now, I normally shy away from PU due to its inferior quality but this "semi-leather" version appears to be thicker than the cheap, nasty stuff you can find covering the £20 boxing gloves from Pakistan. Danger's website say the thickness is approximately 1.05mm which is a comparable thickness to leather whereas PU usually comes in just over half the thickness. Comparing the Danger Gloves to a pair of Tapout MMA Gloves I possess, the semi-leather fabric certain looks thicker and more durable.
Using the Danger Boxing Gloves
I often find myself training on the punch bag as it allows me to practice my technique, get a work out and pump up my arms and shoulders without depending on another person. This is particularly useful when you find yourself all on your lonesome. Slipping the Danger Boxing Gloves on, I am always surprised by the tightness of the gloves. I don't believe I've ever worn a pair of boxing gloves this snug before and that's even without handwraps! I really like the fact they're a tight fit as it feels like I don't have to chase after the glove as though it's trying to escape me and my hands don't feel like they're flapping around in a fish bowl either. With the gloves such a close fit, I feel they are more at one with my hands, the 14oz weight feeling more a part of me and allowing me to strike the bag more confidently. Compared to my Blitz 16oz gloves, these feel much heavier, though upon weighing them the Danger Boxing Gloves are the correct weight.
When training with a partner holding the pads, these gloves really come into their own. Not only do they feel comfortable, even after a long period of hitting the pads, but you get a sense of satisfaction from striking with them. The gloves offer great protection for the fingers and thumb with plenty of padding supporting those particular areas. The glove cuff reaches further down my forearm than my other pairs of boxing gloves though I can still throw elbows within a close range however I try to exaggerate it a little so I don't catch the edge of the pads with my glove cuff. I wouldn't say it was too much of an issue and those with longer arms than I, which will be most people reading this, shouldn't have any problems.
Having used the Danger Boxing Gloves over the last six weeks, they certainly haven't given me any doubt as to their durability as of yet. When sparring with a partner in Muay Thai, they feel neat and sturdy whilst the padding on the outer side of the glove is great for protecting my hand when blocking and catching kicks and parrying away incoming punches. The tight fit of the gloves makes me feel as though my technique accuracy has improved and also gives me the confidence when striking due to the better feel. If you train martial arts then you'll know that "feel" is such an important sense to use and in striking I feel that is no different.
In Ju-Jitsu we strike bare-knuckled most of the time on pads so I often like to use boxing gloves without wraps. The test of a good glove is whether or not I feel pain when punching with boxing gloves without wraps underneath and I'm pleased to say that these gloves stand up to the test. From heavy shots to light, fast jabs on the bag, my hands feel comfortable throughout and I don't feel like I have to pull any punches at all.
After a hard sweaty session on the bag, pads or sparring, the Danger boxing gloves seem to dry out fine and the mesh inserts that are present to encourage breathability seem to help keep the temperature more comfortable inside the glove.
Overall Opinion
The Danger Red Army Boxing Gloves are a fantastic pair of boxing gloves that would suit any striker whether you train in boxing, MMA, Muay Thai or Kickboxing or even if you're just looking for a pair of quality boxing gloves to hit the punch bag with for personal fitness reasons. Not only do they look the part but they feel the part too and the tighter fit is a huge bonus for me.
Though the gloves aren't leather, the semi-leather that Danger Equipment have used seems almost on a par with the quality of leather and is head-and-shoulders above the cheapo PU gloves that are out there.
With the padding in all the right places to help protect my hands and fingers from sustaining damage, these Danger Boxing Gloves made in Thailand are certainly boxing gloves worth considering if you're after a new pair of quality gloves that won't break the bank.
Rating:
You can purchase the Danger Army Boxing Gloves in a variety of colours from Danger.Shop
Alternatively, if you fancy some customised boxing gloves, head guards, shorts or shin guards, then visit Danger Customisable shop. You can also get 10% off if you sign up to their newsletter.