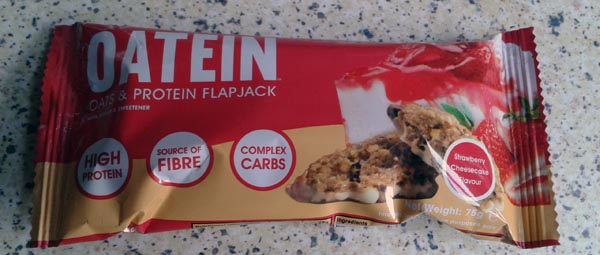 I find myself eating protein bars more frequently than I've ever done before. Hitting martial arts classes around 4/5 times a week, my appetite has increased and whilst I could treat myself to a protein shake straight after class, I often enjoy eating something rather than consuming a protein drink, particularly if I'm training out of town.
In this review, I'll be taking a look at the Oatein Oats and Protein Flapjack in Strawberry Cheesecake flavour.
Oatein Protein Flapjack – Strawberry Cheesecake
The Oatein bar is a mass of golden coloured oats embedded with strawberry flavoured fruit pieces and white chocolate chips whilst the base is smothered with a white chocolate coating. You can really smell the strawberry cheesecake flavour which also reminds me of scoffing Jammy Dodgers as a child. Aaah, nostalgia!
The bar itself is quite a decent size measuring at 4 inches in length, 2 inches in width and 0.5 inch in depth approximately. The uneven texture of the oats means the size may differ slightly from bar to bar.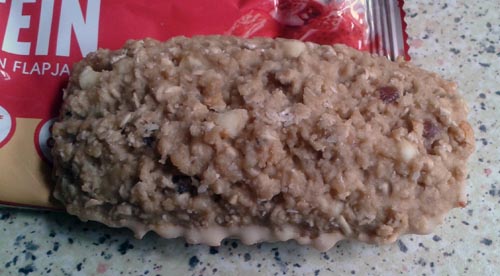 Biting into the Oatein bar, it tastes rather thick and chewy with bits of dried oats mixed within the moist flavouring as I chew. The texture is crumbly as it is chewy, much like a real life cheesecake. The white chocolate coating works wonderfully with the oats too as does the sweet fruit pieces which gives it a refreshing taste.
Half way through the bar and I can feel myself feeling fuller. By the end of it, I'm completely full which makes it a great alternative snack to your ordinary confectionary bars.
Ingredients and Nutritional Value
The Strawberry Cheesecake variant of the Oatein Oats and Protein Flapjack contains Oats (32%) (Rolled Oats, Jumbo Oats, Toasted Oats (Oats, Sugar, Vegetable Oil (Palm))), Milk Protein, Glycerine, Glutamine Peptide (Wheat), Maltodextrin, White Chocolate Flavour Coating (7.5%) (Sugar, Vegetable Oil (Palm), Whole Milk Powder, Emulsifier (Soy Lecithin), Flavourng), Soy Protein, White Chocolate Chips (3.8%) (Sugar, Cocoa Butter, Whole Milk Powder, Emulsifier (Soy Lecithin), Flavouring), Strawberry Flavour Fruit Pieces (3.8%) (Fruit (Concentrated Apple Puree, Strawberry Puree), Fructose (Glucose Syrup), Sugar, Humectant (Glycerine), Wheat Fibre, Vegeyable Oil (Palm), Acidity Regulator (Malic Acid), Gelling Agent (Pectin), Concentrates (Black Carrot, Blueberry, Pumpkin), Natural Flavouring), Vegetable Oil (Palm), Flavouring and Sweeteners (Sucralose).
This particular Oatein bar is not suitable for those with allergies to Oats, Milk, Wheat and Soy and may also contain nuts and peanuts.
For each 75g bar, Oatein Flapjack Strawberry Cheesecake flavour provides 1204kJ / 302.4 kcal of energy, 7.9g of fat (4.2g of which are saturates), 38.1g of carbohydrates (9.5g of which are sugars), 2.3g of fibre, 18.7g of protein and 0.19g of salt. The Oatein flapjack provides 24.9% of protein per bar.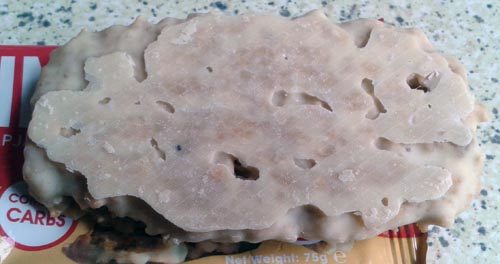 Overall Opinion
The Strawberry Cheesecake Oatein Flapjack is a tasty treat regardless whether you take it before or after training or as a snack during the day. It both smells and tastes delicious with the crumbly texture working well with the moist fruity taste and really does taste like strawberry cheesecake which is half the battle won!
With just shy of 25% protein per bar, this is a healthy alternative for me to eat during the day when I'm feeling peckish but also after Ju-Jitsu training at night when I'm ravenous to both fill my belly and get that much needed protein into my body to help replenish, repair and grow my muscles. It's carb content with maltodextrin is ideal for taking before working out too.
Though I have a sweet tooth, particularly for chocolate, and the lure of confectionary is sometimes too hard to resist, this Oatein bar is a fine replacement that still satisfies my sweet craving whilst being a healthier snack and manages to satisfy my hunger pangs completely. It's also handy to throw into my bag to eat on the go.
With a variety of other flavours to choose from including Banoffee Pie, Cherry Bakewell, Chocolate Peanut Butter, Chocolate Chip and Cookies & Cream, Oatein Flapjack is a protein treat well worth checking out.
Rating:
View our main site to help find the best deal on Oatein Flapjacks