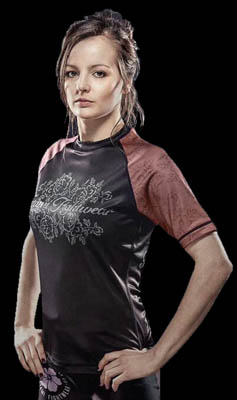 Each month, we interview YOU, the martial artists of the world.
For October's 'Martial Artist of the Month', we chat to British BJJ competitor, Vanessa English.
Please can you tell us a bit about yourself?
My name is Vanessa English, I'm a Brazilian Jiu jitsu competitor from the UK, and compete under Gracie Barra. I teach and train at Gracie Barra Nottingham everyday, teaching children from 4 years old up to adults.
How old were you when you got into martial arts and what made you want to learn?
I was 16 when I first started training martial arts and for no reason other than I knew I'd always wanted to.
Which martial art did you learn first?
I began learning Capoeira first, which moved onto traditional ju jitsu, then Brazilian Jiu jitsu.
Have you entered any competitions or done any demonstrations?
I've entered many competitions all over the world- USA, UK, Portugal, Sweden, Italy, UAE.
Which is your favourite weapon and why?
The Gi!! I've not had a great deal of experience with weapons, but I do enjoy wrapping people up and choking them 😉
Which martial arts are you currently studying and at which clubs?
I want to keep my focus on Brazilian Jiu jitsu so train this full time at Gracie Barra Nottingham.
Which is your favourite technique?
I'm not sure I have a single technique that I call my favourite, however I enjoying playing open guard a lot.
Who inspires you in the martial arts world?
There are lots of fighters who I look up to and who inspire me to train, if only to be half as good as they are! But the ones that display and encourage humility, gratitude and kindness inspire me most.
What are you most proud of in your martial arts career?
Well, of course I'm proud of my achievements at purple belt, winning the world championships. Also, winning the Europeans at brown belt, and numerous other titles at different levels. However, I hold most of my pride on how much I have grown as a person and as a martial artist since I first stepped onto the mats to train BJJ. None of which could have been done alone.
Have you any advice to give to other martial artists out there?
Enjoy your training, work hard, and be kind.
What's your favourite martial arts film?
I'm not big on watching movies, but I do love 'Million Dollar Baby' and also 'Unbeatable'.
Thank you very much, Vanessa, for your time!
You can Follow Vanessa on Twitter @V_EnglishUK and Facebook.