There's many different brands out there selling their own line of Brazilian Jiu-Jitsu gis, some great quality and some not-so-much (always make sure to read BJJ gi reviews first!). However, there's an elite group of brands on the market that have priced their gis above and beyond their competitors. What's so different about their gis that puts them into such a high price bracket?
In this article, we'll take a look at six of the most expensive BJJ gi brands on the market.

Shoyoroll
If there was a brand that you could class as 'designer' and having a fanatic following, then it's got to be Shoyoroll. The exclusivity of Shoyoroll BJJ gis makes them very elusive and thus you have to pre-order in advance to ensure you can grab one of them as they're made in limited numbers. This is another factor that drives up the price. It's easy to spot the die-hard Shoyoroll fans as their wardrobe is usually a rail full of gis bearing the circular Shoyoroll logo on the sleeve.
Isami
Isami BJJ gis carry a larger price tag than many (from $250) but when they're made in Japan like these are, you can begin to understand why. Also a producer of karate gis, the prestigious Isami brand is known for producing high quality uniforms. You can buy genuine Isami BJJ gis from ChokeSports.
Origin
American-made Origin BJJ gis are the brain-child of Pete Roberts, who's company Origin USA is co-owned by retired, decorated Navy SEAL officer, Jocko Willink.
Featuring a range of different materials depending on the gi purchased, such as Atomic Twill, two-times stronger than ripstop, the Origin BJJ gis are made to order and allow you to choose different sizing to suit your body type. This is an ideal offering as many people are one size in the jacket and a different size in the trousers so having the chance to mix and match sizes is a godsend.
Origin seem to be keen to take their BJJ gis to the next level by offering advancements in clothing tech, such as performance yarn, dry as you train and CowboyCut. Some of the pants even include a belt closure system – beats trying to fish out the ties out of the gi bottoms when they go walkabouts inside the trousers!
I've only ever met one person in the UK who trains in an Origin BJJ gi but he loves it.
The gis can be bought direct online from Origin from their Maine headquarters.
Killer Bee
Killer Bee BJJ gis are on the more expensive side for a very good reason – they're custom. With prices starting from $135, they're actually quite a reasonable price considering you get to choose your own colourway, material, sizing and embroideries. You can choose the colour scheme of the stitching, belt loops, cuff colour, drawstring and collar with a handy visualiser to show you what your choices will look like. Some options do cost a little bit extra but that's what it takes to roll up to the gym in your own stylised BJJ gi looking extra fly. Let's be honest, it's worth the extra coin.
Once again, they're an American company and you can order online from Killer Bee directly.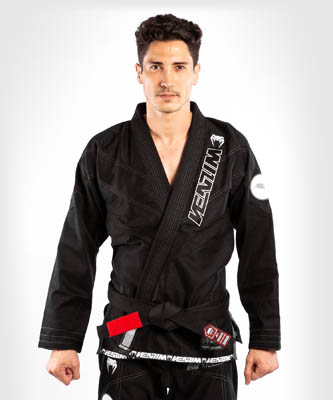 Venum Fightwear
Venum Fightwear are a brand that provide apparel for all areas of the fight game, not just BJJ. As of 2021, they're even the official clothing sponsor of the UFC as well as sponsoring other MMA and boxing athletes.
Whilst they've been producing BJJ apparel for quite a while, their BJJ gis are aimed at those with deeper pockets with prices around £140 ($194).
Their reputation in the community is a mixed bag of those who love Venum BJJ gis and those who haven't had a great experience with them for one reason or another.
They haven't got a huge range to choose from but fans of the Venum Fightwear fit and quality seem happy with their competition and training kimonos.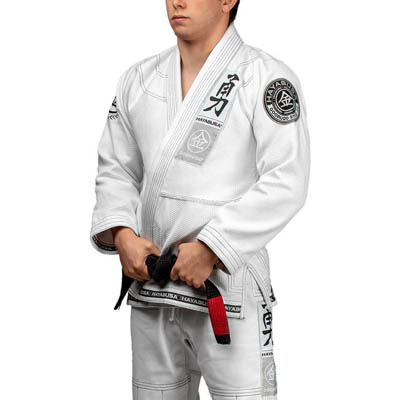 Hayabusa
Another fightwear brand that commands a hefty price tag is Hayabusa. They're a brand known for exceedingly high quality gear and this is reflected in the price.
Friends of mine have owned Hayabusa gis and loved them, and, whilst I've never owned one of their gis myself, I can certainly vouch that their fight shorts are the best I've ever worn. If their gis are anything like their shorts, I'd be very tempted to part with my cash… in the sale, perhaps.
Having been a long-time sponsor of Georges St-Pierre, Hayabusa know what is required from fighters and amateur martial artists alike and seem to continue to develop their range.
Have I missed a brand off this list? Do you know of a BJJ gi brand that seems to be priced above and beyond the rest? Leave a comment below!