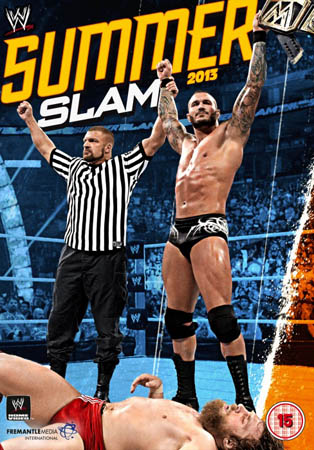 WWE SUMMERSLAM 2013
Available on DVD and Blu-Ray Now in the UK
Shot live at the 26th annual SummerSlam event at the Staples Center in Los Angeles, WWE SUMMERSLAM 2013 is 2 hours and 48 minutes of intense action and surprises. Hosted by wrestler The Miz, who's repeatedly interrupted by the dancing wrestler Fandango, a packed out venue cheer as SummerSlam gets under way, with two main events scheduled later in the evening.
The first fight is a Ring of Fire match between the Big Red Monster, Kane and Bray Wyatt, making his debut wrestling performance. Walking out in darkness with nothing but a lit oil lamp and flanked Erick Rowan in an animal mask (looking like something from horror YOU'RE NEXT), Bray Wyatt cuts a disturbing figure, a bit like Charles Manson as one of the commentators pointed out. With the match rules set with pinfall or submission to win and no disqualifications, the debut fight for Bray Wyatt looks to be an interesting one and it doesn't disappoint. With flames roaring around the ring once both wrestlers and the referee are safely inside, the match begins, much to the delight of the crowds. Kane takes early dominance of the match, with strikes and choke slamming Wyatt, telling him that "this is my playground, boy!". Wyatt's 'family' Erick Rowan and Luke Harper hang around the ring, eager to intervene, but with flames roaring high anytime a big move is landed or Rowan and Harper go near the ring, they're sidelined unless they come up with something.
After the creepy opening match, we see a vengeance match between Damien Sandow and Cody Rhodes, formerly a tag team partnership known as Team Rhodes Scholars. Their partnership ceased after Sandow stabbed Rhodes in the back by sabotaging Cody's almost successful attempt to reach the Money in the Bank contract, so he could claim it for himself. Proclaiming that Rhodes was nothing more than a stupid sidekick and that Cody and his father Dusty are like 'dumb and dumber', Damien Sandow handcuffs the Money in the Bank leather attache case to the ring corner as the two start the wrestling match. Sporting a clean shaven look after having a Clark Gable moustache for what seems like an eternity, Cody Rhodes appears keen to give himself a fresh start and teach his former tag team partner a lesson. The two lock horns pretty quickly, with suplexes and the Elbow of Disdain from Sandow. Rhodes refuses to take the punishment and pulls off some awesome moves, particular off the ropes. A satisfying finish leaves the audience happy.
It seems many WWE fans love the wrestlers of the Attitude Era and Christian is no exception. Stating that he wants one more match, Christian is pitted against Mexico's Alberto Del Rio for the World Heavyweight Championship title. Del Rio used to be a somewhat arrogant wrestler who managed to win over the audience with his cuddly  ring announcer, Ricardo Rodriguez, but their friendship turned sour and after attacking his former ring announcer, Del Rio seems to be turning heel and going down the 'bad guy' route. The match begins and with the crowd seemingly on Christian's side, Del Rio knows he has to put the work in and begins to attack Christian's shoulder. Christian puts up a good defence, with Del Rio missing one attack and flying through the ropes. Evenly matched, the two repeatedly try to pin each other but in the end, there can only be one winner – will Del Rio be able to retain his title?
Womens wrestling seems to be improving and the match between Total Divas Natalya and Brie Bella makes for good entertainment, as both women instantly reach to pull each others hair and then begin a bitch slapping contest. Brie finally gets the upper hand and lands a massive amount of strikes, stamps and attacks to Natalya's head and neck. Natalya, being the bigger and stronger of the two, appears to go for the more complex moves, attempting to execute a sharpshooter on more than one occasion. But the action inside the ring isn't the only entertainment on offer as the Funkadactyls have a major barney ringside with Brie's sister Nikki Bella and Eva Marie.
The first main event of the evening is a David and Goliath style match between CM Punk and the beast that is Brock Lesnar. After Paul Heyman betrayed CM Punk and assaulted him at Money in the Bank to ensure his loss, the two have been on the warpath with each other. CM Punk agreed to a no disqualification match, promising to slay Heyman's beloved giant but with the size difference and the pure power of Lesnar, he'll have a fight on his hands. Labelled as The Best vs The Beast, the match starts in predictable fashion as Lesnar sweeps Punk off his feet and throws him around like a ragdoll. Whilst the size difference is a disadvantage, it doesn't stop CM Punk from using his striking ability as he lands some solid high knees on Lesnar, as well as flying off and through ropes onto him. The match is intense and action-packed, with the fight taken outside the ring as Brock Lesnar launches CM Punk over both commentators tables before jumping on his back. The wrestlers eventually end up back inside the ring where Punk continues to attempt his high-flying onslaught but Lesnar just effortless catches him in his arms. Whilst strikes, throws and low blows appear to be orders of the day, the two even manage to throw in some tasty submissions including the kimura, armbar and triangle choke. The audience whoop for their favourite as the two mismatched wrestlers fight for recognition and pride. Even Paul Heyman gets a taste of his own medicine, much to the crowd's delight!
After a mammoth first main event, the show continues with a Mixed Tag Team match featuring Kaitlyn and Dolph Ziggler versus AJ Lee and Big E. Langston. With a difference in build – Dolph Ziggler being rather athletic and Big E. Langston more the bodybuilder type –  Ziggler gets the upper hand, running rings around Langston, delivering a series of flying kicks to the chest of Langston. Though speed may not be Langston's strong point, Ziggler sure knows what's hit him when Langston gets hold of him. The two swap with their tag team partners, Kaitlyn and AJ Lee respectively, throughout the match, and the ladies do their best to impress too. AJ Lee performs a neckbreaker on Kaitlyn, but she later gets her revenge by spearing AJ Lee when she's trying to grab Dolph Ziggler's boots whilst he's fighting. A short but sweet match ends with a satisfying ending.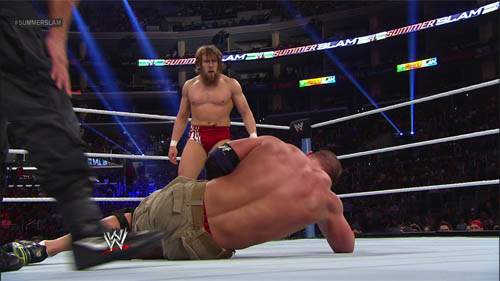 The final main event of the SummerSlam 2013 is the match for the WWE Championship belt between John Cena and Daniel Bryan, with Cena handpicking Bryan to be his opponent. WWE CEO Vince McMahon agrees for Triple H to referee the match after Brad Maddox unfairly fast-counted Wade Barrett's pin of Daniel Bryan in a previous match. John Cena doesn't see Daniel Bryan as a threat but with the majority of the crowd behind Bryan and Cena with a strapped up elbow, the odds look favourable for the contender. A slow start to the match finds both wrestlers finding their feet, with submission specialist Daniel Bryan eyeing up reigning champ John Cena's injured elbow. After a few knockdowns, Bryan gains momentum and starts to perform some of his impressive high flying techniques off the ropes and even takes the fight out of the ring, throwing Cena into the steel steps. Though it stuns him temporarily, Cena returns to his feet and into the ring to perform a five knuckle shuffle on Bryan. The match goes on for a solid 30 minutes, with the crowd roaring and waving their YES! YES! YES! placards about. With omoplata and guillotine attempts, will it be enough to snatch the title from Cena? Well, you'll just have to watch!
An exciting, non-stop entertaining event, WWE SUMMERSLAM 2013 does come with extras, with Blu-ray the preferable option if extras are important to you.
DVD Extras:
*U.S. Championship Match: Dean Ambrose vs. Rob Van Dam
Blu-ray Exclusive Extras
Highlights from Monday Night RAW 12th August, 2013:
*Daniel Bryan vs. Wade Barrett
*Randy Orton vs. Damien Sandow
*Mr. McMahon Picks a Special Referee for SummerSlam
*Miz TV with John Cena & Daniel Bryan
*CM Punk vs. Paul Heyman
Highlights from SmackDown 16th August, 2013:
*Bray Wyatt Tells a Story About Kane
*No Disqualification Match, Daniel Bryan vs. Wade Barrett
Rating:
Reviewed by Steph Andrusjak
WWE SUMMERSLAM 2013 is available from WWEDVD or Amazon in the UK or WWE Shop in the US.