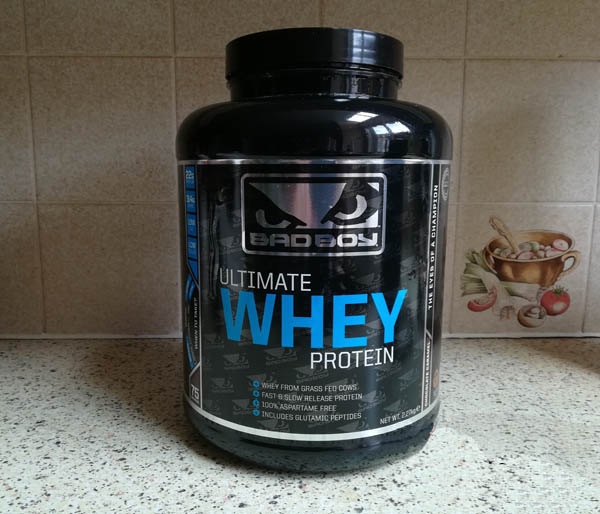 Bad Boy are one of the biggest names in fightwear. Worn by the likes of MMA fighter Michael Venom Page and countless others, particularly before the UFC introduced the Reebok sponsorship, Bad Boy has been one of the go-to brands for shorts, spats and rashguards for many years. Not only did the company branch out into MMA gear, such as gloves and shin guards, but a few years ago they even brought out their own nutrition line.
In this review, I'll be taking a look at the Bad Boy Ultimate Whey Protein in Chocolate Caramel flavour.
Appearance and Taste
Like most chocolate whey protein powders, Bad Boy Ultimate Whey Protein is a fine powder in a light brown colour. As soon as you remove the lid from the tub, you can smell the chocolate scent of the powder; the flavour of the powder clearly coming through.
As I take this within 30 mins after training in order for my muscles to repair and grow from the hammering they've just received, I like to mix the chocolate caramel whey protein powder with water rather than milk. The tub label recommends one 30g scoop mixed with 150ml of water and can be taken up to 3 times a day. The label also states to take it 30 minutes BEFORE training but I always tend to take mine afterwards though taking it before instead is still acceptable.
Bad Boy Ultimate Whey Protein mixes really well in water and doesn't require too much shaking of the shaker bottle for the powder to combine with the water satisfactorily. The mixture provides a smooth, medium consistency; not too thick but not too thin either. That same smoothness can be tasted within the chocolate flavour carried through to the tastebuds. I can't really say I can taste any caramel flavouring but the whey protein certainly hits the mark for chocolate fans.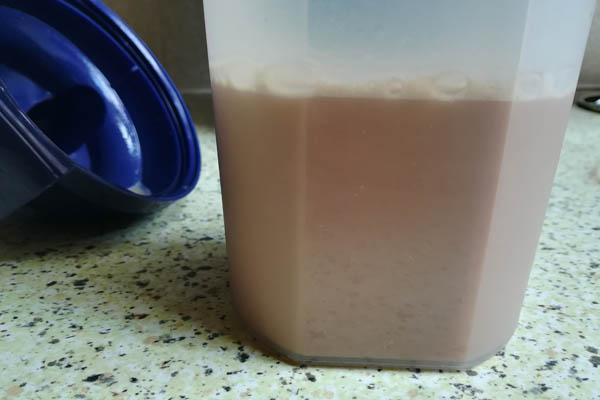 Ingredients and Nutritional Value
Bad Boy Ultimate Whey Protein chocolate caramel contains Protein Blend (Whey Protein Concentrate and Whey Protein Isolate), L-Glycine, taurine, Cocoa Powder, Peptide-bonded Glutamine (derived from Wheat Protein), Flavouring (Chocolate and Caramel), BCAA 2:1:1 Blend (L-Leucine, L-Isoleucine, L-Valine), Thickener (Xanthan Gum), Sweetener (Sucralose and Steviol Glycosides), Sodium Chloride, Emulsifier (Soya Lecithin) and Potassium Carbonate E501 (Acidity Regulator).
Each 30g serving of Bad Boy Ultimate Whey Protein (chocolate caramel flavour) provides 491Kj or 118kcal of energy, 22.25g of protein, 1.72g of fat (1.23g of which are saturates, 0.48g are monounsaturates and 0.012g are polyunsaturates), 3.4g of carbohydrates (2.19g of which are sugars, 1.18g are polyols and 0.73g are starch), 0.75g of fibre and 0.18g of salt. The powder also provides 699mg of glutamine peptides, 60mg of L-Leucine, 30mg of L-Isoleucine and 30mg of L-Valine.
The protein powder is not suitable for those allergic or sensitive to milk soy, wheat, gluten and egg.
Overall Opinion
The taste and texture of Bad Boy Ultimate Whey Protein cannot be faulted. It tastes great and is really easy to mix without any congealed lumps, neither when drinking or at the bottom of the shaker.
Each 30g serving contains 74.17% protein that puts it almost on par with Myprotein Impact Whey Deluxe, both of which contain a blend of protein (isolate and concentrate). The fact that the Bad Boy protein contains 2:1:1 BCAA too is a bonus and makes it suitable to take before and/or after training to aid with recovery, boost protein synthesis, muscle growth and reduce muscle fatigue.
Rating: