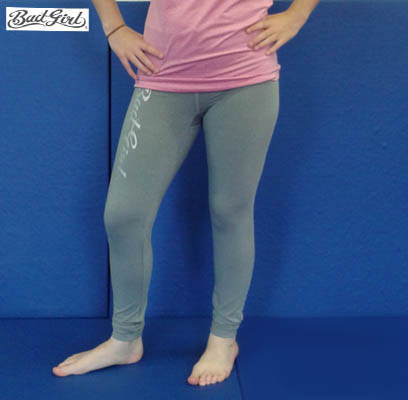 As the cooler nights days draw in, gym attire too takes a change. The skimpy outfits are changed for long sleeved, tight fitting apparel that will keep us warm when the temperature drops. That being said, a lot of people, myself included, like to wear full length items whatever the weather to keep our muscles warm, especially if the exercise takes you outside.
In this review, I'll be taking a look at one of the latest lines in gym apparel from Bad Boy's sister brand, Bad Girl –  the Bad Girl Fitness Tights.
Bad Girl Fitness Tights Design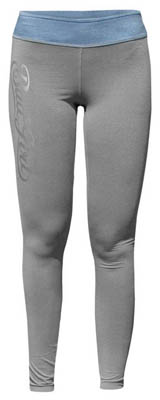 Soft and stretchy, the Bad Girl Fitness Tights are grey marl (referred to as charcoal) in colour with a blue marl waistband. Made from 92% polyester and 8% spandex, the full length leggings are decorated with large Bad Girl script text in metallic silver down the right leg and the same but smaller print on the back of the waistband. Inside the waistband, the fabric content and washing instructions are printed in metallic silver with a circular BG logo above. I really love the fact that Bad Girl have chosen to ditch the often itchy fabric content label from their garments and opt for the unobtrusive print instead.
The waistband of the Bad Girl leggings is thicker than you would normally see on tights at 1 inch wide and also features a grey drawstring waistband should you feel the need to adjust for a tighter fit around the waist.
On the back of the Bad Girl tights, just below the blue marl waistband, is a little zip pocket.  This is fantastic if you're hitting the gym or dance club and need somewhere to store your locker key.  There's enough space to store some money too should you need or even a gum shield for those wishing to train in these leggings during martial arts such as no-gi grappling. The zip features a mechanism that when closed, the zipper is stiff in a closed position and is also concealed by a pocket of fabric, preventing the zip from opening by itself and possibly catching on other people.
The lightweight, breathable Bad Girl tights are neatly stitched with grey embroidery, reinforced at all the stress points to provide a high quality pair of leggings that will last. Even the legging cuffs are reinforced with a stiffer fabric as often the cuffs can loose their shape over time. This reinforcement helps to prevent that by strengthening the cuff and helping to retain the shape.
Fit of the Tights
The Bad Girl Fitness Tights are a fantastic pair of fitted leggings. Figure-hugging, the tights act as a second skin, providing the warmth and comfort to reduce muscle fatigue.
I chose the size Medium in these leggings as I usually wear a size 12 bottoms. They fit absolutely great and look really good on my figure. The only issue I have is that they are a bit long in the leg but this is always a problem I encounter due to my short legs. At 5'2″ and with a 27″ inside leg, finding leggings that fit on length are pretty much impossible unless you have them custom made, but I don't mind as I usually just roll the excess fabric at the ankle and they still look good and are hardly noticeable as you can see from the photo.
Below are the measurements for the Medium Bad Girl Fitness Tights.
| | Bad Girl Fitness Tights |
| --- | --- |
| Waist | 27 inches unstretched (33 inches stretched) |
| Inside Leg Length | 28 inches |
When washing these leggings, be sure to pop them in at 30 degrees and if you must tumble dry, dry them low, though hanging them on the maiden or the washing line is preferred!
Wearing the Bad Girl Fitness Tights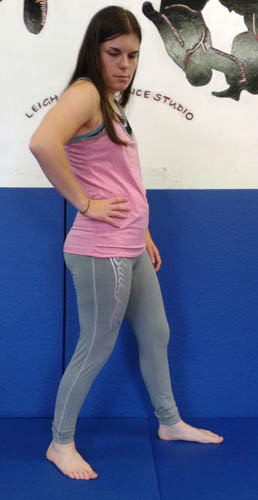 I train in Ju-Jitsu and often during class we'll do various exercises from your standard press-ups and crunches, to padwork, throwing and grappling. Training wearing the Bad Girl Fitness Leggings alone is a blast. They're comfortable and easy to move around in whilst running around the gym and doing a variety of warmup exercises. The tights provide unrestricted movement when doing high roundhouse kicks on the thai pads and kept me cool throughout. When it came to grappling, I simply wore a pair of MMA shorts over the top and they're a superb legging to wear. The reinforced cuffs prevent the cuffs from riding up during rolling and being such a fitted garment, they never got in the way. I like to wear leggings when grappling as they help to keep my muscles warm, especially in the moments when we stop to watch and learn a technique which is when you feel the cold the most.
Sometimes at Ju-Jitsu, especially in the colder months, I enjoy wearing leggings underneath my gi pants. Like I previously mentioned, this is great to keep my muscles and body warm which in turns helps me concentrate during lessons. The stretchy tights are as comfortable underneath the gi as they are on their own and allow me to do my throws and grapple with the gi without any issues. They also do a great job at keeping my body temperature down so I don't overheat during the really intense moments!
Overall Opinion
Like the Bad Girl Capri Tights, the Bad Girl Fitness Tights are a superb choice for the gym, whether you're weight lifting, using the gym equipment, taking dance classes, jogging or doing martial arts like I do. The second-skin type fit is ideal as it allows a full range of movement so if you're really flexible, you won't be hindered by them. The thicker waistband provides great support and at never is there a point where I've been concerned that the tights may fall down – these tights ain't going anywhere!
The simple design is quite striking in its own way and the use of marl rather than plain texture is what makes these tights a stylish pair. The added bonus of the little pocket on the rear is fantastic and just what a gym bunny will be looking for as there's nothing worse than having nowhere to store the locker key.
The Bad Girl Fitness Tights are a fantastic pair of high quality gym leggings that are super comfortable and do just what you need them to.
Also avalilable in black/black, black/blue and charcoal/pink.