Whether you're weight lifting, martial arts training or running, we sometimes need an extra push during our workout to get that bit more out of it than we normally would. One such product that helps achieve these goals are pre-workout powders.
In this review, I'll be taking a look at BSN's European version of their latest pre-workout supplement, BSN N.O.-Xplode 3.0 in Watermelon flavour.
BSN X.O.-Xplode 3.0 Watermelon
BSN are a global leader in sports supplements and nutrition, creating various supplements from aminos to protein powders, fat burners to pre-workout igniters since the brands inception in 2001. BSN's pre-workout supplement has been so successful that they are now on their third iteration of it with the newly released BSN N.O.-Xplode 3.0 formula. There is in fact two version of the new supplement going around with slight variants on the ingredients. The version I'm reviewing in this article is the European variant and is for sale in the European countries including the United Kingdom.
BSN N.O.-Xplode 3.0 comes in a variety of flavours such as Blue Raspberry, Fruit Punch, Green Apple and the flavour I'll be reviewing, Watermelon. The tubs also come in two sizes, 600g for 30 servings or 1kg for 50 servings.
Look and Taste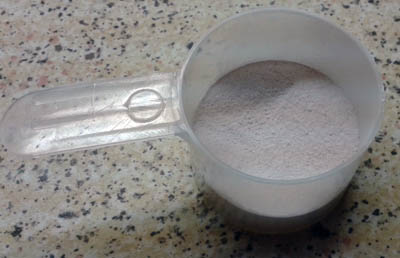 Opening the tub of BSN N.O.-Xplode 3.0, I'm greeted by the sweet scent of the off-white pre-workout powder. The powder is super fine in texture to mix easily with water.
The tub's label advises 1 level 20g scoop of the pre-workout igniter powder to be mixed with 250ml of cold water for one serving, with a maximum consumption of two servings per day. The tub neglects to say whether a 20g scoop is provided inside the tub. No scoop was found inside the tub on top of the powder (are they ever?) and after stabbing around the tub using a fork, I came to the conclusion that there probably was not a scoop included, so instead I filled up half of a 40g scoop I already owned.
Pouring the 20g of powder into the shaker and adding the required amount of water, the mixture turns a strong pink colour and the watermelon flavouring instantly hits your nostrils. Replacing the lid and shaking the mixture left a strong pink drink, well mixed with a white froffy top.
Taking off the top of the lid of the shaker proved interesting as the top almost blew off with mega force from underneath. It was only then I read on the supplement tub's label that it said "DO NOT SHAKE" in capital letters next to the serving directions. Whoops. So since then, I've indeed stirred instead of shake the supplement drink. Let this be a warning! 🙂
Now for the taste! Drinking a mouthful of watermelon BSN N.O.-Xplode 3.0 proved an eye-opener as the pre-workout drink is rather strong in flavour with a sweet taste. The taste isn't bitter or unpleasant, on the contrary, but it is powerful on the senses with its fruity watermelon flavour which will definitely wake you up for training.
Using The Pre-Workout
After 2 weeks of illness and lack of ju-jitsu training, I knew the first lesson back would be difficult. Having a tub of BSN N.O. Xplode 3.0 in my possession meant it would be a no brainer – I simply had to use the pre-workout supplement to just try and get through my hour and a half class. So how did it go? Well, I took the pre-workout 30 minutes before training as per the instructions on the tub. I didn't feel any excess sweating or crazy energy as you can sometimes experience, but as soon as I started training, I knew it was working. Press-ups, sit-ups and other warmup exercises were a blast. Normally after a week layoff, nevermind a fortnight, I'd be struggling to get through even the most basic of exercises. But not on this occassion. I blasted though the exercises so easily, finishing my sets before others, and when it came to ground grappling with my club mates, I beasted all of my opponents with such clarity and conviction in my technique. I even managed to get around an opponent who's solid at defence, and pin him with kesa gatame followed by a choke. Though I wasn't running around like a headless chicken or a bouncing ball of energy in the crazy sense, I could feel in myself that my energy supplies were at a peak and I could effortlessly get positions and secure submissions much more easily than I would during classes without the use of BSN N.O. Xplode 3.0. I'd normally be shattered or tired come grappling after 70 minutes into the lesson but not on this occasion.
Further use of BSN N.O. Xplode 3.0 has seen me push through training when I'm tired or give me the extra alertness I need when pushing myself to get that bit more out of training than which I'd normally get. Dealing with injury can sometimes take it out of me, but an extra kick which the pre-workout igniter provides is just the pat on the back I need to get through some days where I know I'm going to struggle or when I want to push myself harder than usual.
Effects
The BSN N.O.-Xplode 3.0 doesn't seem to have any side effects. Though preworkout supplements can often tingle on the skin afterwards due to the beta alanine content, there's no skin tingle apart from a slight sensation on the lips straight after consuming the pre-workout drink, which wears off after a few seconds.
When it comes to supplements such as pre-workouts, I'm always a bit wary as I don't like to experience overly exaggerated effects like tingling or profuse sweating. The BSN N.O.-Xplode 3.0 is perfect for me as it gives me the energy I require and none of the OTT effects which an excess of caffeine and the other ingredients can sometimes give. There's no profuse sweating or burning up nor tingling sensations other than what I mentioned above. As I often train til 9.30pm in the evenings, I take the pre-workout at 7.30pm before training at 8pm and it gives me the energy, clarity and alertness for the duration of the class and wears off by 10.30pm/11pm and I can go to sleep soundly. This supplement does not keep me wired or wide-awake at night, thankfully, and there's no crash either. I just gently float back to normal, tiredness sets in and I sleep. It's just what I'm looking for in a pre-workout supplement: all the benefits and no crazy side-effects.
Ingredients
Pre-workout igniter BSN N.O.-Xplode 3.0 contains Amino Acids (L-Arginine, L-Lysine Hydrochloride, L-Glycine, N-Acetyl L-Tyrosine, Taurine, L-Phenylalanine), Acidity Regulators (Citric Acid, Malic Acid, Sodium Bicarbonate, Tartaric Acid, Potassium Bicarbonate), Flavouring, Creatine Monohydrate, Beta-Alanine as Carnosyn®, Inositol, Betaine, Choline Bitartrate, Stabilizers (Dicalcium Phosphate, Disodium Phosphate), Magnesium Oxide, Caffeine, Colour (Lutein), Anti-Caking Agent (Silicon Dioxide), Vitamins (L-Ascorbic Acid, Calcium D-Pantothenate, Nicotinamide, Thiamin Hydrochloride, Pyridoxine Hydrochloride, Glutamic Acid, Cyanocobalamin, Cholecalciferol), Grapefruit Bioflavonoid Complex, Sweeteners (Sucralose, Acesulfame K), Grapeseed Extract (Vitis vinifera, seed), Capros® Indian Gooseberry Extract (Phyllanthus emblica, fruit), Spirulina Powder, Black Pepper Extract [Piper nigrum, fruit].
The supplement is manufactured on equipment which also makes products containing Soy, Milk, Nuts, Peanuts, Egg and Gluten, so if you have an allergy to any of those, you'd be advised to avoid this particular pre-workout powder.
A single 20g serving of BSN N.O.-Xplode 3.0 contains approximately 5.5g of amino acids, 1.5g of creatine, 150mg of caffeine and 1.3g of beta-alanine. The supplement is packed with vitamins including 75mg of Vitamin C, 2.3 of Vitamin D, 1.75mg of Vitamin B1, 175mg of Vitamin B6 and 1.05 of Vitamin B12 per single serving. The supplement also contains other minerals such as 7mg of Niacin, 168 of Folic Acid, 5.5 of Pantothenic Acid and 123.5mg of Magnesium in a single 20g serving.
The 50 serving tub lasts a good 18 months, which is plenty of time to consume 50 servings in. Even if I use it for jujitsu or weight training once a week, it'll take a year and still be fit for consumption.
Overall Opinion
BSN N.O.-Xplode 3.0 is a strong tasting pre-workout supplement which mixes well, tastes refreshing and best of all, gives the extra energy boost and focus needed to go that extra mile when training. Ideal for those who like their pre-workout supps subtle but with effects that work in the way they're required for around 2-3 hours.
Predator Nutrition stock BSN N.O. Xplode 3.0 in a variety of serving sizes and flavours including Watermelon.
Those who want to try BSN N.O.-Xplode 3.0 before committing to a full tub can purchase a single serving from the site, with the sample available in Fruit Punch, Dragon Fruit, Watermelon and Green Apple flavours.
Rating: