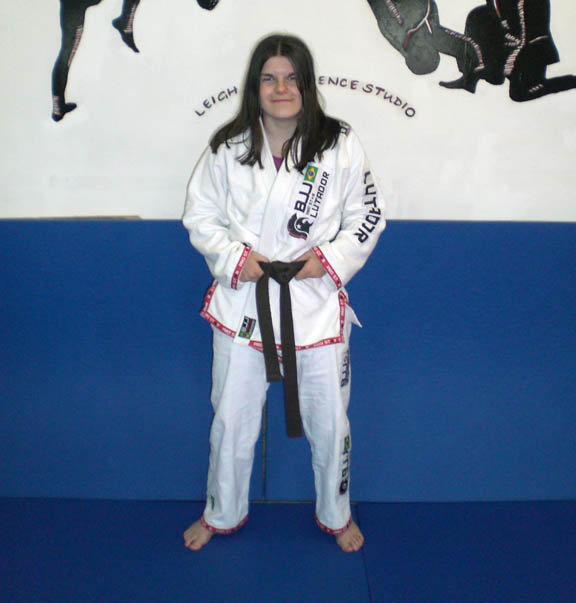 They key item in any arsenal of a Jiu-Jitsuka, be it Japanese Ju-Jitsu or Brazilian Jiu-Jitsu (BJJ), is the uniform, known as a gi. Consisting of a jacket and pants, and a belt used to tie the gi jacket together, the student can throw and grapple with an opponent without fear of ripping the other student's clothing. The gi also represents clothes which an attacker may wear on the street, as many people wear coats, open zip hoodies or suit jackets. The gi itself allows for students to grip their opponent tightly to perform different techniques and can often become a lethal weapon itself when used for chokes.Back in the day, many clubs would require their students to all wear the same gi, usually plain white. Whilst some clubs still practice this, many others allow their students to purchase a gi of their choice, in a variety of colours. In recent times, BJJ gi's have become more prominent, with their thicker lapel collars and the range of patches and embroidered designs adoring them. Although some BJJ gi's remain plain to suit those who prefer the less-is-more style, many companies now stock suits that have detail and character, as well as offering space for the student to apply their club's patch or their own sponsors patches. Blitz Sport, whilst having a range of plain gi's, have produced a BJJ gi that appeals to those who favour patches. In this review, I take a look at their BJJ uniform, the Blitz Sport Lutador Pro Star BJJ Gi.
i Measurements and FitI've had a few gi's during my Ju Jitsu training lifetime and one thing that is most important about a gi is having the right fit. Whilst some gi companys do ladies fit gi's as well as the mens, the Blitz Sport Lutador Jiu Jitsu gi is a unisex fit. Judging from my 5'2″ stature, I chose A2 – 160cm. Straight out of the packet, the gi fits me wonderfully. I usually struggle with leg length, but the length is perfect! The sleeves are a couple of inches too long, but do not cause a problem when training and I prefer them being a touch too long than too short.
Let's take a look at those measurements for the A2
Jacket Measurements
Length from neck to hem
29.5 inches (30.75 including collar)
Chest (armpit to armpit)
26 inches
Sleeve Length from shoulder
28 inches
Wrist width
7 inches (14 inches circumference)
Trouser Measurements
Waist
38 inches (adjustable)
Leg Length
36.5 inches
Inside Leg Length
27 inches
Leg Width
11 inches (22 inches circumference)
The Blitz Sport Lutador Pro Star BJJ gi has a nice length skirt on the jacket where I tie my belt and the unisex fit allows for unrestricted movement. The gi is a nice weight, leaning more to the thicker side with its double weave fabric, but suprisingly does not cause me to overheat and is quite a nice weight when worn.
Style and Durability
Having spent a few months rolling and throwing opponents in this gi, I can safely say its durable and puts up fantastic resistance against an opponent and allows plenty of grip for my training partners to practice various sleeve grips, especially pistol grips, as we drill spider guard.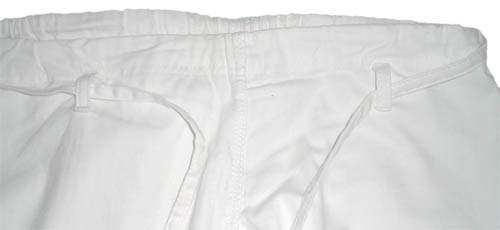 The gi trousers feature the drawstring waist fastener as seen on many BJJ gi's nowadays, allowing the waist to be adjusted in size to fit the user, which is great if you fluctuate in size!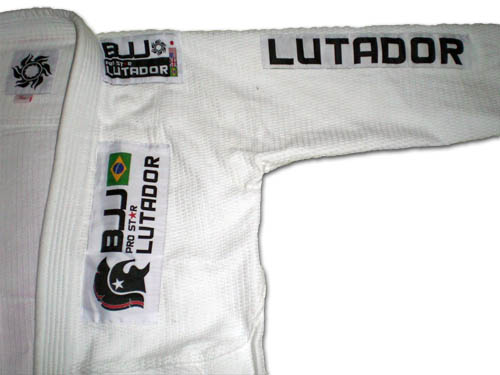 As you can see from the photos below, there are plenty of patches adorning the gi, which decorate the BJJ kimono nicely. The gi is trimmed at the sleeve cuffs, leg hem and gi jacket skirt with red Pro Star talking tape. A centurion's helmet is the main logo for the lutador brand (lutador meaning someone who fights) and a large helmet patch can be found on the back of the gi jacket, and a smaller patch on the back of the right pant leg. Additional rectangular patches, emblazoned with BJJ Pro Star Lutador, complete with mini helmet, can be found on the left lapel of the gi jacket and the side of the left pant leg. Two smaller patches are found on the left shoulder and left thigh, whilst the final rectangular patch of LUTADOR runs down the left sleeve.
Whilst the patches are secure, the stitching could be both better and neater, particularly on the hem tape where a few loose threads can be spotted that need to be trimmed if they cause annoyance.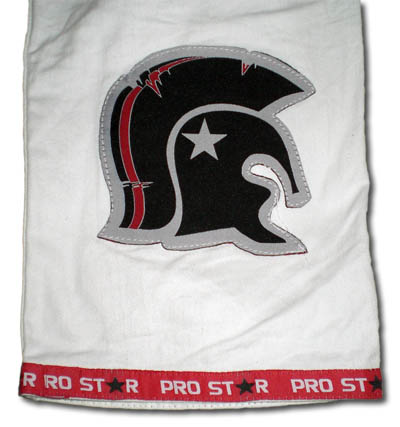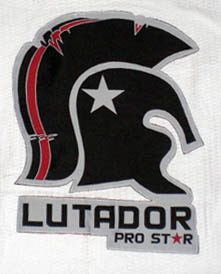 Blitz recommend that owners wash their gi at 40 degrees, which is what I usually do anyway, and then dry on the washing line or the clothes horse to prevent shrinking that occurs when using the tumble dryer. However, this doesn't stop the gi from shrinking after the first wash, where you'll see the gi pants shrink a couple of inches in length.
Price and Overall Opinion
Whilst there are a variety of different BJJ gi's on the market, with some priced at £150+, the Lutador is at the lower end of the market at £64.36 but this doesn't affect the quality of the suit, and is a sturdy, well-presented gi for the money.
The Lutador Pro Star gi is double lined throughout the length of the leg, along with the shoulders, to support and stregthen the gi in these areas where it needs it most.
A looser fitting gi, with a nice thick lapel (to prevent those chokes!) and mid-range thickness double weave, the Blitz Sport Lutador Pro Star BJJ Gi is a great suit for both Japanese Ju Jitsu and Brazilian Jiu-Jitsu, and is comfortable when ground grappling and throwing, with no restriction from the fabric.
Rating:
Whilst I have reviewed the white gi, the Blitz Sport Lutador Pro Star BJJ Gi is also available in blue and children's sizes too.
Adults Lutador Pro Star BJJ Gi – £64.36 (sizes A2-A6)
Kids Lutador Pro Star BJJ Gi – £55 (ages 9-10)