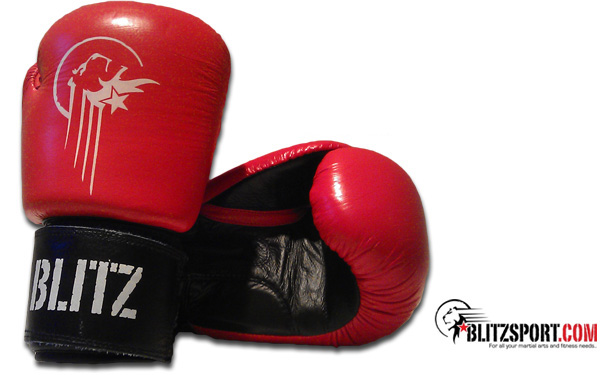 Boxing gloves are a core piece of equipment for any keen martial artist and fitness enthusiast. From boxing to Muay Thai, Mixed Martial Arts to K1 kick boxing, boxing gloves can be used in a variety of ways to train and keep fit.
The Blitz Sport 16oz leather boxing gloves are made in Pakistan, and despite what some people may think about gloves manufacturered there, these are a fantastic, well-made pair of boxing gloves. Comfort and protection appears to be at the top of Blitz Sport's agenda,  as I have never felt a cushier pair of boxing gloves. As soon as I slide my hand in, my fingers feel enclosed and snug, with very little room for movement. This is paramount for me when training, for if your hand is swimming about inside and is loose, you're less likely to be as accurate or as fast and could do yourself an injury. The 16 ounce gloves are extremely well padded, starting with great support at the wrist, right up the backhand, including the thumb piece, with the thickest part of the glove at the knuckles. This offers substantial protection and I found I could punch pain-free without needing to wear hand wraps underneath.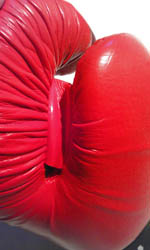 The thumb piece of the glove is connected to the rest of the glove by a thick, wide piece of leather, so there's no worries of it snapping after light usage which can happen with material thumb strap connectors.
The boxing gloves have a full, wrap around velcro fastener, adorned with BLITZ text print. The fastener leather is thin compared to some I have used, but I prefer this as I can wrap the glove much tighter for my smaller wrists. The leather, however,  looks a bit rough round the edges making its appearance a tad untidy. To say the rest of the glove looks quite stunning and well polished, I would have like the fastener to have been finished better but this is a minor aesthetic quibble.
The design of the gloves is quite simple but very striking. The contrast of the red and black stands out well, with the black lining the palms and thumb. In the other variations available, the red is substituted for the other colours whilst black remains the staple colour contrast. On the back hand of the boxing glove is Blitz Sport's lion logo in white.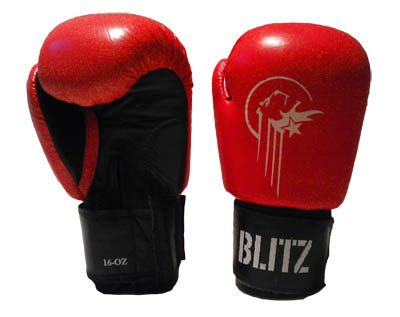 USING THE GLOVES
You don't always need a sparring partner to train using boxing gloves. I personally prefer to wear boxing gloves rather than bag mitts when using a punch bag. The added weight of the gloves means more effort is needed to hit the bag and the workout is all the more satisfying. Working with heavier gloves will also make your hands faster when using light gloves, so there's always a bonus. I also enjoy doing padwork using a pair of thai pads or focus mitts with a training partner. Be it still drills or moving around the gym using jabs, uppercuts, bodyshot and hooks, there's plenty of varied combos to keep you interested and to work the biceps and cardiovascular system. Having a moving target will also improve your footwork.
BOXING GLOVE WEIGHT
I myself am a 5′ 2″ woman, weighing in at 127lb, and have used both 14oz and 16oz in the past and I must say that I prefer the heavier glove at 16oz. It offers more padding and the Blitz Sport gloves are a fantastic, snug fit for my hands, despite my hands being small. I avoid womens boxing gloves as usually they are offered only in 10oz weights, so if you happen to be female and reading this, I heartily recommend the Blitz Sport Leather Boxing Gloves. They come in  a variety of weights, from 8-16oz, and in various colours: red, black and blue.
OVERALL VIEW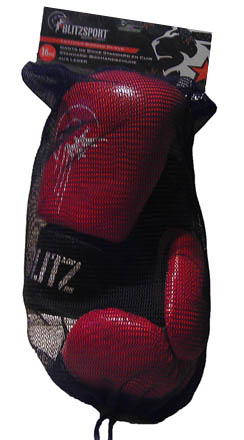 A lot of hard work and attention has gone into these gloves, with the glove stitched in various parts at prone stress points to ensure they don't fall to pieces after 5 mins. I can assure you these did not and they are a really comfy yet sturdy glove. I always prefer leather gloves to vinyl as I feel leather boxing gloves are made better with a stronger material so when you can purchase these leather boxing gloves for the same price of a major fight brands PU boxing glove, then, to me, there's no question which I would buy.
These boxing gloves also arrived in a drawstring, net bag which are great to store your gloves in after use so they can dry out and not remain sweaty. The gloves also have air holes at the palm to improve breathability when in use.
The Blitz Sport Standard Leather Boxing Gloves are an absolutely pleasure to use. They're a great fit, have plenty of support at the wrists and knuckles, complete with a smooth, soft lining that's gentle on the skin and padding that offers superb protection when working on the heavy bag. A fantastic pair of gloves that no doubt will last a long time.
Rating:
Blitz Sport Standard Leather Boxing Gloves are available for £30.99 from Blitz Sport
Use our exclusive voucher code BLITZFT at checkout to get 10% off your first order.