Blitz are known for producing a range of martial arts uniforms for karate, judo and taekwondo, but for a number of years they've also produced a range of BJJ gis, both through their own brand and their now defunct sister brand, Badbreed. They've just released the brand new Blitz Vencedor BJJ Gi for 2020 and I was fortunate to get my hands on one to see what this 350gsm double weave BJJ gi is actually like.
Gi Design
Compared to Blitz's previous BJJ gis, the Blitz Vencedor BJJ Gi is very plain indeed with contrast stitching (in this case, white stitching on the blue gi) complimenting the kimono nicely whilst a circular Vencedor (translates to 'winner') patch adorns the nape of the neck on the back of the gi jacket and the left front thigh of the gi pants. The gi jacket has side slits which are reinforced to prevent tearing, and the inside of the gi neck features a patch with the gi size, fabric content (60% cotton/40% polyester) and washing instructions printed on it. Like most BJJ gis, the collar is chunky and reinforced to make gripping the collar harder for opponents.
The Blitz Vencedor BJJ Gi is incredibly lightweight; perhaps, the lightest BJJ I've ever come across and believe me when I say I've groped a few gis in my lifetime! It's super soft too and thinner than most gis which usually have a coarse/rigid feel to them. The jacket weighs in at 700g whilst the pants weigh 400g so with a combined weight of around 1.1kg, this is definitely one of the lighter weight gis on the market.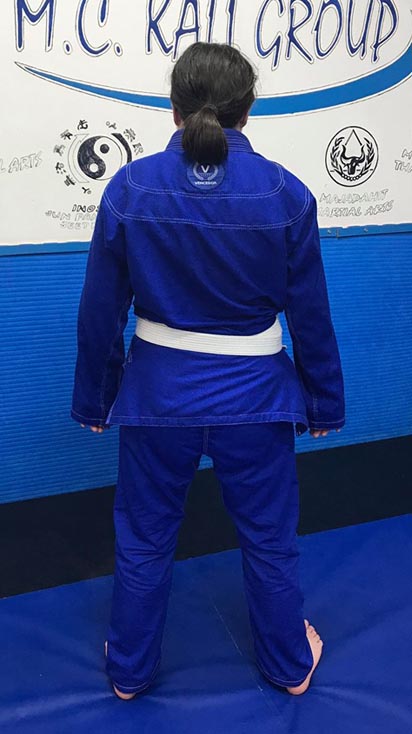 Plain gis, like this one, are perfect for those who prefer subtlety over patch-adorned gis. However, the Blitz Vencedor BJJ Gi is also ideal for jiu-jiteiros who wish to sew their own patches onto their gi, be it their club and affiliation's patches or otherwise. With more and more people entering BJJ competitions, representing their club with a patch adorning the back panel, lapel or pants is becoming more commonplace so choosing a plain gi which has space to accommodate their own patches is becoming increasingly popular. When it comes to IBJJF competitions, however, it's always worth checking which patches are allowed to be placed on the gi as the organisation follows strict rules which could prevent you from competing should your uniform not adhere to them.
Gi Measurements and Fit
In this review, I tested the A1 size of the Adults Blitz Vencedor BJJ Gi.
Jacket Measurements
First Fit
After Three Washes at 30 Degrees
Length from neck to hem
29.75 inches (31.5 including collar)
No Change
Chest (armpit to armpit)
24.5 inches
No Change
Sleeve Length from collar shoulder
29 inches
No Change
Wrist width
6.5 inches (13 inches circumference)
No Change
Trouser Measurements
Waist
40 inches (adjustable)
No Change
Leg Length
36.25 inches
No Change
Inside Leg Length
26 inches
No Change
Leg Width Hem
8.25 inches (16.5 inches circumference)
No Change
As a 5'2″ female with a 36″ chest and 28″ inside leg, I've opted for Blitz's previous BJJ gis in A1 size and they've fit well, even if the Badbreed Brasileiro BJJ Gi did come up a little shorter in the leg. Looking at the sizes available on Blitz's website, I probably should have opted for an A0 size in this new Vencedor gi, based on my height, however my weight of 65kg often pushes me into the A1 bracket which is partially why I chose this size.
The A1 size is a mixed bag for me. The pants fit a treat and are full length on me, just the way I like them. I know some people prefer half-mast pants when training in BJJ, as well as them being fitted, but I've always found pants like that to be too restrictive when it comes to stand-up work. These Blitz Vencedor pants though are just the right fit and cater for my bigger bottom (us ladies tend to be more curvaceous than our male counterparts in the hip and bottom department so need the space). The width of the pants is generous but without being baggy, meaning it's easier to move around in them and are more spacious than Blitz's Badbreed Brasileiro gi. The leg length also feels right for me and reaches past my ankle. In this case, should the pants ever shrink, then it's not going to be an issue as there's room for them to do so.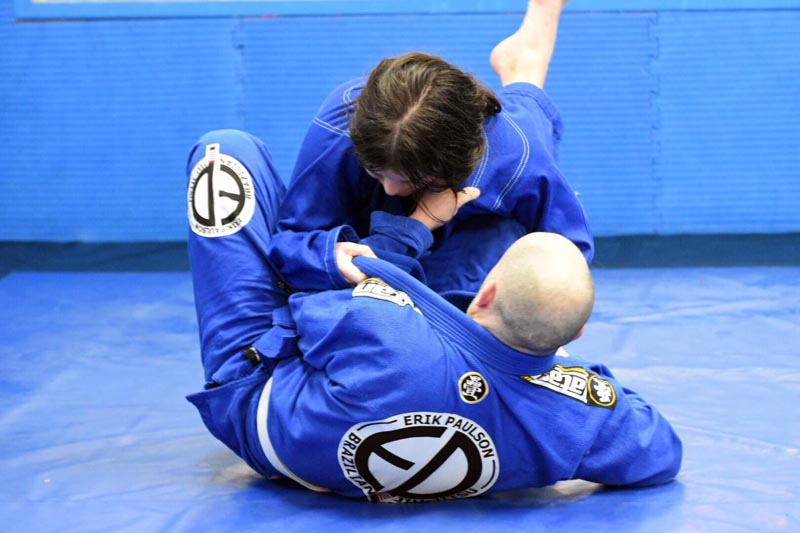 The Blitz Vencedor BJJ Gi jacket is where the size difference really is noticeable. I may be small, but I have a broader frame for my height thanks to my years of grappling. However, even that isn't enough to comfortably fill out the gi jacket. As I have short arms, the sleeves are quite long on me and reach halfway up my fingers whilst the body of the jacket is prone to hanging off me in certain positions. I suppose the upside of the bigger jacket is that I can escape it if someone gets hold of me!
As the A1 Vencedor is a larger fit compared to the A1 Badbreed, I'd say that the Blitz Vencedor BJJ Gi is more of an average fit rather than a fitted kimono so bear that in mind when choosing your size. Washing at 30 degrees has also shown little to no shrinkage (none in mine from what I can tell) so unless you're going to potentially warm wash it, it's probably not going to shrink in size. As with all BJJ gis, do not tumble dry as heat will cause the gi to shrink and the collar to be destroyed. Likewise, do not dry the gi on the radiator. Instead, hang it up on the line or on a clothes maiden to dry naturally. The weight of this gi means it dries very quickly.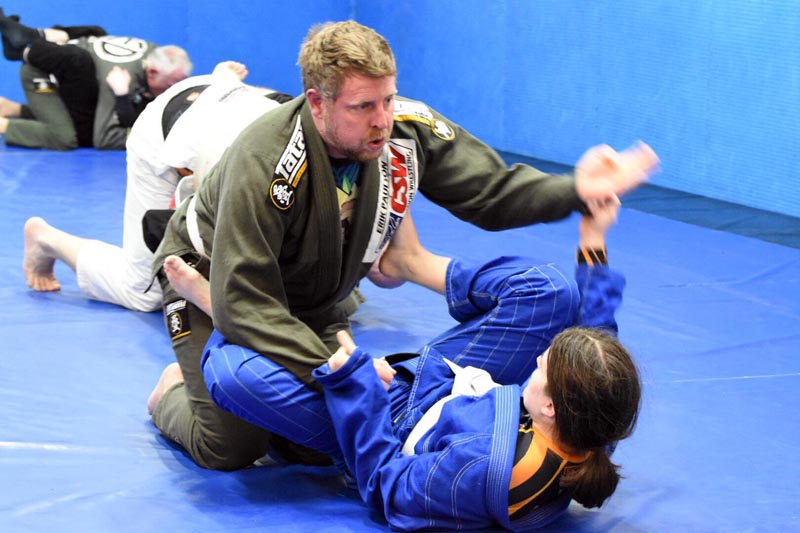 Practicality
Handling the gi prior to wearing it, I knew that the Blitz Vencedor BJJ Gi would be a different experience than I've had with others gis. I've had lightweight BJJ gis before, like the aforementioned Badbreed one without the rashguard lining, but none as light as this. Not only is the gi lightweight, it's also incredibly soft to the touch. When wearing the gi, the difference is enormous compared to the others. I felt as though I was hardly wearing anything at all. Maybe it's because I'm used to wearing thicker, coarser gis but this one felt nothing more than a t-shirt to me. As I sat watching my instructor demonstrate the techniques during class, I was completely relaxed, even as much as forgetting I was even wearing my gi.
When it came to rolling, I was a bit unsure how the softer fabric might hold up against the grips of some of the bigger guys in the gym who clearly have a bit of strength behind them. Whilst it was no doubt easier for my opponent to grip and keep hold of the gi, due to the softness of the weave and also the looseness of my jacket, it was easier for me to roll in. With my heavier gis, there's an element of battling through the weight or the stiffness of the gi but with this lightweight gi, I was moving around my opponents with little in the way of gi weight or restrictive fabric resistance, all of which makes for a pleasant rolling experience.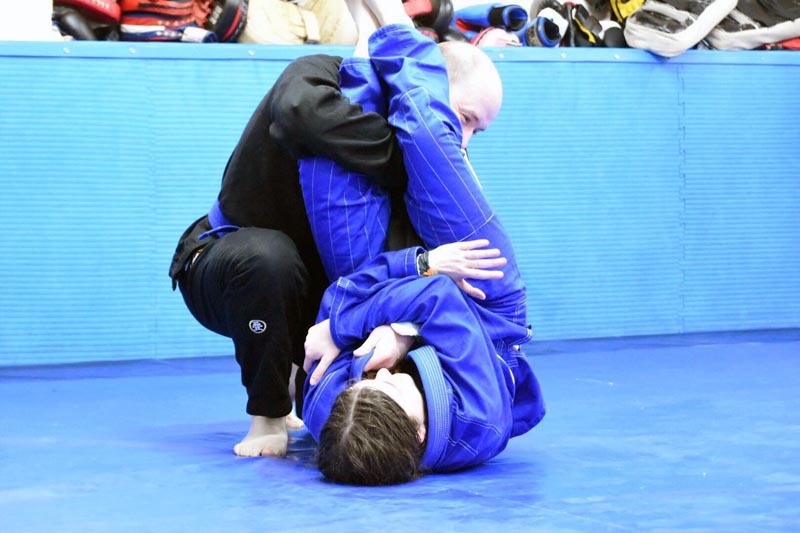 As I like to compete, a gi of this weight is perfect for competition use. As you usually have to weigh in wearing the gi, having a lightweight gi is paramount to having the advantage over your opponents as you get to weigh more within your bracket rather than having the gi take up some of that weight. It can also help you avoid cutting weight if you're just a few pound out. Whilst a thicker, stiffer gi can make it more difficult for opponents to grab and keep hold of you, a lightweight gi such as this can aid your agility. We all know gis weigh more when sweaty so a lightweight gi can make a big difference in a competition versus wearing a heavier weave one.
Throughout training, the gi has held up to being tugged, pulled and wrapped from my classmates as they pull off submissions and use different handles to control me when passing guard and playing various guard positions. I've found the gi to be easy to move around in and comfortable, even after a full hour of straight rolling. I'm looking forward to wearing this gi in the summer during the warm weather as I've no doubt it will make training much more comfortable.
As previously mentioned, the foamy, spongy drawstring on the pants seems to be a marked improvement on other ones I've used over the years. To date, my pants have not come undone as it seems that the drawstring compresses somewhat when tied in a bow so it's less likely to work its way loose through vibrations like the ridged rope ones do. It also hasn't frayed in the wash either which is a bonus.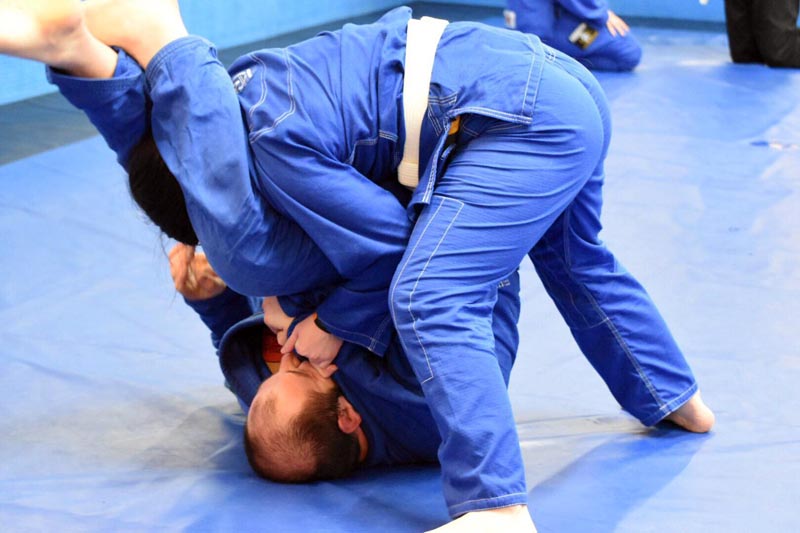 Overall Thoughts
I'm pretty impressed by the Blitz Vencedor BJJ gi. It feels premium and comfortable, and so far hasn't shrunk. The gi itself feels well made to a high quality with neat stitching and finish in all regards. The plain design also lends itself to the application of club patches if required but looks just as good with its minimalist design. Size-wise, I'm probably between sizes (A0 body, A1 pants), but for those with a more average body shape, you might find the Blitz Vencedor to be a better fit in the body, length-wise.
I really can't stress how light this gi is. It's remarkable! It's also made transporting the gi in my bag to the gym a lot easier with thinner material to fold up in the bag, leaving more room for other items of clothing and gym equipment. Whilst you might like to roll in a thicker gi, this particular one would be perfect for travelling with, competing in and wearing during the hotter months – no-one like a sweat-drenched, thick gi in the height of summer, do they?
If you want a minimalist, lightweight gi that is durable and comfy with a relaxed fit, then the Blitz Vencedor BJJ gi is well worth a look.
The Blitz Vencedor BJJ Gi is available in blue, white and black, from sizes A0-A4. A Blitz Kids Vencedor Gi is also available in sizes M0-M4.
Make sure to check out more of my BJJ gi reviews.