In more recent times, I've found that training in bare feet can be a painful experience. Itchy soles of the feet, cracked soles and occasional athlete's foot means that I cannot train in bare feet anymore without paying the price for it afterwards so, after using wrestling boots for a while, I decided to try the Blitz Superflex Sports Shoes to see if they could be the grippy grappling sock which I desired.
Design of the Superflex Sports Shoes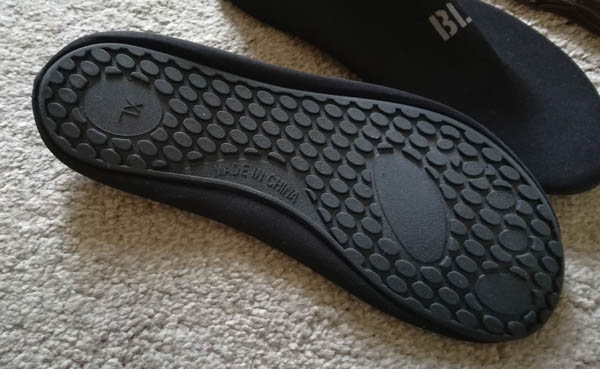 The Blitz Superflex Sports Shoes, which I've affectionately nicknamed "flippers", are black in colour, with grey BLITZ text printed on the front, and feature an elasticated opening for the foot. The shoes also feature a heel tab, which is very useful when pulling the shoes onto your feet, as well as a 5mm rubber sole, in an oval pattern, which provides the grip required when training.
Made in China, the shoes have been designed for a range of activities, including martial arts, yoga, beach walking, swimming, kayaking and other water-based sports, and are made from a soft, flexible fabric blend of 80% lycra and 20% polyester.
The Superflex Sports Shoes come delivered in a tinted black, Blitz , zip-lock fastened plastic wallet which is useful for storing the shoes in when not in use or when wet after being used.
Training in the Blitz Superflex Sports Shoes
When grappling, it's important to have grip on the mat so you don't slip and so that you're able to effectively move around your opponent. Whilst wrestling boots provide great grip, I found that, due to the size of the boots, they could be quite cumbersome when having to switch positions, whether it's escaping half guard or trying to get my feet in position to sweep. Nine times out of ten my feet would get stuck in an awkward position and that's not ideal for drilling, sparring or otherwise. However, with the Blitz Superflex Sports Shoes, the ankle sock-like design means I'm able to get my feet into those tighter spaces and manoeuvre around half guard much easier. As the Superflex Shoes are more like a thick sock rather than a shoe, it cuts down the bulk and makes my grappling that much more accessible.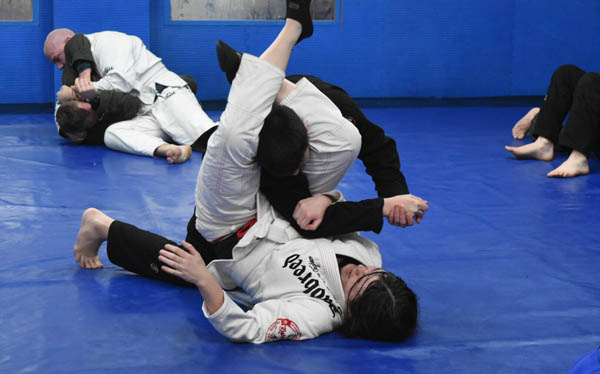 The Blitz Superflex Sports Shoes aren't perfect. They can sometimes half flick off in the middle of a roll if the back of the shoe is caught, meaning I have to either reach down and pull it back on (usually I spy the opportunity when I've got my opponent in guard) or just kick my foot and whizz it off completely. This doesn't happen all the time though. Maybe a couple of times during a rolling session whilst drilling it hardly happens at all. I would hazard a guess that if the shoe was built up higher than ankle length then they would probably stay on better.
Having also tried, or should I say attempted to try, the Tatami Grip Socks, which I couldn't even get halfway past my foot they were that tight, I have to say that Blitz have found a winning product in these shoes. They're comfy, provide the grip and also keep your feet warm which any jiujitsuka or wrestler who's trained on an ice-cold mat in Winter will testify is important if you want to train properly without being distracted by painfully numb toes.
When training in the shoes, the feet can get quite warm and sweaty depending if you've had a hard training session or not. The insole that is provided encourages your foot to breathe but when you're wearing fabric shoes, getting sweaty is something that's bound to happen. When taking off the shoes after training, I often find them a bit wet from sweat. The zip-lock, plastic wallet bag is ideal for storing the shoes until you get home and can air them out to dry, ensuring they don't stink up or rub against anything dry in your bag. Due to the material they're made from, the Superflex Shoes dry really quickly when left to air.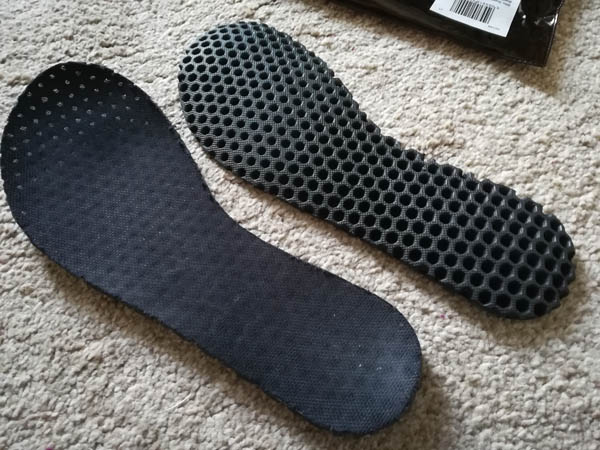 As I mentioned, the shoes come with a honeycomb insole to provide an element of cushioning when wearing the shoe and I've found them to be very comfy indeed. However, there's a thin, mesh fabric layer covering the top of the insole and I've found that it isn't very durable. After using them for six sessions, the top layer began to peel off and thus irritated my foot with the loose fabric getting between my toes. Blitz very kindly sent me a replacement but this new pair's insoles have done the same in just three sessions. I've tried training in the shoes without the insole in and they still function as desired, with the lack of insole not too much of a loss. What I will probably end up doing is either cutting off the loose bit of mesh fabric from the insole, or just peel it all off, and slipping them back into the shoes.
Fit and Feel
A usual class, for me, involves a warm up of running, shrimping, sit-outs, shooting for takedowns, jumping, squatting and stretching, before then getting down to takedowns and ground grappling. The Blitz Superflex Shoes provide the grip I need as to not slip on the mat when doing takedowns or running, but are soft and flexible enough to have the full range of movement I would have if I was training in bare feet. The shoes are lightweight and a great fit and true to size with the Size XL fitting my size 7-8 UK feet perfectly. If only all online footwear purchases were this easy to get right!
Overall Opinion
Whilst they may have the odd issues, I still think that the Blitz Superflex Sports Shoes are the best grippy sock-style footwear I've encountered on the market for martial arts. They keep my feet warm and protected from the mat and other people, and are flexible yet grippy enough to allow me to execute my techniques without much hindrance. To all those who train in actual socks on the mat, you'd be better off getting a pair of these and not risk slipping and suffering an injury.
The pricing of the shoes are great too, at an affordable £10.99 if you buy direct from Blitz (at the time of writing this review). Being an affordable solution for people wishing to train in something other than bare foot but still retaining the flexibility of movement, these Superflex Shoes from Blitz are an ideal choice of training footwear.
Rating:
Blitz Superflex Sports Shoes are available from Blitz Sport