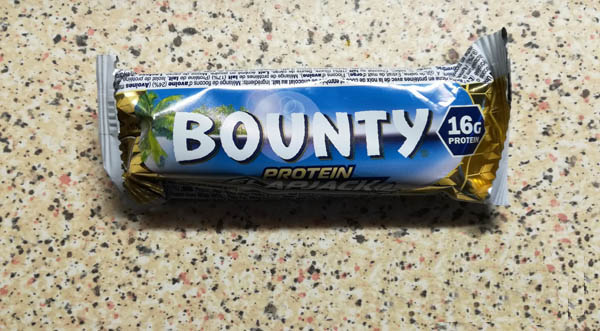 Like most women, I love chocolate. So when I was strolling through my local shop and spotted Bounty Protein bars for sale, I couldn't help but grab one as I dearly love the coconut-filled confectionery and can be often found scoffing those leftovers from a tin of Celebrations. Someone said that the Bounty ones are the worst chocolate out of the Celebrations collection. PAH! They can carry on telling themselves this as that means there's more for me.
So what did I think of the Bounty Protein Flapjack? Check out in my review below.
Bounty Protein Bar Appearance and Taste
Unwrapping its familiar blue and white foil wrapper, this time edged with gold, reveals the tempting chocolate Bounty protein bar, measuring 4″ in length, 1.5″ wide and a depth of half an inch. Much chunkier in appearance than its confectionery counterpart, it's a pretty inviting image for both chocoholics and fitness fans looking for a protein hit during or after training.
Biting into the Bounty Protein Flapjack, the texture is really thick and chewy. It's gives a very oaty taste but with a sweet zing to it, almost like lemon, with the thin layer of chocolate providing the cocoa edge. Whilst it definitely has a coconut taste, which you would expect from this product, I can't say it resembles a Bounty much. unfortunately, the combination of a slither of chocolate and coconut does not constitute a Bounty – the original is far superior to that. and unfortunately this Protein Bar is unable to emulate that classic Bounty taste.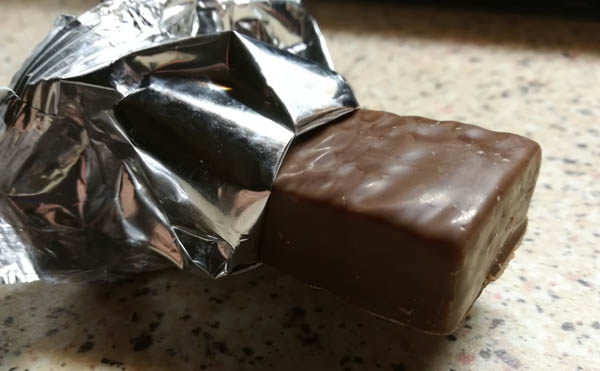 Ingredients and Nutritional Value
The Bounty Protein Flapjack contains Oat Blend (24%) (Toasted Malted Oats (Wholegrain Oat Flakes, Palm Oil, Barley, Malt Extract), Rolled Oats), Milk Protein Blend (17%) (Milk Protein, Hydrolysed Whey Protein Isolate (Milk), Emulsifier (Soy Lecithin)), Milk Chocolate (16%) (Sugar, Cocoa Butter, Skimmed Milk Powder, Humectant (Glycerol), Water, Desiccated Coconut (5%), Bulking Agent (Polydextrose), Humectant (Maltitol), Inulin, Flavouring Salt, Rapeseed Oil and Antioxidant (Natural Mixed Tocopherols).
For those with allergies, the bar may contain contain Peanuts, Pecans, Hazelnuts, Almonds and Egg Albumin. It definitely contains milk, oats and barley though. The bar isn't suitable for vegetarians nor vegans.
Each 60g Bounty Protein Flapjack provides 910kJ/218kcal of energy, 6.8g of fat (3.8g of which are saturates), 23g of carbohydrates (6.4g of which are sugars), 16g of protein and 0.36g of salt. The Bounty protein bar boasts 16g of protein for its 60g serving – so 26.6% protein which is kind of high amongst protein bars.
Overall Opinion
As a big Bounty fan, I was disappointed with the Bounty Protein Flapjack. Maybe I built it up in my head what it would taste like and the reality of the taste didn't match it, but I feel like the flavour could have been much better. As a protein bar made by Mars Wrigley and trading on the Bounty name, I expect these bars to sell effortlessly however other bars made by dedicated nutrition companies taste better than this.
Outside of the taste of the bar, it does provide a substantial protein hit but if flavour plays a big part in your consumption of protein bars and the like, then I'd suggest trying a sample or a single bar before committing to a full box of Bounty Protein Flapjacks.
Rating: