Protein bars are an excellent way to consume protein straight after training or during the day to satisfy cravings without having to resort to your traditional snacks such as chocolate bars. They're also handy to slip into your gym bag to eat on the way home after blasting the weights or taking part in an intense martial arts class.
In this review, I'll be giving my thoughts on such a protein bar, the CNP Professional Pro Flapjack in Chocolate flavour.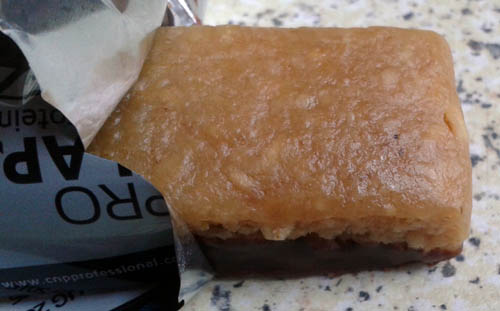 CNP Professional Pro Flapjack
Having tasted the chocolate orange version in the past, which has a spice to it like Terry's Chocolate Oranges have, I decided to try the chocolate flavour of CNP Pro Flapjack bar. The bar measures 1.5 inches wide, 4.4 inches long and with a depth of 0.75 inches. Looking at the flapjack bar straight out of the packet, it looks like half golden covered oats on top with half layer of chocolate underneath.
Biting into the CNP Pro Flapjack bar, it's quite soft and very chewy compared to other protein oat bars I've tasted. I'm surprised that it hardly tastes of chocolate. It tastes more of chewy oats. Upon biting into the bar, it's revealed that the majority of the bar is in fact oats and the milk chocolate only covers the bottom of the bar and halfway up the sides as a coating and a very thin coating at that.
Whilst it's an edible bar with a sweet undertaste, I'm quite disappointed about the lack of physical chocolate and chocolate taste, especially as it's advertised as being chocolate flavoured. Even the bar's wrapper shows more chocolate than I can see or taste in this!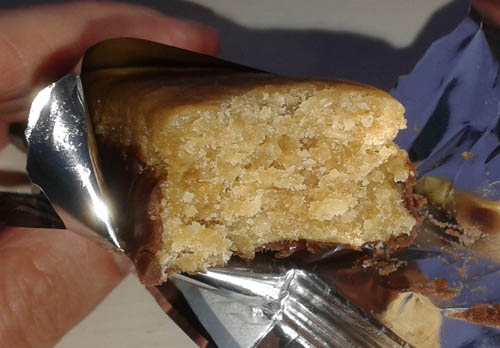 Ingredients and Nutritional Value
CNP Professional Pro Flapjack Protein Bar contains Oat Blend (Rolled Oats, Malted Oats (Oats, Barley Malt Extract, Palm Oil), Protein Blend (Milk Protein Isolate, Hydrolised Gelatine, Whey Protein Concentrate (Milk), Micellar Casein (Milk)), Glucose Syrup, Humectant (Glycerol), Milk Chocolate Flavour Coating (8%) (Sugar, Non-Hydrogenated Palm and Palm Kernel Oil, Whey Powder (Milk), Fat-Reduced Cocoa Powder, Wheat Flour, Emulsifiers: (Soya Lecithin, E476), Flavouring), Sweeteners (Maltitol, Sucralose), Rapeseed Oil, Preservative (Sorbic Acid) and Flavouring.
This bar is not suitable for those who have allergies to oats, barley, milk and wheat. It may also contain egg, peanuts and nuts.
For each 75g bar, the CNP Pro Flapjack provides 1151kJ or 275kcal of energy, 7g of fat (2.7g of which are saturates), 38g of carbohydrates ( 4.8g of which are sugars and 10g of which are polyols), 2.9g of fibre, 18g of protein and 0.03g of salt. This bar provides 24% protein.
CNP themselves recommended that no more than two bars be consumed per day.
Overall Opinion
Whilst the bar is tasty enough to eat, I expected the CNP Pro Flapjack bar to be much more chocolatey than it actually is. I also recommend you keep the bar in the fridge until you pop it in your gym bag or want to eat it as the chocolate coating easily melts.
This isn't the best tasting oat protein bar I've tried but it's not awful either. For those looking for a stronger chocolatey protein hit, you're better trying the Myprotein Protein Chox, Grenade Reload Bar or GoNutrition Cookie.
If you're not too fussed about the chocolate content and just want the oaty goodness then you'll probably like what CNP have to offer in this flapjack bar. An adequate protein bar that fills a gap especially when you've got the munchies.
Rating:
CNP Protein Flapjacks are available in Chocolate, Cherry Almond, Chocolate Orange and Lemon Meringue flavour in boxes of 12.