I don't use pre-workout supplements every time I train. I usually only use them when I know I'm going to train hard and I want the extra energy to help me get the most out of my workouts, especially if I'm feeling a bit tired beforehand.
In this review, I'll be sharing my thoughts on MusclePharm Assault in Raspberry Lemonade flavour.
MusclePharm Assault Raspberry Lemonade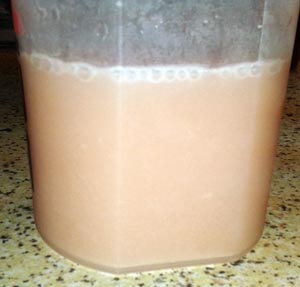 The kind folks at MusclePharm sent me a sample of MusclePharm Assault pre-workout supplement in the post after I heard my teammate speak very highly of the powder. The single serving arrived in a thin, narrow packet and contained a 14.5g serving.
Upon opening the packet, the MusclePharm Assault Raspberry Lemonade pre-workout powder certainly smelt fruity and pouring it into the shaker bottle and mixing it with water, it turned into a pastel yellow/beige colour.
When drinking the mixture, I couldn't really taste the raspberry or the lemonade and it was hard to tell what it actually tasted like. It was pleasant enough to consume though. I mixed it with 300ml of water and consumed the formula at 7.30pm, 30 minutes before my evening Ju-Jitsu class.
Effects of MusclePharm Assault
My friend at the gym who takes MusclePharm Assault regularly always takes half a serving and now I know why. I'm half his size and just over half his weight but consumed a full serving. MusclePharm Assault is potent stuff, without a shadow of a doubt. I was roaring with energy by the time 8pm came and was managing to tear through the exercises and padwork and sweating a fair bit whilst I was doing it. Even after two of three rounds of padwork combinations, I was still raring to go, be it more striking or grappling on the ground.
When it came to having to stand and watch the instructors teach the next technique, I found that the pre-workout gave me an immense amount of energy, so much so that I found it hard to stand still and my mind began to wander. In that respect, Assault didn't give me the clear mental focus that BSN N.O. Xplode 3.0 did but I was bouncing with energy that I could have trained all night if I had wanted to.
I feared when I went to bed that night that I might not sleep but I am pleased to say I slept soundly. When I awoke the next morning, I could tell that I still hadn't come down off the pre-workout but it wasn't like having Speedy Gonzalez running around in my head which sometimes happens with potent pre-workouts. I did notice, however, that when holding a glass of water which I had prepared for breakfast, I was involuntarily shaking. My entire right hand was shaking so much that I nearly spilt the contents of the glass and I had to put it down on the table.
By about dinnertime, the shakes had stopped as I had comedown off the pre-workout without any crash but the shakes is certainly something I've never experienced before with a pre-workout. I felt okay but it would seem that the serving was a bit too much for my little body to handle.
And although a lady will never admit she does such a thing, MusclePharm Assault can also make you a bit gassy.
Ingredients and Nutritional Value
MusclePharm Assault Raspberry Lemonade flavour contains Vitamin C, Vitamin E (as Alpha Tocopherol Acetate), Niacin, Vitamin B6 (as Pyridoxine Hydrochloride), Vitamin B12 (as Methylcobalamin), Calcium (as Silicate, Phosphate and Citrate), Sodium, Potassium, ATP Amplifier (Carnosyn Patented Beta Alanine, L-Tyrosine, L-Aspartic Acid, Red Beet Extract High in Nitrates, (DMG) Dimethylglycine HCI) Cellular Transport & Insulin Activator (Dextrose, L-Glycine, Ribose, Cinnulin PF (Cinnamomum Burmannii) Bark Extract) Athlete Performance Blend (Creatine Nitrate, L-Arginine Nitrate, BCAA Nitrate 3:1:2 ratio [l-leucine, l-valine, l-isoleucine]), Energy and Neuro Igniter (Choline Bitartate, Glucoronolactone) Pure energy matrix (caffeine anhydrous, pterostilbene, Huperzine A) Hydration System (Taurine, Coconut Water Powder, L-Glutamine) Other ingredients: Calcium Silicate, Natural and artificial flavours, sucralose, citric acid, medium chain triglyceride powder, red beet juice powder (for colour) acesulfame potassium.
The MusclePharm pre-workout also contains tree nuts (coconut) and was produced in a facility that may also process ingredients containing milk, eggs, soybeans, shellfish, fish, treenuts, wheat and peanuts therefore if you're allergic to any of these you will want to avoid this particular supplement.
Per 14.5g single serving, MusclePharm Assault Raspberry Lemonade provides 2g of carbohydrates, 2g of sugars, 500mg of Vitamin C, 200mg of Vitamin E, 25mg of Niacin, 15mg of Vitamin B6, 90mcg of Vitamin B12, 171mg of Calcium, 40mg of Potassium, 3500mg of ATP Amplifier, 2952mg Cellular Transport and Insulin Activator, 2000mg of Athlete Performance Blend, 1750mg of Energy and Neuro Igniter and 1200mg of Hydration System.
Overall Opinion
If you need to focus and concentrate on what needs to be done, I'm not sure whether MusclePharm Assault will do the trick unless a lower dosage is needed to allow you to do so but if you're looking for a bucketload of energy and then some, then a full serving of MusclePharm Assault will surely do the trick.
The taste could be better and the windy side effects are unwanted but as a pre-workout to give energy to help you push through your weight lifting, martial arts or sports training, MusclePharm Assault is more than suitable.
Rating: