Speak to anyone who trains in martial arts regularly and you'll discover they have a wardrobe full of gis. Yes, we can't get enough of jiu-jitsu that our wardrobe contains more gis than it does normal clothing (and who says you can't wear a gi day-to-day). But what happens when you also have no-gi? You could wear shorts or spats, but wearing gi pants is often a popular choice too.
When you train in BJJ, most of your time is spent on the ground, particularly on your knees so the gi pants can often wear out quicker than the jacket, which is why some companies, like Submission Fight Co., stock gi pants separately.
In this review I'll be taking a look at the brand new Submission Fight Co. Aura Gi Pants in black.
Design
The Submission Fight Co. Aura Gi Pants are a slim cut pair of black pants with grey stitching along the seams, often double or triple row stitched to provide extra strength in prone areas.
The circumference of the waist is decorated with Submission tape stitched to the pants, a design which is replicated on the inside hem of the leg cuffs. Both the left and right side of the pant legs are embroidered with the capital text SUBMISSION in grey with blue detail and a patch stitched underneath with the text AURA embroidered in blue with grey outline. On the front of the right pant leg, there's a small patch stitched to the pants bearing the Submission Fight Co. logo in grey and blue with the fabric content and washing instruction label attached underneath which also depicts the gi pant size. The waistband slits, which the rope drawstring is threaded through, are reinforced hemmed with pewter fabric.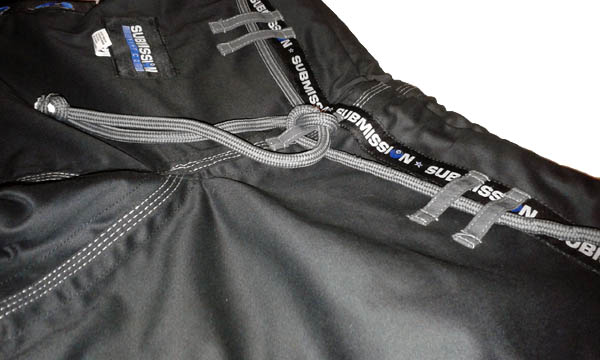 Unlike a lot of gi pants, the Aura gi pants feature 5 pewter loops at the waist to pull the rope drawstring through. These are double loops on the left and right and one in the middle. This is a new one for me as I've never encountered a middle loop before. Instead, I would normally tie my gi waistband cord in a bow there. It took a few attempts to see what method of fastening worked better with the extra loop and though I seem to vary each time I wear the pants, I always find having a kind of knot around the loop works better, even if it takes me a little time to undo it when removing the pants.
The grey rope drawstring on the pants provides a tight adjustment at the waist and is long enough and soft enough to tie in a bow with ease. I have a pair of gi pants from a different brand with a short and stiffer rope drawstring and I can only just tie them. The Submission FC Aura Gi Pants do not have a problem in this department. The rope is a perfect choice and allows to fasten the pants without issue, and the rope does not come undone during training.
The Submission FC Aura Gi pants are made from quite a tough, thick polyester and cotton blend which gives a weightier feel compared with light cotton fabrics. The polyester content gives a sheen to the pants which sets them apart from other gi pants.
Size
I'm 5'2 with short legs (27″) so I opted for the A1 size in the Aura Gi Pants. Straight out of the packet, the pants are a perfect fit. I've never had that with gi pants before. Usually they are a tad too long or too short, but the pants from Submission FC are right on the money.
Below are the measurements for the A1 size of Aura gi pants.
Trouser Measurements
Waist
40 inches (adjustable)
Leg Length
35 inches
Inside Leg Length
27 inches
Leg Width Hem
8 inches (16 inches circumference)
The washing label recommends to wash the pants at 30 degrees and tumble drying them is a huge no-no unless you want the pants to shrink into shorts. Putting them on the washing line or clothes horse is the best way to dry gis in general.
Wearing the Aura Gi Pants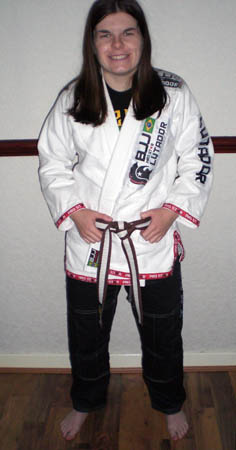 I train in Japanese Atemi Ju-Jitsu and at our club we do a range of training involving throws, takedowns, locks, padwork and warmups but every lesson, without fail, we do at least 30 minutes of BJJ ground grappling. At weekends, I often attend classes where we just roll for two hours or learn BJJ techniques.
I decided to wear the Aura pants to my regularly weekday class to see how they would hold up. As soon as I walked in the gym, numerous people said "wow, love the new pants! Are they motorcyle pants?". Being a motorcycle rider, I can understand why my teammates might say this, but due to the more fitted shape of the pants and the thickness of the fabric, they look too good to be gi pants. Most gi pants are baggy with a lot of material available for opponents to use to their advantage but these ones from Submission FC look very slick and would look good worn casually or indeed on a motorcycle as well as on the mat!
Wearing them for the first time, the decorative inside leg cuff talk tape irritated my skin a little around my ankle however it soon wore off and subsequent use of the pants have proved this was a one-time issue. The gi pants haven't much depth in the bottom department, which leaves the back of the pants sitting lower on the waist than the front. As our normal ju-jitsu class involves bending over to throw and many other various leg raising antics for warmup and technique, I found myself loosing my pants a little and constantly pulling them up, afraid that I would moon someone despite wearing underwear. For ju-jitsu class where a lot of stood up movement is needed, I found that the gi pants weren't really suitable, having to hitch them up each time I wanted to kick or go into horse stance otherwise fear exposing my rear. However, I decided to try them at BJJ grappling classes instead during the weekend when I knew we'd be doing nothing but rolling. This is what the gi pants were made for, for BJJ, and this is where I'd really put them to the test.
Learning from previous experience, I continued to use the Submission Fight Co. Aura Gi Pants but instead wore a pair of spats underneath just to prevent any unwanted flashing. Having a curvy derrier does not mix well with the pants and more bum room would be required in future designs.
Where the pants had been restrictive in the previous scenario doing Japanese Ju-Jitsu, the pants did not hinder my movement during sweeps, helicopters armbars and the like during rolling. Be it fighting from the top or bottom, the pants give ample room for me to move and shrimp out of side control with ease. Standing up and going to ground via takedowns didn't seem a problem either. Minimal takedown techniques during the training session compared to a Japanese Ju-Jitsu class seemed to work well when wearing these pants. They might not like the extra activity a usual Ju-Jitsu class gives them but a BJJ class is the perfect time for these pants to shine, holding up to kneeling, switching positions from mount to side control, technical mount and kesa gatame. I found doing a spider-guard drill in the pants effortless to do, with the fitted form of the pants and perfect length leaving no excess fabric in its wake to get caught up in.
Although these pants are clearly a thicker fabric than my other gi pants, I didn't notice the temperature was any different to others when wearing them. They seemed to keep cool and stood up to the job when rolling and learning technique and felt great with or without a pair of spats being worn underneath.
Overall Opinion
The Submission Fight Co. Aura Gi Pants are a damn fine pair of gi pants. They look the business and feel awesome to wear… in fact, too nice to wear for jiu-jitsu! Honestly, I'd wear these casually up and down the street. It seems a shame to "ruin" them by rolling about on a mat with sweaty people (myself included) for hours on end but if you do want to train BJJ in them, they're good for that too.
Fit-wise, the gi pants do need some work as only those with a flat bottom or no bottom could possibly get away with doing anything like throwing or kicking without them falling down a little due to the shallow fit. Some of the threads of the edge of the embroidery on the pants came a little loose after a few wears and the patches could have been stitched a little neater without the excess thread hanging off. However, there's no poor stitching in areas where holes could develop, with often reinforced stitching in these parts to prevent any such occurance.
Submission FC have made a tidy pair of gi pants in the Aura. They look the part, are great to wear and are a high quality product, particularly with the embroidered Submission logo. At $59.95 (£37.83), the gi pants are a couple of quid dearer than others on the market, but the Submission Aura gi pants do have more detail which I'd say is worth the extra £2.
Also available in white ($54.99/£34.70) in sizes A1 to A5, the Submission Fight Co. Aura Gi Pants are available from www.submissionfc.com
Rating: