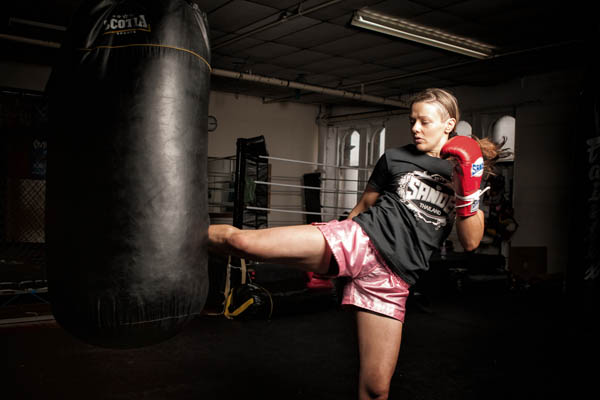 Yesterday, Thai boxing equipment supplier Sandee announced they'll be releasing a Joanne Calderwood signature series to coincide with her appearance on the UFC's The Ultimate Fighter season 20, which will feature on all-female lineup of strawweight fighters.
The 27 year old Scottish Team Sandee fighter, who's also known as JoJo, has seen tremedous results fighting in various fight promotions, with overall 8 wins and no losses in her professional MMA fighting career, with 4 of them being at women's fight promotion Invicta FC. JoJo is also the current ISKA World Flyweight Champion, IKF European Flyweight Champion, the WKL European Flyweight Champion and the WBC UK Flyweight Champion and is ranked #2 in the world by the World Professional Muaythai Federation.
Sandee will be naming JoJo's signature collection 'BADMOFO' after the fighter's Twitter handle @badmofo_JoJo, with the range consisting of boxing gloves in 10-16oz and Medium and Large Muay Thai shin guards featuring the colours white, Scotland blue and black as well as a Celtic inspired 'BADMOFO' logo.
Handcrafted in Thailand, the BADMOFO range is expected to hit the shelves in May 2014.
JoJo, who trains out of Griphouse gym in Glasgow, can also be found on Instagram as well as her official website.
Sandee can also be found on Twitter @sandeethailand