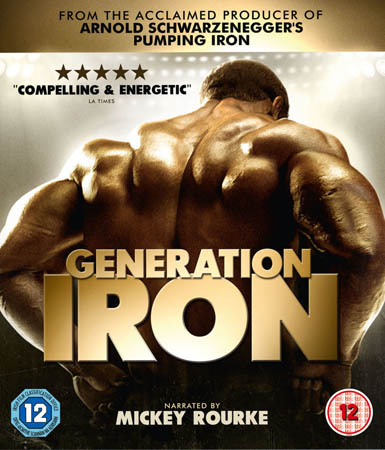 GENERATION IRON (2013)
On Region 2 DVD and Blu-Ray – available only at MyProtein.com
From the producer of the legendary bodybuilding documentary Pumping Iron, which helped to make a household name out of Mr Olympia Arnold Schwarzenegger, comes its successor, Generation Iron.
Generation Iron was shot in 2012, leading up to the Mr Olympia bodybuilding competition in Las Vegas, Nevada, where Mr Olympia title holder Phil Heath was looking to retain the title for a consecutive year and become 2x Mr Olympia. That task wouldn't be easy, with other current bodybuilding stars Kai Greene, Branch Warren, Dennis Wolf, Roelly Winklaar and Hidetada Yamagishi, amongst others, vying for the top spot. The documentary spends time with the different bodybuilders, giving glipses into their home lives, their training, their work ethic, hobbies and their drive. Out of all the bodybuilders, Kai Greene and Phil Heath are focused on the most. Nicknamed 'The Gift', Phil Heath is tipped to be the next Ronnie Coleman, seemingly untouchable and destined for more titles. Kai 'The Predator' Greene is Phil's main competition but also the underdog who's personal life, particularly as a child, was never an easy one compared to his peers.
Director Vlad Yudin likes to focus on the personalities and lives of the bodybuilding stars, and one of them is the relationship between Roelly Winklaar and his coach, Sibil Peeters, who's affectionately known as Grandma by those who work with her, or 'the Trainer from Hell' by those in the bodybuilding business due to her intense training regime. The documentary highlights Winklaar's efforts in two competitions which will help him get through to the Mr Olympia competition if he positions in first or second place. Yudin also spends a little time with Bench Warren on his ranch in Texas, with Germany's Dennis Wolf at a movie audition and Ben Pakulski on his scientific training at a sports lab. Hidetada Yamagishi discusses how he's passionate to prove asian men can become globally competitive bodybuilders and Dominican Republic native Victor Martinez discusses the struggles of bodybuilding and supporting his family after being incarcerated.
Subtly narrated by American actor Mickey Rourke, Generation Iron is a captivating watch for both bodybuilding enthusiasts and film fans. Incredibly well shot, the documentary gives a real insight into the lives of these athletes and how much hard work they must put in to ensure they are at the top of their game. Bodybuilders are a rare breed and their feats of physical sculpting perfection are extraordinary. It's obvious to see that these men are the best in the world, doing what others can only dream of. The hours put into training and building the muscle and the dedication to their routine and strict diets are compelling to watch.
Bodybuilding isn't without controversy, and the elephant in the weights room is steroids. Thankfully, a few of the bodybuilders in Generation Iron broach the taboo subject and handle it really well, rather than brush it under the carpet and ignore the subject altogether.
The documentary features a varied range of bodybuilders of different nationalities which will appeal to an international audience, as well as some familiar faces. Bodybuilding legends including Arnold Schwarzenegger, Lou Ferrigno, Jay Cutler and Ronnie Coleman also make brief appearances in this documentary, usually in the form of interview snippets.
It might not hit the heights of Pumping Iron, but Generation Iron certainly has the tension, excitement and insight to make it an enjoyable, engaging watch for all, and is unmissable for those with an interest in bodybuilding.
Rating: