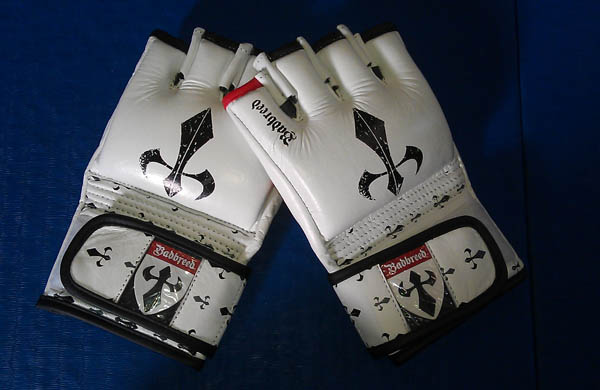 If you train in MMA and are looking to fight in the cage, then you need a pair of durable competition MMA gloves.
In this review, I'll be giving our verdict on the new Badbreed Signature Edition White MMA Competition Gloves from established fightwear brand, Badbreed.
Badbreed's latest pair of MMA gloves fit in with their inspired forged collection which was launched at the end of 2013/the beginning of 2014. Sporting the sharp-edged, almost blade-looking fleur-de-lis, the MMA gloves look every bit as stylish and deadly as Badbreed's fantastic 7 Kings Boxing Gloves, which I've previously reviewed.
These MMA gloves are ideal for competition, weighing at 4oz which is the regulation glove weight for pro competition fights. The suitability for MMA fights is reflected in that they are used as the official MMA gloves of UCMMA (Cage Rage) and other MMA events in the UK.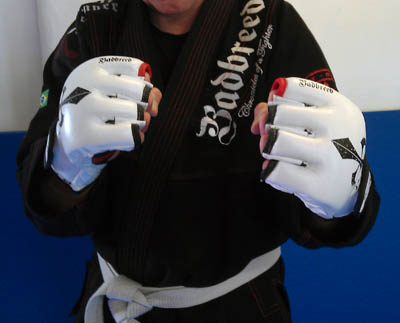 Made from durable A grade buffalo leather, the Badbreed MMA gloves exhibit the same premium quality as seen in their other latest efforts. If you find time to stop smelling the leather of the gloves, you'll notice that although they're constructed from a strong leather, they're actually quite flexible to move than some other gloves. They gloves are rather flexible straight out of the packet, with no need to break them in like you have to do with Sandee ones, for instance, which are quite tough to start with.
Style and Protection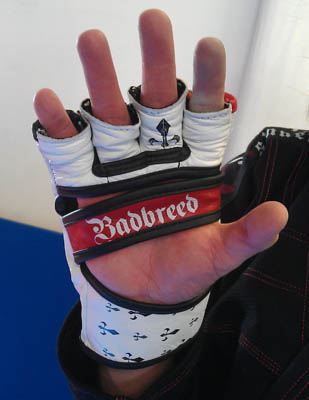 Some MMA gloves feature a covered thumb, but the Badbreed Signature Edition White MMA Competition Gloves are open thumb, allowing freedom of movement of the thumb which aids better grip, especially when grappling and taking the fight to the ground. The gloves also feature a semi-open palm, with a single red buffalo leather strap helping to keep the hand in position and a compact fit. When sparring, we found that the open thumb felt unrestricted, particularly when gripping our opponents or going for chokes. The hands also seemed to breathe better without being covered, as sweating can become an issue with covered thumbs over a period of rounds.
When sparring and competing wearing MMA gloves, comfort is priority, as well as support. The soft durable leather construction means these Bad Breed Signature MMA gloves are a joy to wear. The hand isn't hindered in any way, and they feel really comfortable against the skin when being worn. The gloves feature neoprene coated inner finger section to decrease restriction and maximize hand movement.
For hand protection, the Badbreed Signature Edition MMA gloves sport one inch of foam padding on the knuckles, with generous padding that extends to the fingers, helps prevent injury to the knuckles as well as offering a slightly cushioned blow to your opponent over the power of bare knuckles.
The MMA gloves are lined in a soft, moisture absorbing, anti-microbial material which helps the hands breathe when using them and keep your hands and the gloves fresh. There's nothing worse than wearing gloves that get hot and sticky easily when training or competing. It's easy to loose focus if that happens, but these gloves do a good job of preventing that from happening, due to the breathable lining and open palm/thumb style of fit.
Design of the MMA Gloves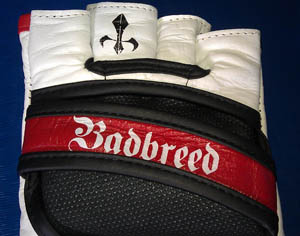 Design wise, the Badbreed Signature Edition MMA Gloves are very stylish without being overbearing or OTT. The design incorporates the fleur-de-lis, as seen throughout the Badbreed range, in a miniature print along the wrist and velcro fastened wrist strap. A large single fleur-de-lis is featured on the knuckles as well as a smaller fleur-de-lis on the inside of the middle finger. Medieval style Badbreed script is found on the outer index finger as well as in white across the red palm strap. Finally, an embossed rubber Badbreed fleur-de-lis shield is embedded into the wrist strap. The same sort of embossed rubber design can be seen on the Badbreed 7 Kings boxing gloves too, and I find it's quite a neat addition to an already cool looking pair of gloves.
In a quest for neatness, which Badbreed have done so well with, the white MMA gloves are stitched and hemmed with black leather, except for the index finger which is hemmed in red to match the palm strap. A splash of red within the overall white and black colour of the gloves just gives that extra pizazz to set the gloves off. The inside of the fingers aren't hemmed in leather but are securely stitched.
Securing the fit of a glove is always important to prevent the glove from moving or slipping mid-fight. The Badbreed Signature MMA Gloves feature a single, wide, leather velcro fastened strap in addition to an elasticated strip holding the wrist of the glove together.
Unlike some brands who's gloves may come up small or large, the Badbreed MMA gloves appear to be a standard fit and match the size chart given by Badbreed on their website.
The gloves come packaged in a nifty transparent plastic pouch packet with a resealable velcro lid which is ideal for storing your gloves in when not in use.
Overall Opinion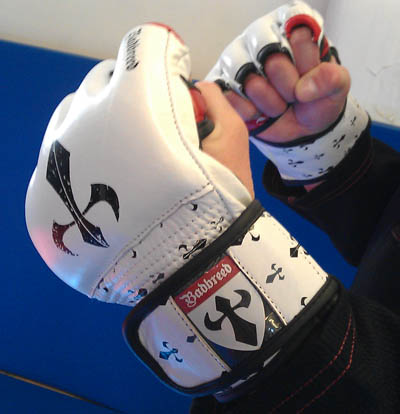 We're really impressed by these MMA gloves. They're comfortable, breathable and the open thumb design is ideal for mixed martial artist needs. The unrestricted movement means you have a better chance of keeping a tight grip, something which is paramount when taking the fight to the ground and getting those all important positions and submissions.
Some gloves can be so stiff and rigid out of the packet, that even after a period of time of breaking them in, it hurts and takes effort to maintain a fist position with the hand for the duration of the rounds. Whether you're sparring or competing, that is something you can do without. These Signature Edition MMA Gloves from Badbreed don't have that issue. They're flexible without being flimsy, but tough enough without being rigid. They're bob on for what you need them for and do exactly what you ask of them.
With a striking (no pun intended) design and durable comfort to match, these are an excellent pair of MMA Gloves for beginner or seasoned professional, in and out of the cage, at a decent price. If they're good enough for UCMMA, then they're good enough for us!
Rating:
Badbreed Signature Edition White Competition MMA Gloves (also available in black) are available from Badbreed and Blitz Sport for £39.99.