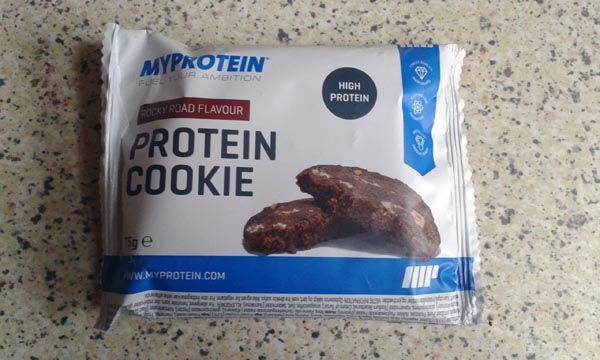 If you train in the afternoons and need a quick protein hit before your next appointment, then Protein Cookies are just the thing! Satisfying that sweet craving, a protein cookie is a much preferred alternative to a packet of ordinary chocolate biscuits. As a huge cookie and biscuit fan, protein snacks such as these are always high up on my list to sample and purchase otherwise I end up raiding the cupboards after Ju-Jitsu training and eating the sugary alternatives that I know I shouldn't over-indulge in.
In this review, I'll be taking a look at such a protein snack, the Myprotein Protein Cookie in Rocky Road flavour.
Myprotein Protein Cookie
The brown Rocky Road chocolate Myprotein cookie measures 3.75 inches in diameter and is fairly thicker than your average cookie.
Taking the cookie out of its wrapper, you can really smell the chocolate scent. It looks absolutely delicious with light pink pieces scattered throughout the cookie.
Biting into the Myprotein Rocky Road Protein Cookie, I was quite surprised by the taste. Despite its appearance, it doesn't taste that chocolatey. The texture of the cookie is thick and chewy, almost spongy even, so quickly scoffing the entire lot is not an option. Instead you'll have to eat it patiently 🙂
Whilst the chocolate taste is quite subtle, there's a fruity twist which is rather evident whilst consuming the cookie. The cookie is quite moist but the chewy texture gives it a filling feeling.
Ingredients and Nutritional Value
Myprotein Protein Cookie Rocky Road Flavour contains Milk Protein, Hydrolysed Gelatine, Glycerine, Palm Oil, Soy Protein Chocolate Chips (4.4%) (Cocoa Mass, Sugar, Emulsifier (Soy Lecithin), Flavouring), Sugar, Reduced Fat Cocoa Powder, Marshmallows (3.5%) (Sugar, Corn Syrup, Water, Dextrose, Beef Gelatine, Corn Starch, Flavouring, Natural Colour (Beetroot Red)), Soy Protein Crispies (2.2%) (Soy Protein Isolate), Oat Flour, Fruit Pieces (1.%) (Concentrated Apple Puree, Strawberry Puree, Fructose, Sugar, Humectant (Glycerine), Wheat Fibre, Palm Oil, Acidity Regulator (Malic Acid), Gelling Agent (Pectin), Concentrates (Black Carrot, Blueberry, Pumpkin), Natural Flavouring), Gum Acacia, Rising Agent (Sodium Bicarbonate, Cream of Tartar), Flavouring, Salt and Sweetener (Sucralose).
This cookie is not suitable for those with allergies to milk, soy, wheat and oats. As this cookie may also contains nuts and peanuts, it's better to avoid if you have an allergy to these also. The Rocky Road cookie is not suitable for vegetarians and excessive consumption may cause a laxative effect.
Each 75g Myprotein Protein Cookie (Rocky Road) provides 1332kJ/319kcal of energy, 9.8g of fat (3.6g of which are saturates), 20g of carbohydrates (7.4g of which are sugars), 1.5g of fibre, 38g of protein and 0.52g of salt. This cookie provides a whopping 50.66% of protein per 75g serving.
Overall Opinion
The Myprotein Rocky Road Protein Cookie is a healthier, filling way to get your protein fix after training or during the day as a sweet treat but it doesn't quite hit the spot when you require a chocolate fix. I would have liked the chocolate taste to be stronger like a real cookie however it's fruity, chewy texture is quite pleasant and would definitely satiate that hunger pang between meals.
Individually foil wrapped, they're also ideal to throw into the gym bag to consume on the way home from training to fill a gap and get that high protein fix in the 30 minutes after training to help grow and repair your tired muscles.
Rating:
If you want to try before you buy, Myprotein offer Protein Cookie Samples so you can try different flavours without committing to a full box first.
Also, remember to check out our Myprotein page for current voucher codes for discounts, freebies and more.