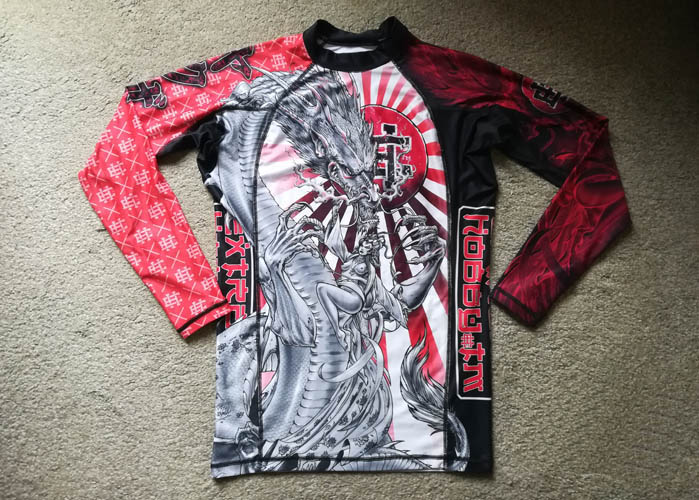 Finding a rashguard that fits is sometimes a challenge for me, mainly due to my short stature (I'm 5'2″) which also comes with the fact I've got short arms. Men's rashguards always seem to drown me, even in their smallest size, which isn't ideal when rashguards are meant to be figure hugging and act as a second, moisture-wicking skin.
Whilst I've had great experience with the Bad Boy Rashguards previously, as well as the Women's fit Raven Fightwear rashguard, a couple of years ago I took a gamble on the Extreme Hobby Yakuza Dragon Rashguard to see what it would be like.
Design
With its eye-catching, grey sketch of a naked woman riding a Japanese dragon, this rashguard certainly has a lot going on. The red, black and white sublimated design, with Japanese katakana characters adorning the right sleeve and reverse of the rashguard, captured my attention as soon as I saw it and even now I admire the detail that has been put into it, from the rising sun background to the dragon lady silhouetted in red on the left sleeve. Even Extreme Hobby have managed to get their brand name up the side panels, mimicking the Japanese character script, whilst the interlocking, collegiate sportesque EH logo is used repeatedly throughout the design, such as at the back towards the neck, at the top of the left sleeve and also inside the sun on the chest design. More subtly, the interlocking EH logo is printed along the right sleeve in pastel pink to contrast against the red background. As far as design goes, this is probably the most busiest rashguard I own and quite possibly my favourite.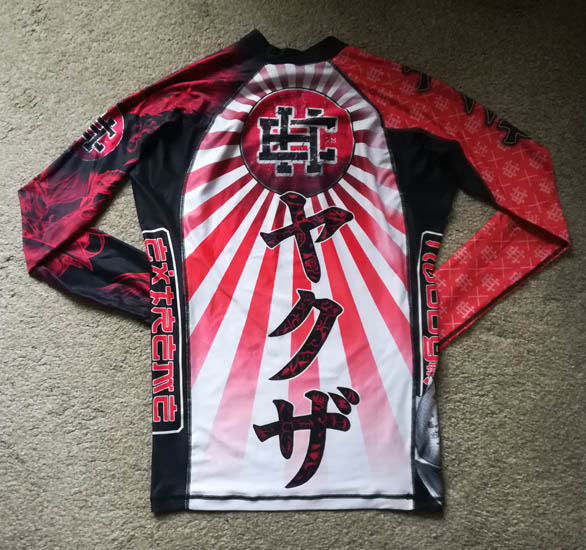 Made from 82% polyester and 18% elastane (lycra), the Extreme Hobby Yakuza Dragon Rashguard does exactly what is required of it. It wicks the sweat from your body when you train which is a godsend when you're grappling and is stretchy enough to accommodate muscle and much larger physiques than I. The washing/care label is actually printed onto the inside of the neck of the rashguard which means you don't have to experience any itchy fabric labels rubbing against your skin. The rashguard doesn't feature a rubberised hemline but I've never really had any issue with it riding up when rolling. I always tend to tuck my rashguards into my shorts anyway to prevent risk of exposure of my torso.
The design of the rashguard is fully sublimated which means its printed into the fabric of the rashguard, not on top of. When buying a rashguard, a sublimated design is much better as it won't peel like the vinyl ones do and sublimation also gives you more freedom to do all-over prints like we have in the Extreme Hobby Yakuza Dragon rashguard.
After washing a rashguard at 30 degrees, I always leave it to dry on the clothes maiden. Due to the fabric, it doesn't take too long to dry either so allowing it to air dry ensures you won't damage the top. I'd always advise against tumble drying a rashguard as the heat could well damage the elasticity.
Fit of the Rashguard
As this design from Extreme Hobby fell into the Men's section, I decided on buying a Small – the smallest size they offer.
| Size Small | Measurement |
| --- | --- |
| Chest | 19 inches |
| Length from nape of neck (back of top) | 26 inches |
| Sleeve Length (neck to cuff) | 28 inches |
I'm pleased to say that Size Small is a great fit for me, as I usually wear women's size 10-12 with my 36″ chest size and weigh around 140lb (10 stone). It fits well against my chest and hugs my body in the right places. Although it's evident it's a little larger for me, with excess material around the stomach area, it's not overly baggy and looks and feels quite a nice cut even if it's not perfect. With room in the body still, I would think this would fit a small guy no problem but is also a good choice for women who are a similar build to myself and bigger.
The length of the sleeves is always a worry when buying rashguards but the sleeve length on this particular rashguard fits me well and doesn't come past the cuff. It's kinda nice not looking like your wearing your older sibling's hand-me-downs that are 3x too big for you so finding a good fitting rashguard like what Extreme Hobby have made is a blessing.
I also own the short sleeve variant of the Yakuza Dragon rashguard and what I like about that is that the sleeves are quite long and end at my elbow. Sure, they may be a bit loose due to the fact I don't have big arms or whopping biceps but it's still comfy to wear and feels the right fit for me as you can see below.
With many of the great designs, not just at Extreme Hobby but in other brands, reserved for the men whilst the women must endure pink, flowers, butterflies and other girly designs, being able to achieve a decent fit in Small Men's without looking like you've slipped a potato sack on is very rewarding. Now I can enjoy these slick designs too!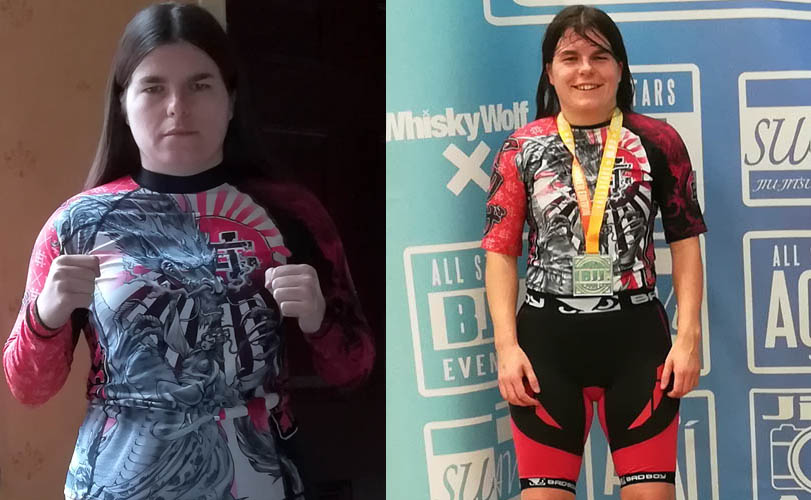 Overall Opinion
Rolling in the Extreme Hobby Yakuza Dragon rashguard is brilliant. It looks and feels the business with the cut comfortable for my physique. I regularly wear the rashguard in CSW no-gi grappling class as well as competing at BJJ tournaments. it's pretty safe to say it is currently my preferred rashguard of choice. Having just taken up BJJ again, I also wear the rashguard under the gi jacket and have found it keeps my body at a comfortable temperature, effectively wicking away sweat when I'm drilling and rolling with other students. Wearing a rashguard is always beneficial as it limits the skin-on-skin contact with others which helps to prevent contracting skin infections.
The great fit and quality of the rashguard, and the fact that the design keeps its colour and vividness throughout washes, means I've since gone on to expand my collection of Extreme Hobby grappling apparel, now owning the Yakuza Dragon rashguard, in both short sleeve and long sleeve variants, the Angry Wasp long sleeve rashguard and the Yakuza Dragon grappling spats (they're a bit long but I can deal with it).
With their colourful and creative designs, Polish company Extreme Hobby have won me over with their range of grappling apparel and I look forward to adding further pieces to my grappling wardrobe.
Rating: