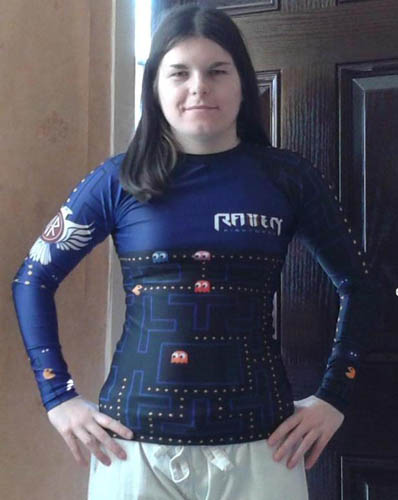 When I'm not rolling around the mat with big sweaty blokes and attempting to escape the deadly submissions of grapple masters, I can often be found, feet up, joypad controller in hand, button mashing away at a videogame. I love gaming as much as I love my Ju-Jitsu. My first console was an Atari 2600, which I still own, and from then I went onto Mega Drive, Game Boy Colour, Playstation 1, PS2 and now PC. Arcade or retro consoles, you can't pull me away, and boy do I love the simple classics. So how does one show their love for all things videogame and ground game. Why, you get yourself a Pacman rashguard of course!
In this review, I'll be taking a look at the women's fit version of Raven Fightwear Pacman Rash Guard, available in the UK from Fight Co.
Who are Raven Fightwear?
Raven Fightwear are an Australian fightwear brand who's detailed and unusual designs certainly grab the attention of fellow fighters at the club and competitions. Whether it's My Little Brony, Four Horsemen of the Apocalypse, Egyptian god Anubis or Little Red Riding Hood clinging on for dear life to the Big Bad Wolf, these are designs that are eye-catching and worth throwing your hard-earned money at. The company deal in rash guards, fight shorts and gis, so everything that the BJJ and MMA enthusiast could want. However, being an Australian brand, residents of the UK would be hammered with not just shipping rates but tax and duty too. British fightwear company Fight Co came to the rescue and became Raven Fightwear's official UK distributor which means British martial artists can now grab a piece of Raven Fightwear apparel at the price they were intended and with no nasty customs duty! Huzzah!
Raven Fightwear Pacman Rashguard Design
Never in a million years would I have thought a brand would use the iconic videogame character of Pacman on a rash guard but thankfully Raven Fightwear did!
The lightweight Raven Fightwear Pac-Man Rash Guard is a long sleeved rashguard with a base colour of midnight blue and black. The rash guard presents maze wall outlines in contrasting colour, so black on blue and vice-versa, from the bust downwards and on each of the raglan sleeves. Little yellow Pac-dots are littered throughout the 'maze', waiting for our hero Pac-Man, who's shown on the right of the chest and on each of the sleeves, to gobble them up. Preventing Pac-Man from completing his quest are those crafty ghosts in orange, red, pink and blue who are determined to kill Pac-Man. Fortunately, the larger Pac-dots consumed by Pac-Man make him invincible for a short while and the ghosts vulnerable, turning them transparent except for the whites of their eyes and their squiggly mouth. This particular effect is superbly re-enacted on the sleeves, whilst the main body of the rash guard shows the normal status of Pac-Man and his enemies.
Whilst the front of the rash guard is pretty much a homage to the gameplay of Pac-Man, the back design pays tribute to the characters and other icons seen throughout the game. The top row features large pixelated fruit that Pac-Man comes across during the game. There's the cherry, orange, strawberry and apple whilst ghost enemies Pinky (pink), Inky (blue), Clyde (orange) and Blinky (red), with their googly eyes, are largely represented at the base of the rash guard. Taking up centre stage of the back is a super large yellow Pac-Man, mouth open and ready to om-nom-nom those scrummy yellow Pac-dots.
Raven Fightwear's white and maroon dual eagle logo appears towards the top of the right sleeve and smaller on the rear of the rash guard near the neck. A white and maroon text version of the Raven Fightwear logo can be seen on the left breast of the rashguard, against the midnight blue background.
The neck of the rashguard is black in colour as well as the flat reinforced stitching seen throughout the rash guard. The inside hem of the rashguard features three rows of zig-zag rubber which helps prevent the rash guard from rolling up when training – a much needed addition to any rash guard.
The eye-popping Pac-Man design looks terrific and due to the sublimation printing process, you'll be pleased to find the Pac-Man videogame design won't crack or peel.
Size and Fit
As a woman with a 36″ chest who tends to wear size 12 tops, I opted for the Size small in the Womens Pacman Rash Guard. Raven Fightwear have made a specific cut for women to suit our shape better. Holding the rash guard up, the cut starts wide at the shoulders and gradually narrows down to the hem. The size small fits me superbly, with the sleeves the right length and the fabric of the body fitting my curves rather well. With these types of garments, you want them tight and fitted to your body. The whole rashguard is smooth and the stitching is also soft against the skin and doesn't irritate.
Here are the measurements of the size Small Womens Raven Fightwear Pacman Rashguard
| Size Small | Measurement |
| --- | --- |
| Chest | 17 inches |
| Length from nape of neck (back of top) | 23 inches |
| Sleeve Length (neck to cuff) | 26.5 inches |
The super-stretchy rashguard has no washing instructions fabric label nor contents printed anywhere on the garment, except for a tiny little label inside the lower body of the top which states the garment's size. For your information though, the rashguard is made from 80% polyester and 20% spandex and like most other rashguards, you'd do well to wash it at no more than 30 degrees and to hang dry. Do not iron or tumble dry unless you want to damage it.
Wearing the Pacman Rash Guard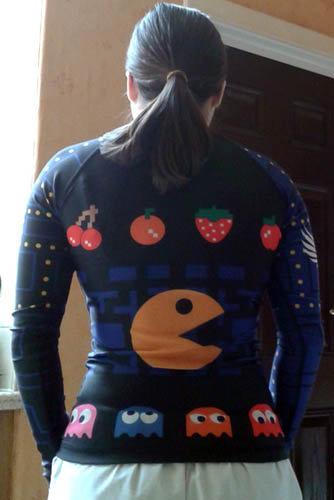 At Ju-Jitsu, we mostly train in the gi but on some Saturdays and Sundays, we train no-gi grappling. Whenever we train no-gi, my first port of call is a rashguard. I prefer long sleeved rash guards like this one to short sleeved because not only do they keep your muscles warm between training and wick the sweat off your skin, but they prevent you from those accidental mat burns when rolling and also prevent any bacteria from getting to your skin.
At my club, everyone notices a new gi or rash guard and with many a fellow gamer at the club I attend, I had quite a lot of positive comments about the Pac-Man rash guard. Even I couldn't stop looking at the rash guard through the mirror and looking down at the sleeves and body to admire the artwork. This rash guard is as much a piece of memorabilia for any gaming nut as it is a practical piece of clothing for training martial arts in.
Training for a couple of hours each session in the Raven Fightwear Pac-Man rashguard was as comfortable as I could have hoped for. It's been quite warm recently but the rash guard did well to wick moisture from my body to keep my temperature at a good level so I wouldn't overheat. Likewise, when stood still and observing my instructor to learn technique, the rash guard kept my muscles warm, ready for when we resumed action.
Whilst rolling around with my training partners, on the bottom, in guard and from mount, the rash guard stayed in place and didn't ride up thanks to the rubber strip on the inside hem of the rash guard. Even when in closed guard, with my opponent attempting a triangle whilst I'm trying to break and pass guard, the rash guard covered my body, the rubber hem trim gripping to my torso.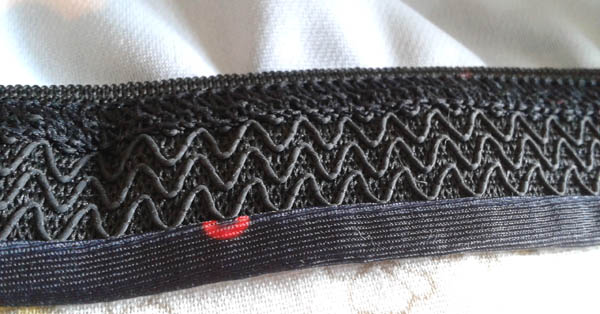 Whenever I wear rashguards, I prefer to wear them with a pair of grappling spats or gi pants. I do not use board shorts as the velcro fastener on the fight shorts has a tendency to stick to rash guards so unless you want your rash guard plucked and ruined, you'd do well to avoid any velcro attaching itself to your rash guard.
I also wear the Pacman rash guard under my gi jacket when training during the weekday ju-jitsu class. Sometimes it's a bit nippy or I just want to protect myself from gis that have inside tape trims that chafe against naked flesh. This rash guard is perfect for the job. Just like wearing the top on its own, the rash guard acts as a second layer against your skin but allows it to breath to regulate temperature whilst you train. I've trained with t-shirts under my gi jacket before but they're useless and soak up the sweat. The Pac-Man rash guard does an excellent job of wicking that sweat away and stops you from feeling damp and uncomfortable.
Whether doing guard passing drills, learning submissions, full submission rolling, throwing other students or training in intense padwork sessions, the Raven Fightwear Pac-Man Rashguard kept me comfortable at all times and allowed me to concentrate fully on my training, be it BJJ, Ju-Jitsu or MMA in style. It doesn't restrict in any way and allows me to have full motion of my arms so I can train to the best of my ability, unhindered.
Overall Opinion
The Raven Fightwear Pac-Man Rashguard is a truly outstanding piece of fightwear. The high quality construction and the attention to detail in the design is nothing short of magnificent. When buying rashguards, I like to have something eye-catching or different yet still high quality and Raven Fightwear's rashguards just tick all the boxes. The addition of the rubber trim on the hem is the icing on the cake as any grappler will tell you, there's nothing more annoying or potentially embarrassing than a rashguard riding up your back.
For any grappler who's an avid gamer, this Pacman rashguard is a must-have piece of apparel on the mats. It's bold, beautiful and does exactly what you need of it. What more could you want? And from a woman's perspective, it's nice to have an actual decent design that's suitable for our body shapes made specifically for our gender. There's not nearly enough womens rashguards out there, but Raven Fightwear are certainly trying to remedy that and have done an excellent job with this Pac-Man offering.
Rating:
Raven Fightwear Womens Pac-Man Rashguard is available from Fight Co for £34.95.
Fight Co also stock other designs and fightwear apparel from Raven Fightwear.