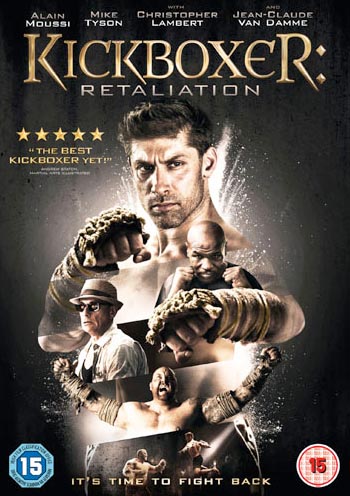 KICKBOXER: RETALIATION (2018)
Directed by Dimitri Logothetis
After building a new life for himself with ex-copper Liu as an MMA fighter, Kurt Sloane is once again pulled into the underground fight scene in Thailand. Kidnapped and charged with the murder of Tong Po, Kurt is locked up in a Thai prison under the orders of underground fight boss Thomas Moore. Promising Kurt his freedom if he fights his number one, unbeaten fighter, 6′ 9″ 400 pound beast Mongkut, Moore uses Kurt's wife Liu as leverage to force Kurt to fight. With such a size, weight and strength advantage, Mongkut is Kurt's biggest challenge yet and he will have to draw upon his determination and the teachings of Master Durand and his fellow prison inmates to gain the necessary skills if he's to stand a chance against the mountain Mongkut.
KICKBOXER: RETALIATION follows on almost directly from previous flick Kickboxer: Vengeance, a reboot/remake of the 1989 classic Kickboxer starring the muscles from Brussels, Jean-Claude Van Damme. JCVD returns, both as the martial arts master role of Durand and as a producer, in this infuriating, abysmal excuse for a movie.
Alain Moussi reprises his role as Kurt Sloane, a fighter who's brother was killed by the devastating Tong Po in the previous film. Unfortunately, Alain Moussi is no Jean-Claude Van Damme. Sure, he has the athleticism and the martial arts skills but as an actor, he has about as much charisma as a wet paper towel. His chemistry with on-screen wife Liu (Sara Malakul Lane) is non-existent, much like the first film, whilst bit-part characters often steal the limelight in scenes they share with him. In what is a dull, grind of a movie, thank God we have a splash of character on screen courtesy of JCVD and 'Iron' Mike Tyson, the latter who's minor role as a boxing jailbird will have sports fans grinning from ear to ear – at least there's one good thing about this film.
What really gets my goat about this Kickboxer reboot series, apart from the fact it should never have been made, is that it has no concept of what made the original film an absolute classic. The spiritual, martial arts aspect of Kickboxer has been ditched for a glorified action movie with slowed down scenes of martial arts acrobatics and opponents that are simply muscles stacked on muscles or juiced up to the eyeballs. Whilst the chemically enhanced brawler may work for Bob Sapp's character in the fun yet furious Blood and Bone, it doesn't work here. Kurt Sloane's opponent in the original Kickboxer, Tong Po, had a height and slight weight advantage but it was his devastating Muay Thai skills and ruthlessness in the ring that turned him into such a great villain. Instead, in this sequel, we have strongman Thor, and previously WWE wrestler turned actor Dave Bautista, flexing his muscles and stomping around as the unbeatable opponent. Next to no technique is on display from these antagonists and instead of taking place in a traditional Thai stadium, it's all presented like an underground MMA fight with whooping crowds and rulesets that seem to change with every additional round. Since when would a Kickboxer movie include swords and knives?!
There's so much wrong with this film that I could easily rant about it all day. It's a drag, a bore and no amount of calisthenic displays and airborne kicks from Moussi, cameos from Big Country Roy Nelson or Fabricio Werdum or outrageous scenes of adrenaline injections to the heart, in a scene ripped straight out of Pulp Fiction, can turn this movie around from the flop that it is. Just because the main star can do martial arts doesn't mean they can make a martial arts film work. You need a decent script and screenplay, an editor that isn't obsessed with 101 edits for one scene with his finger firmly on the slow-mo button and, finally, you need people who can actually act. Apart from Tyson, this film has no redeeming factor with scene upon scene of pure cringe-worthiness… and don't get me started on a mumbling Christopher Lambert hamming it up as fight promoter Thomas Moore.
There's only one true Kickboxer film and this isn't it. I sincerely hope that a lesson has been learned from this misguided mess and that the third film, Kickboxer: Armageddon, is shelved. The filmmaking team would be better off putting their efforts into creating an original character and series of their own devise instead of leeching one of martial arts fans' all-time favourites.
Rating: