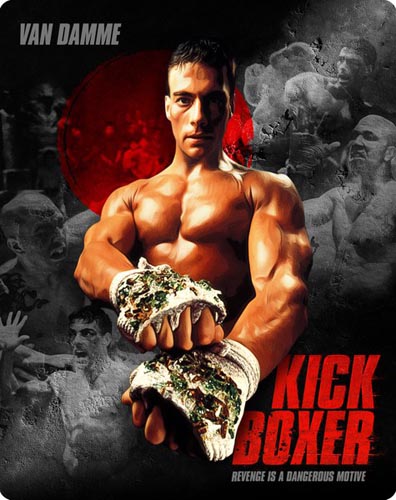 UK entertainment online store Zavvi have launched pre-orders for their exclusive limited edition steelbook of Kickboxer starring Jean-Claude Van Damme.
Eric Sloane is crowned the World Kickboxing Champion following his tremendous victory in the US national competition. Proclaiming that he will now take on the best in the world, Eric and his brother Kurt head to the Far East for a showdown with the legendary Tong Po. As the bout begins, Eric is outclassed by the vicious Thai. To assert his dominance Tong Po cripples Eric in a horrifying and unnecessary act of gratuitous violence. Kurt swears revenge, but the only way to avenge his brother is to tackle Tong Po in the ring. This sets Kurt on a journey of new discovery to learn the unorthodox methods needed to take on the invincible Thai killer and become the legendary Bak Shung: The White Warrior.
The inside case of the steelbook shows Kurt fighting against Tong Po whilst the back of the steelbook shows Kurt at the temple ruins.
The Blu-Ray steelbook is limited to 2000 copies and is priced at £15.99 with a release date of 30th November 2015.