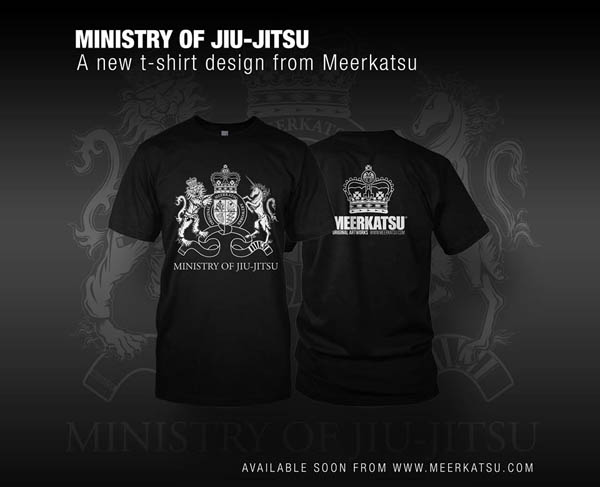 Eeek! We can't help but get excited every time a new design drops from celebrated martial arts illustrator Meerkatsu, aka Seymour Yang.
The latest design, called 'Ministry of Jiu-Jitsu', takes inspiration from the Royal coat of arms of the United Kingdom, albeit with a BJJ twist featuring a lion in a gi, a unicorn wearing no-gi grappling shorts and a BJJ black belt. The t-shirt also features a crown back print.
Here's what Meerkatsu had to say about the design on his Facebook page.
"Imagine a time in the future when Brazilian Jiu Jitsu becomes the national past-time of choice for millions of people. A time when it becomes the main sport in schools and sports centres come pre-matted. Such a massively popular activity would need an official governing body, approved by Her Majesty, with powers to ensure Brazilian Jiu Jitsu grows and develops for the benefit of everyone. Naturally such an important sport will need an official coat of arms, hence, the 'Ministry of Jiu Jitsu' t-shirt that I designed.
Printed using metallic, water-based soft inks onto a premium soft style cotton t-shirt, the Meerkatsu MOJJ tee will be available at www.meerkatsu.com later this week.
We also did an interview with Seymour last month as he was selected to be our Martial Artist of the Month. Make sure to read the Meerkatsu interview.