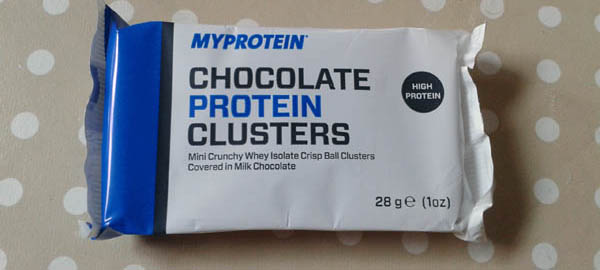 I'm a chocolate fiend, pure and simple, but we all know chocolate bars aren't the healthiest choice out there. So when you're looking to train hard and keep your diet in check, it's great to get your chocolate hit in the form of protein snacks, such as the latest product from Myprotein – Myprotein Chocolate Protein Clusters – which I'll be writing about in this review.
What are Myprotein Chocolate Protein Clusters?
Sold in a box containing 10 packets, each 28g packet of Myprotein Chocolate Protein Clusters contains four protein cluster pieces. If you've ever made or consumed chocolate covered rice krispie cakes then you'll have a good idea on what these look and taste like. Described as mini crunchy whey isolate crisp ball clusters covered in milk chocolate, each chocolate protein cluster measures around 5cm x 2.5cm. The little chocolate balls are stuck together with the yummy milk chocolate to make a cluster serving and oh boy do they taste delicious! As soon as you pop a piece into your mouth and bite down, the beautiful chocolate flavour is released. They're crunchy and very moreish, so although each packet contains four clusters/servings, you may find yourself scoffing the entire packet. It's too hard to resist!
With the Myprotein Chocolate Protein Clusters in their little plastic tray and wrapper, they're incredibly handy to pop into your lunchbox for work or to pop in your bag to consume straight after training. I do enjoy a snack during the day when I get a bit peckish and after training, so these make a great bite-size protein hit to help me stick to my diet and satisfy my chocolate cravings.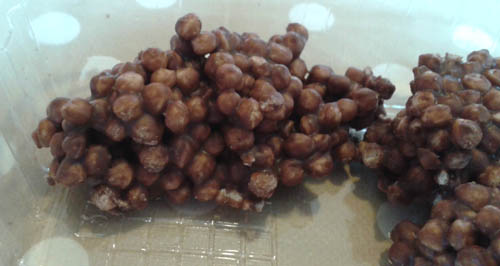 Myprotein Chocolate Protein Clusters and Nutritional Information
Each Myprotein Chocolate Protein Cluster is classed as one serving of which they are four in each packet. Each serving is said to weigh 9g and contain 2.2g of protein. Each cluster serving contains 1.6g of fat (1g of which is saturates), 4.6g of carbohydrates (of which 2.9g are sugars) and 0.1g of salt, whilst providing 177 kJ/42 kcal of energy.
If I compare the nutritonal values of Myprotein Chocolate Protein Clusters to my favourite chocolate bar Crunchie, then it's plain to see that the Myprotein Chocolate Protein Clusters are a much more suitable choice for me to keep my diet in line, especially if I'm training and looking to maintain my weight for the grappling competitions.
| | | |
| --- | --- | --- |
| | Myprotein Chocolate Protein Clusters 100g | Cadbury's Crunchie 100g |
| Energy | 1971 kJ / 469 kcal | 1965 kJ / 465 kcal |
| Fat | 18g | 17.5g |
| of which are saturates | 11g | 10.5g |
| Carbohydrates | 51g | 73.5g |
| of which are sugars | 32g | 65g |
| Protein | 25g | 3.5g |
| Salt | 0.3g | 0.73g |
| Fibre | | 1.3g |
Eating a full packet of four servings of Myprotein Chocolate Protein Clusters fills the gap completely and satisfies that hunger pang and chocolate craving as much as a chocolate bar does, so given the above stats, to me, it's a no-brainer.
The clusters contain Milk Chocolate (57%) (sugar, cocoa butter, cocoa liquor, dried skimmed milk, milk fat, whey powder (milk), emulsifier (soya lecithins)), Whey Protein Isolate (milk), Rice Flour and Emulsifier (Soya Lecithins).
If you're a vegetarian, Myprotein Chocolate Protein Clusters are a superb choice of protein snack. Those who have allergies to milk though would not find this product suitable. The clusters may also contain nuts.
Overall Opinion
The use of whey isolate in these clusters makes the snack ideal for those looking to absorb protein quickly post-training to repair those muscles and encourage muscle growth, particularly in the first 30 minutes straight after training. Living so close to my ju-jitsu club, I tend to consume mine as soon as I walk through the door. They taste so good after I've been rolling, throwing and sweating my way through an hour and half class.
Making chocolate cereal cakes as a kid, these Myprotein Chocolate Protein Clusters are almost nostalgic in their taste and appearance and their size and packaging make them easy to take with me if I fancy a nibble during the day or decide to train at the other clubs around the borough.
They taste absolutely fantastic which is really important to me as someone who has particular tastebuds (read: fussy). I know that instead of reaching for an ordinary chocolate bar from the shop, I can instead get the same satisfaction but in a much healthier way with added protein benefits with Myprotein Chocolate Protein Clusters.
If you have a weakness for chocolate snacks, I highly recommend this snack from Myprotein!
Rating:
Myprotein Chocolate Protein Clusters 10x 28g are available for £12.99 from Myprotein.