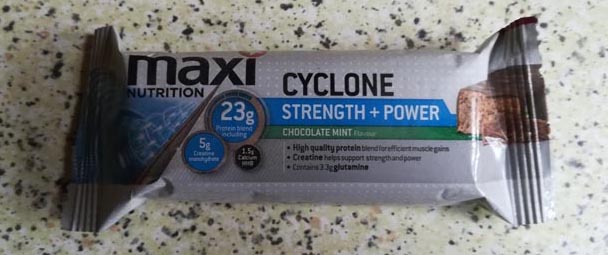 MaxiNutrition have been on the supplement and nutrition scene for a long time, so how do they fare in the protein bar market? I though I'd take one of their bars for a whirl to see how they compare with other brands in this review of the MaxiNutrition Cyclone Strength and Power Bar in Chocolate Mint flavour.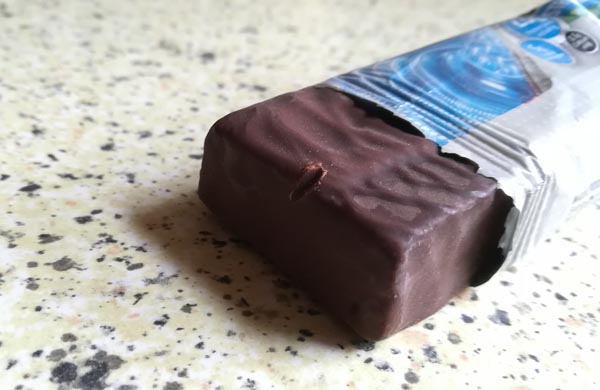 MaxiNutrition Cyclone Strength and Power Bar Appearance and Taste
If you're looking to consume a protein bar or snack, you want something that's going to not only provide the protein required but also offer a tasty treat post-training. Combining two winning flavours, MaxiNutrition has delivered a bar that offers fitness enthusiasts a bit of a refined taste with their Chocolate Mint protein bar.
This chunky, chocolatey protein bar definitely has a minty aroma but biting into the bar you really appreciate the dark chocolate and mint flavour. It's not overpowering but just enough to hit your tastebuds . The use of dark chocolate is an inspired choice too.
The MaxiNutrition Cyclone Strength and Power Bar features a chocolate coating with a soft, chewy centre; a texture that's quite enjoyable and easy to chew – just what you need after a session down the gym or training martial arts.
By including "Strength and Power" in its product name, MaxiNutrition are aiming this protein bar at a particular audience – those who like to lift weights and push their body to the limits. The bar's wrapper states that it includes a high quality protein blend for efficient muscle gains; creatine, which helps support strength and power, and contains 3.3g of glutamine, which helps to make protein and amino acids in the body. It would appear that this particular protein bar aims to deliver more for its users by giving them more of what they need to help build muscle.
Ingredients and Nutritional Value
Each 60g bar of MaxiNutrition Cyclone Strength and Power Bar Chocolate Mint contains Protein Blend (whey protein concentrate (18%) (from milk), milk protein isolate, collagen hydrolysate), dark chocolate (13%) (cocoa mass, sugar, cocoa butter, emulsifier: soya lecithin: flavour), partially inverted sugar syrup, sweeteners (maltitol, sorbitol), creatine monohydrate, fructooligosaccharides, water, vegetable oil (palm, sunflower), L-glutamine, fat-reduced cocoa powder (3%), humectant (glycerol), calcium beta-hydroxy beta-methylbutyrate (calcium HMB), flavourings, colours (caramel E150c, caramel E150d).
For those who have allergies, be aware that it contains gluten (wheat, barley, oat), egg, peanuts and nuts.
Each 60g bar provides 915kJ (220 kcal) of energy, 6.4g of fat (of which 2.6g are saturates), 16.8g of carbohydrates (of which 10g are sugars), 4.8g of fibre, 23g of protein, 0.1g of salt, 5g of creatine monohydrate (of which 4.4g of creatine), 1.5g of calcium HMB and 3.3g of Glutamine. This means that each 60g bar provides 38.3% of protein.
The MaxiNutrition Cyclone Strength and Power Bar is also accredited by Informed Sport: Trusted by Sport, GSK Human Performance Lab, WRU and England Rugby.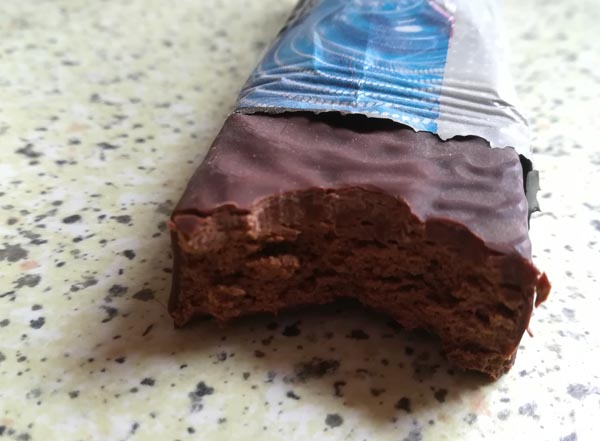 Overall Opinion
When it comes to taste and texture, MaxiNutrition Cyclone Strength and Power Bar Chocolate Mint isn't at the the top of the list – there's others that are much better tasting such as the BSN Protein Bar or Bodybuilding Warehouse Lux Protein Flapjacks but that's not to say it doesn't taste good as it does. However, where it does excel over its competitors is the protein it packs with a whopping 38.3% provided with each bar, which puts it around the top end of the scale. The protein blend of whey and milk isolate, along with the inclusion of creatine and glutamine, means you're getting more of the muscle building properties desired from a protein bar. What is worth bearing in mind though is the carb content. Whilst lower overall than its competitors, it is made up of quite a large percentage of sugar.