If you've been reading this blog then you'll know how much I adore protein bars. They're such a handy way to consume protein straight after training or to satisfy that sweet craving during the day. I've been training so much lately that I really look forward to giving myself a little treat in the form a protein bar to tide me over and grow and repair those muscles.
In this review, I'll be taking a look at Protein Dynamix DynaBar in Chocolate Vanilla Crunch flavour.
Protein Dynamix DynaBar
Smothered in milk chocolate, the Protein Dynamix DynaBar measures 5.4 inches in length with a width of 1.4 inches and a depth of 0.6 inches. It looks every inch the chocolate bar as soon as you undo the wrapper.
Sinking my teeth into the DynaBar, I can instantly taste the vanilla and milk chocolate coating. It's absolutely delicious and tastes just like a chocolate bar you'd buy from the shop. You can see the soft, chewy caramel and crunchy biscuit as soon as you bite into it. The texture of the bar is spot on and it has just the right amount of moistness. Mmmm…. Heavenly! The gentle vanilla tastes seeps through leaving a magnificent aftertaste.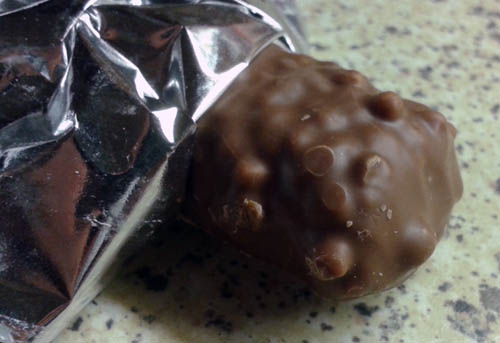 Ingredients and Nutritional Value
Protein Dynamix DynaBar contains DynaBar Protein Blend (Soya Protein Isolate, Milk Protein, Collagen Hydrolysate), Sugar, Glucose Syrup, Cocoa Butter, Milk Powder, Humectant Glycerol, Sorbitol Syrup, Water, Palm Fat, Evaporated Milk, Cocoa Mass, Rice Flour, Invert Sugar Syrup, Flavour, Malted Barley Extract, Salt, Emulsifier (Soya Lecithins), Mono and Diglycerides of Fatty Acids, Bulking Agent (Microcrystalline Cellulose), Maltodextrin, Natural Vanilla Flavour and Colour (Beta Carotene).
The DynaBar is not suitable for those with allergies to milk, soya or barley and may also contain nuts and peanuts.
Each 64g Protein Dynamix DynaBar provides 1133kJ or 270kcal of energy, 11g of fat (6.1g of which are saturates), 25g of carbohydrates (15g of which are sugars), 0.3g of fibre, 20g of protein and 0.3g of salt. The bar provides 31.25% protein.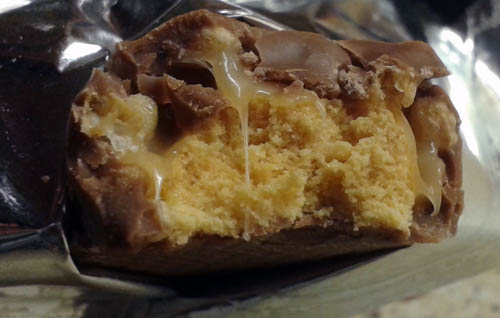 Overall Opinion
Protein Dynamix state on their website that DynaBar has been "Officially Voted The Best Tasting Protein Bar On The Market!" and I have to agree wholeheartedly. I've tasted some delicious protein snacks in my time (and some not-so) but the DynaBar just races to the top of the podium with its indistinguishable taste from a chocolate bar. Literally, if you wrapped this bar up in colourful packaging aimed at your usual chocoholics (non fitness people), they wouldn't know it's a product packed with protein. With some bars, you can both see and taste how they are sacrificing the chocolate for oats and are often too dry to be that enjoyable, but not DynaBar. Protein Dynamix know exactly what their consumers want and oh my, have they got it right!
For someone who's partial to a Toffee Crisp bar, the Protein Dynamix DynaBar hits all the right notes and makes me feel as though I'm satisfying those urges for chocolate yet doing so in a healthier way, providing my tired muscles with the much needed protein after training.
The DynaBar is a real protein bar for chocoholics with an impressive protein content to boot with 20g per bar. Protein Dynamix are on to a winner with this protein bar and it's not surprising that sponsored Strongman Eddie Hall has named it his favourite product of theirs.
I'm so in love with this bar that I'm itching to eat another. The taste is absolutely gorgeous! I can see the DynaBar becoming a permanent fixture in my supplement cupboard. With its amazing taste, I know that if I shared out a box of the bars with friends, whether they train or not, they'd be in love with them and the box would be empty in a second. I think even I'm addicted!
Rating:
If I could, I'd give them six out five, they're that good.
If buying direct from Protein Dynamix and you're a new customer, you can use voucher code PDA20 to get 20% off your first order. All orders over £10 are delivered free in the UK and come with a free shaker bottle.