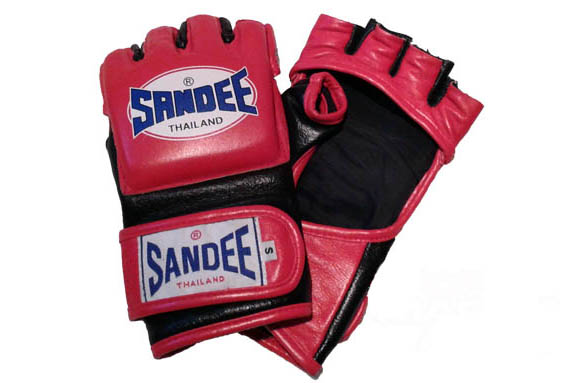 If you train in mixed martial arts or fight in professional MMA competitions, you'll be looking to use a pair of 4oz MMA gloves to protect your hands and knuckles in a fight. There are many martial arts fightgear brands out there who make MMA gloves, both from leather and faux leather, so the range to choose from can be quite daunting.
In this review, I'll be looking at the Sandee MMA Gloves, which I purchased a few years ago from the now defunct Fight Shop in Bolton.
Sandee MMA Gloves Review
A few years ago I was looking to get hold of a pair of MMA gloves to use in my ju-jitsu class where we'd regularly spar striking and then grappling. Having already purchased some stellar Sandee thai pads, I decided to buy my MMA gloves from Sandee too.
The Sandee MMA gloves are made from leather like most of Sandee's other fight equipment and gear. I prefer leather martial arts equipment and gear over the cheaper faux leather as leather is a hardy and durable material that will see you through for many a year. Plus, you can't quite beat that authentic leather smell!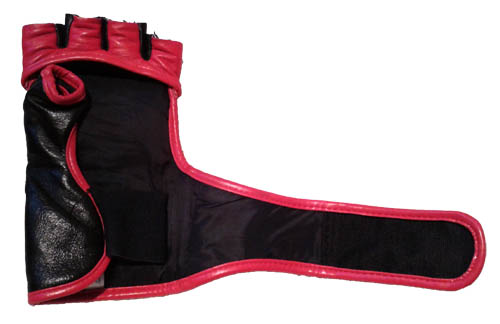 Made in Thailand, the gloves are 4oz in weight, perfect for professional competition. The padding is solely on the knuckles on the back of the hands and the fingers, to prevent injury when striking your opponent. The gloves are open palm with a closed thumb, which I know some people don't like, but I don't particularly find the closed thumb restrictive. To secure the gloves on the hands to ensure they don't slip off, the gloves have a wide strip of black elastic at the wrist with a single, wide velcro strap that wraps around the wrist. A nylon fabric lines the gloves to allow the sweat to dry quickly from the MMA gloves when in use, which is a nice addition to the glove.
I decided to buy the gloves in the red and black colourway as I'd already purchased the thai pads in the same colour, and black and red was quite a fetching look. Style wise, the Sandee MMA gloves are rather simple, with the contrasting colours, the Sandee Thailand logo on the back of the gloves on the knuckles atnd a printed patch stitched onto the wrist strap. The gloves themselves are well stitched and hemmed to prevent tearing of the leather and to provide a smooth finish that won't rub against the skin.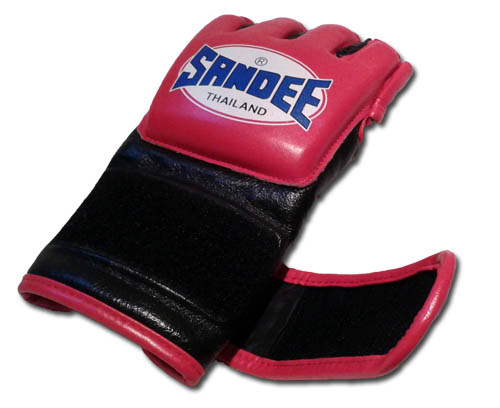 My first impressions of the gloves were how beautifully crafted they were. Sandee always make quality products and their MMA gloves are no exception. One thing that did strike me though was the stiffness. Leather can be notoriously stiff and this is definitely the case with the Sandee MMA gloves. These aren't a pair you can slip on and use without a little bit of pain. It's a task in itself to close your hand and make a fist, so be prepared to spend time flexing your hand inside the glove for months before these are comfortable to wear without pain. As I didn't use these every lesson, I use to just bend the gloves and finger joints when not wearing them to loosen the leather a little which seemed to help. I've had my Sandee gloves for around two and a half years now and they're still as fresh as when I purchased them and the leather is now a lot looser.
Fit wise, I tried a variety of sizes on and I went with Small which fits me the best. The finger sleeves are a little on the tight side but feel alright, and there's no chance of your fingers slipping out midway through the fight. The width of the Sandee MMA gloves on the inside is 3.9 inches across, whereas my hand is 3 inches wide, which makes these a great fit for me. Depending on how tight you like your MMA gloves, it's always better to try them on if you're able to.
Sandee have recently revamped the design of their MMA gloves,  no longer offering the red/black colourway and with an open thumb and tiered finger sleeve design instead. They also now come in red/white and black/white only but you may be able to find older stock of my style of Sandee MMA Gloves still available from online and high street MMA shops.
Rating: