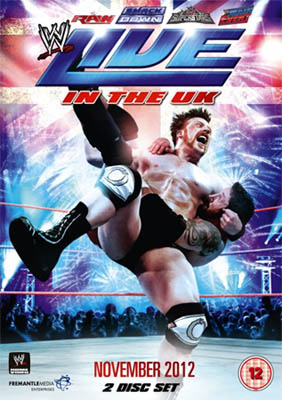 WWE LIVE IN THE UK
November 2012 – 2 Disc Set
Available on DVD from 25th February 2013
For the first time ever, WWE wrestling fans will get to watch and own an entire UK event of their beloved WWE, which was filmed at the Birmingham NEC's LG Arena in November 2012. Whilst the DVD apparently shows the entire event, which was broken down into episodes for Monday Night RAW, Friday Night Smackdown and the Main Event, which was never broadcast in the UK, the events that unfold on the disc feel disjointed. I would have imagined a camera would have been rolling continuously but on this DVD, the fights are interrupted by cuts due to advertisement commercial breaks which would have occured on the original transmission. Following the sudden cuts, the viewer is returned to the wrestling but it has not resumed where it left off, making fights were the wrestlers were in a comprimised position to suddenly being in a dominant one, with the viewer having no idea how the wrestlers progressed from one position to another. Likewise, the viewer has to endure many 'recap' moments over and over again, which makes the DVD feel less like a continuous event and more like a television series.
I must admit, I am more familiar with the Attitude Era of WWE, when it was known as WWF. I have only seen bits of WWE's latest superstars and I'm not that impressed, except for a few individuals. The opening fight struggled to get the crowd on their feet, despite a tremendous display of high-flying wrestling from Mexican masked wrestlers, Sin Cara and his mentor Rey Mysterio. These guys grab your attention and are the sort of wrestlers that entertain me as I watch. Nobody else in their 6 Man Tag Team match really stood out and I think this is a problem for WWE. With WWF, nearly all the wrestlers were huge personalities in one way or another, which made for an interesting show. What really spoiled WWE LIVE IN THE UK as I settled into watching the first disc was a segment featuring WWE manager, Vicky Guerrero. Her screeching about a suspicious, sexual relationship between John Cena and AJ Lee was boring and daft. The guys back in the 90's did far worse and never was a scene made about that. Vicky's storylines left much to be desired and her character just became a nuisance. Her presence didn't seem to fit in with WWE and I don't think the British crowd were that keen either. The British are notoriously hard to please compared to other nations and when we're not entertained we'll either boo or most often, remain silent. Believe me, there was a lot of silence in this event and I'm not surprised one bit.
Another awkward moment came when Brad Maddox entered the stage, after acting as a referee in a match between Ryback and CM Punk and delivering a low blow to Ryback resulting in him loosing the fight. Brad was there to explain his reasoning behind the sabotage, but it just came across as mind-numbingly boring, though it eventually led to a matchup between Brad and Ryback for a future date, along with a fight between CM Punk, Ryback and John Cena.
The British crowd did liven up when former champion, Irishman Sheamus, took to the ring against The Miz, with arch nemesis Big Show at the commentary desk. Our solidarity with neighbouring Ireland certainly shone through with the roar of support from the crowd. WWE wrestler Wade Barrett, who hails from Preston, Lancashire, received similar treatment when fighting Brodus Clay.
Disc One features more than 2 hours worth of WWE goodness, whilst Disc Two also showcases 2 hours 20 minutes worth of action, though a couple of what is shown on Disc Two is merely an extended version of the footage scene on Disc One. We do, however, get to see Wade Barrett and Big Show take on William Regal and Sheamus, as well as a super long Falls Count Anywhere match of Randy Orton vs Alberto Del Rio, which does get a bit tiresome.
The highlight of the disc is the final match, with John Cena partnering up with the monstrous Ryback to take on CM Punk and Dolph Ziggler in a tag team fight. It's enjoyable, but very predictable and whilst the wrestlers are clearly putting their all into it, repeated scenes of Cena reaching out for Ryback can get aggravating.
As someone who's seen the best WWE had to offer in the 90's, when WWE had buckets of attitude and where a large percentage of their roster could call themselves popular superstars, by either playing the hero or villain card, WWE seems to have weakened beyond all recognition. Even an appearance from Kane and Vince McMahon couldn't save the dull, over-friendly matches that the Birmingham event had to offer. Although the crowd were entertained in parts, their silence for the majority of the event, forcing the wrestlers to encourage the audience to participate, spoke louder than words could.
I'm afraid this WWE Live set is either for the WWE superfan or those who attended the event in November 2012. As someone watching it for entertainment value with a fresh pair of eyes, there's not enough to keep you engaged nor entertained and I suspect there's better discs featuring the current wrestlers of WWE out there or to be released.
Rating:
WWE LIVE IN THE UK – NOVEMBER 2012 is available from WWEDVD.co.uk and Amazon