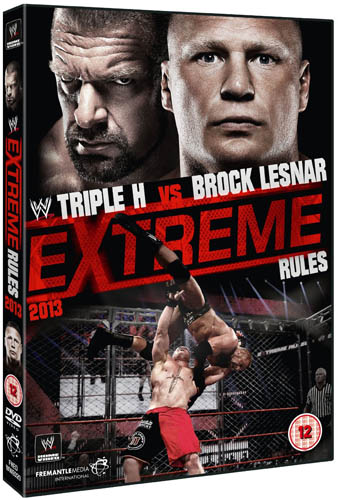 WWE EXTREME RULES 2013
On DVD and Blu-Ray in the UK from 29th July 2013
Filmed live on 19th May 2013 from the St Louis stadium in Missouri, USA, WWE EXTREME RULES 2013 comes to DVD and Blu-Ray in an intense, heart-stomping 2 hours and 50 minutes brawl.
Kicking off the event is a rematch between fan favourite Chris 'Y2J' Jericho and the dancing wrestler Fandango. After his loss at Wrestlemania, Chris Jericho is keen to set the record straight with Fandango. Fandango is ready for a fight but he hasn't anticipated just how much of a challenge Jericho will be with revenge on the mind. Can Fandango stop the onslaught of Jericho as he flies off the ropes, sticks in the boot and attempts the Walls of Jericho?
After a terrific start to the night, the United States Championship belt is up for grabs as high-flying Kofi Kingston takes on The Shield's Dean Ambrose, who's teammates leave him on his own for once. Kofi Kingston shows off his speed and agility as he leaps over the head of an oncoming Dean Ambrose, but Ambrose knows how to apply pain with a well executed chicken wing. Kofi uses the ring's ropes to his advantage for jaw-dropping attacks and is quite keen to show Ambrose his signature spinning kick move, Trouble in Paradise, as the crowds scream with joy. An energetic performance from both wrestlers gets the crowd pumped for the next match.
After a bitter rivalry, Irish celtic warrior Sheamus takes on the World's Strongest Man, Mark Henry, in a strap match, where both wrestlers are connected by a long strap tied to their wrists and the first wrestler to hit each corner of the ring without a break wins. The task is easier said than done with Mark Henry almost double the weight of Sheamus and neither wrestler willing to lose the match. Just a few seconds into the fight and Sheamus whips the strap into the face of a disgruntled Mark Henry before knocking him off his feet, sending Henry crashing to the canvas. The two tussle but eventually Mark Henry gets the upperhand as he hogties a tired Sheamus. Carrying the celtic warrior over his shoulder like a sack of spuds, Mark Henry walks to each corner of the ring, hitting the light, before realising Sheamus is sabotaging his game. Sheamus returns to his feet as the two do battle but can Mark Henry take on the lighter, agile Sheamus and his infamous brogue kick?
Whilst Kaitlyn and AJ Lee scrap offstage, an 'I QUIT' match between Mexican wrestler Alberto Del Rio and 'all-American' opponent, Jack Swagger, is introduced, with Swagger's manager Zeb Colter spouting off his usual anti-immigrant rhetoric to a heckling crowd. Despite Jack Swagger so-called representing 'We, the people', it's Alberto Del Rio who the St Louis citizens love. Del Rio responds to their support by instantly launching Swagger out of the ring. Reaching underneath the ring, Del Rio grabs a Kendo stick and proceeds to hit a downed Swagger, continuing to punish the wrestler on the metal steps. Swagger has none of it, and returns to his feet as a massive thorn in Del Rio's side. The audience scream for Del Rio but not even their cries of support can stop Swagger from powerbombing Del Rio. With no rules as such and the only way to end the match by having one wrestler give up and quit, Swagger intensifies the pressure on Del Rio. A sneaky move by Zeb Colter at ringside against Del Rio's ring announcer and best friend, Ricardo Rodriguez, could jeoparize the match. With a win resulting in becoming the #1 contender for the World Heavyweight Championshp, everything is on the line, with neither Del Rio or Swagger wanting to lose.
A controversial and exciting match is followed by a Tornado Tag Team Championship match between Team Hell No's Kane and Daniel Bryan and The Shield's Seth Rollins and Roman Reigns, with Dean Ambrose absent due to his prior singles fight with Kofi Kingston. With all four wrestlers in the ring at once, The Shield team seem to struggle. The big red monster that is Kane has no trouble throwing both The Shield wrestlers out of the ring, followed by Daniel Bryan who runs and flies through the ropes on top of them. Working better together than they ever have before, Kane and Daniel Bryan look unstoppable. Unfortunately for Team Hell No, Rollins and Reigns become accustomed to the all-out fight and stand their ground in what is another entertaining match featuring these two tag teams.
The Extreme Rules match is one to remember as the Apex Predator, Randy Orton, takes on towering wrestler The Big Show takes in his hometown of St Louis. Flashing a rare smile, Randy Orton laps up the cheers from the crowds as he takes on a mammoth opponent in a pinfall or submission win-only match. Keen to give The Big Show a beat down, Orton gets hold of a Kendo stick and repeatedly hits his opponent, before The Big Show finally snatches it off him and snaps it in half. Keen to teach the Apex Predator a lesson, The Big Show thunders his hand across Orton's chest, slapping him on top of the commentator's desk. Not content with this, The Big Show pulls out the ladder and steel chairs to create a set piece of his own to destroy the St Louis wrestler. An action-packed match gets the audience roaring and nicely sets up the following fight between John Cena and Ryback.
John Cena faces Ryback in a Last Man Standing match, where the match can only be won by a 10 count of a downed opponent. From the bell sounding the start of the match, the two tussle, but it is Ryback who gains the upper hand, picking up and dropping Cena all over the canvas, including through a table. Ryback doesn't get away with it though, with Cena giving him a taste of his own medicine, with a few sleeper holds thrown in too. With an injured ankle, Cena is all too aware of Ryback's plans to focus his attacks on his weak limb, and attempts to scupper Ryback's offense. It isn't long before the two wrestlers take it out of the ring and this is where the crowd really get to their feet in excitement. Rails, tables, barricades and even fire extinguishers become weapons of choice as the two fight it out within the arms reach of the crowd. The action becomes so intense it actually bursts into an unbelievable finale that will shock all WWE fans!
Finally, completing the explosive event is a metal cage match between long-time WWE wrestler Triple H and former UFC heavyweight champion, Brock Lesnar. Having broken Triple H's arm twice previously, Lesnar is looking to cause further damage to HHH, especially with Triple H securing a win against him at Wrestlemania 29. But not even Lesnar could anticipate how much Triple H wished to repeat his victory, with the wrestling star attacking Lesnar durng his walk in to the cage. Lesnar seems unfazed, throwing Triple H around the ring like a ragdoll, suplexing his oppenent and attempting another kimura to spoil Triple H's run. However, it isn't long before Lesnar sustains a knee injury inside the steel cage during the match. Could Lesnar be in trouble against the hungry Triple H?
After a rollercoaster ride of an event, throwing the audience in all manner of directions, you don't really need special feature extras to the disc but they are provided anyway. The DVD comes with the pre-show match of The Miz vs Cody Rhodes and the post-show highlights, whilst the blu-ray version contains the exclusives of Chris Jericho & Fandango Dance Off, 6 Man Elimination Tag Team Match between John Cena & Team Hell No vs. The Shield, Triple H & Brock Lesnar Face Off and Miz TV with Randy Orton & Big Show.
WWE EXTREME RULES 2013 is a non-stop, action packed show that never relents. This is wrestling entertainment at the top of its game.
Rating:
WWE Extreme Rules 2013 is available from WWEDVD.co.uk and Amazon