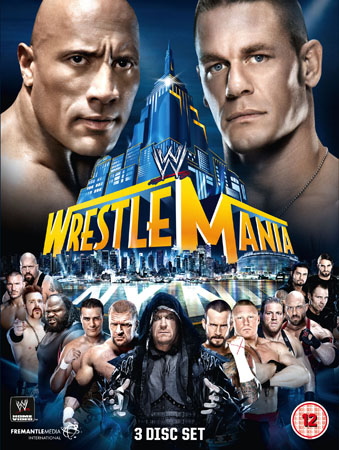 WWE WRESTLEMANIA 29
Available on DVD and Blu-Ray in the UK from 10th June 2013
The date is 7th April 2013 and for the last 12 months, all the WWE wrestling action has been gearing up to this annual event – WRESTLEMANIA!
In its 29th year, WRESTLEMANIA 29 broadcast live from the MetLife Stadium, New York, New Jersey, home to the New York Giants and New York Jets NFL team and now its available to own on Blu-Ray and 3 disc edition DVD.
Introducing the 2 hours and 28 minutes running time of disc one is a touching narrative from governor Chris Christie on rebuilding the area after its devastation from Hurricane Sandy. The crowd erupt as Wrestlemania 29 officially begins with a Six Man Tag Team match comprising of the unlikely grouping of Sheamus, Randy Orton and Big Show against the sneaky, effective The Shield. An energetic performance, in and out of the ring, with plenty of surprises create a fantastic opening match. Just as we think The Shield are about to destroy Sheamus, Big Show springs out of of nowhere and spears them, tumbling everyone down, including Sheamus. The Sheamus tag team also take delight in ripping the base layer armour from the bodies of The Shield's Dean Ambrose and Seth Rollins. With such egos bouncing around, it was inevitable someone would get the hump and that someone is Big Show who attacks his teammates after refusing to tag him when he wanted to do his part in the ring.
The action continues with a heavyweight match between Ryback and Mark Henry, now being marketed as his original nickname World's Strongest Man, a title he achieved from his past powerlifting achievements, rather than his past WWE nickname, the laughable 'Sexual Chocolate'. Despite it not being the most energetic, to see these two heavies slug it out is incredibly entertaining and just goes to show the strength of each of the wrestlers.
Determined to keep a fast-pace, the show introduce a Tag Team Championship match between Dolph Ziggler and Big E. Langston against Team Hell No (Kane and Daniel Bryan). In his debut WWE match, championship deadlifter Big E. Langston proves he is a force to be reckoned with against the towering red giant, Kane, who makes his 10th consecutive Wrestlemania appearance. With Dolph's girlfriend, AJ Lee, is ringside, screaming and acting her usual crazy self, she passes Dolph the 'Money In The Bank' briefcase to use as a weapon against Team Hell No. High-flying manoevres and inspiring techniques get the crowd chanting wildly in support of their favourite wrestlers.
After a remarkable tag team match is a match between fan-favourite, Chris 'Y2J' Jericho, against the ballroom dancing wrestler supremo, Fandango, who made his debut in March of 2013 and has a recent feud with Jericho who insists on pronouncing his name wrong in saracstic and disrespectful way. In contrast, this match is followed by a WWE World Heavyweight Championship match between the patriotic Jack Swagger and Mexican favourite, Alberto Del Rio. Having an American against an illegal 'immigrant', as Swagger's manager Zeb Colter puts it, makes the match that more personal and exciting to watch, as Jack Swagger is built up as a right-wing, all American fighter who has no time for other nationalities in his country and apparently represents'We, The People'. The match is tense and exciting with plenty of submission tecnhiques explored by both Swagger and Del Rio, particularly ankle locks and an armbar known as the 'cross arm breaker'.
As if Wrestlemania couldn't get better, the night continues with a match between The Undertaker and CM Punk, the latter of whom disrupted The Undertaker's tribute to his old manager, Paul Bearer, who sadly passed away earlier this year. Stealing Bearer's urn, CM Punk and his manager Paul Heyman taunted The Undertaker for weeks, with Punk promising to ruin The Undertaker's perfect 20-0 Wrestlemania record by making it 20-1 at Wrestlemania 29. This match made it a grudge match, with The Undertaker not only defending his record, but itching to triumph in respect of his good friend Bearer. After strutting out in a Gracie Jiu Jitsu Academy hoodies, CM Punk eyes up The Undertaker, continuing to play mind-games with the wrestling legend and the two scrap big time, leaving the fans on the edge of their seats as the wrestlers fight inside and outside of the ring.
Disc Two kicks off its 1 hour 19 minutes with the penultimate match of the evening, a No Holds Barred event between Brock Lesnar and Triple H, with Triple H forced to retire should he lose to Lesnar. The fight is a lethal one, with Lesnar revealing a grin each and every time he inflicts pain upon his opponent. The crowd whoop as the commentators table, timekeepers area, steel chairs, stairs and the sledgehammer are used to great effect, not to mention the use of the kimura arm lock.
After an incredible match between Brock Lesnar and Triple H comes the main event of Wrestlemania 29. The match has been classed as redemption by wrestler John Cena as he looks to take the WWE Championship belt from The Rock, after losing to him a year previously at the Wrestlemania 28 event. With fire in their bellies and a determination to win, John Cena and The Rock lock horns and fight a long, even-sided match. Both wrestling superstars show off their skills, but it's a tight call as to who will win the fight. Both John Cena and The Rock peform their signature moves and mimic one another but in the end, there is only one winner, to which the crowd erupt with joy for.
Though the action-packed event is over, there's still plenty to see in the special features, with the Post Show and Interactive Pre-Show Intercontinental Championship match between British wrestler Wade Barrett and The Miz, not forgetting the Third disc of the DVD set which is dedicated to the Hall of Fame Class of 2013 – Trish Stratus, Booker T, Bob Backlund, Donald Trump and Bruno Sammartino, with Mick Foley's Hall of Fame segment featuring on Disc 2. Throughout the first and second disc there's mini-segments and clips dedicated to certain wrestlers and storylines, along with a musical performance from P-Diddy. Living Colour also play their hit 'Cult of Personality' live to CM Punk's walkout entrance for his fight against The Undertaker, proving they can still perform the track as well as they did in the late 80's, which was one of my highlights from the disc other than the wrestling.
Wrestlemania 29 is absolutely unmissable! If you're a WWE wrestling fan, you NEED this in your collection.
Rating:
Wrestlemania 29 is available from WWEDVD.co.uk and Amazon