If you have a sweet tooth like me, then you'll know that reaching for those chocolate bars ain't the healthiest way to go for a cheeky snack, especially if you're training and on a diet. Thankfully, there's plenty of supplement brands out there who have their own treat snacks to satisfy our cravings and provide the all important protein to aid in repair and growth of our muscles.
In this review, I'll be taking a look at Bodybuilding Warehouse's brand new product Premium Protein Tasties in Toffee Flavour.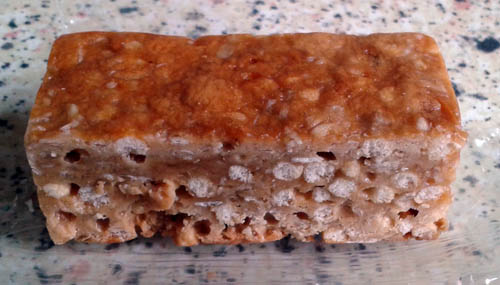 Appearance and Taste of Protein Tasties
A tub of Bodybuilding Warehouse Premium Protein Tasties contains 30x 30g protein tasty bars. Each Protein Tastie bar is oblong in shape and measures around 2.5″ in length, 1″ in width and 0.75″ in depth though of course this can vary slightly with each bar though they each weigh 30g.
The Protein Tasties have a honey coloured hue to them and smell faintly of toffee. They might not look as appetising as a chocolate bar, but don't be fooled. They may be a healthy treat but they certainly hit the spot.
At first, the Protein Tasties appear a little dry but as soon you sink your teeth into the oaty whey crisp goodness, the chewy moisture unleashes the toffee flavouring. The texture is thick and soft as you bite into it, and the more you chew, the more the toffee flavouring comes out.
These are quite a delicious, moreish snack and satisfy the sweet tooth in a healthier way than your standard chocolate bar ever could. You can polish a Tastie off in two to three bites, unless you gobble it all down in one, but be warned as you'll need to execute some self-discipline if you're to prevent yourself from eating the entire tub. Yes, they're that moreish!
Nutritional Value and Ingredients
Bodybuilding Warehouse Premium Protein Tasties contain Whey Protein Isolate (19%), Oats (13%), Humectant (Vegetable Glycerol), Fructo – Oligosaccharide, Whey Crisp (12%), (Whey Protein Isolate, Rice Flour, Emulsifier (Soya Lecithin)), Golden Syrup, Glucose, Water, Rapeseed Oil, Toffee Pieces (3%) (Sugar, Glucose, Preservative (Sulphur Dioxide), Full Cream Sweetened Condensed Milk, Non Hydrogenated Palm Oil, Butter Oil, Natural Flavour), Brown Sugar, Oat Protein and Natural Flavouring.
These delicious Protein Tasties contain gluten from oats, milk and soya and are produced in an environment that processes nuts and peanuts so anyone allergic to any of these would be better avoiding this product.
Whether your peckish between meals, need to feed yourself on the journey to work or want something quick and tasty to eat after training at the gym or martial arts club, the Protein Tasties are just the treat. Each 30g Protein Tastie provides 444 kJ/106 kcal of energy, 7.3g of protein, 13.9g of carbohydrates (4.8g of which are sugar), 2.3g of fat (0.5g of which are saturates), 2.8g of dietary fibre and 0.02g of salt.
Overall Opinion
A tub of Bodybuilding Warehouse Premium Protein Tasties are probably the most convenient snack to have around. They're sweet enough to satisfy my cravings yet provide that much needed 7.3g of protein after training. Without being sticky or sickly, they have the right amount of moisture and chewiness to be absolutely tasty to the point where I have to fight the urge to grab another. The size of them, each wraped in a plastic wrapper, means they're easy to carry on my person or put in my bag to eat whenever I'm on the go. A handy bite-size protein treat!
Bodybuilding Warehouse Premium Protein Tasties are available in toffee, chocolate chip, white chocolate marshmallow and double chocolate flavours in single, 30 piece tub and 100 piece case from Bodybuilding Warehouse.