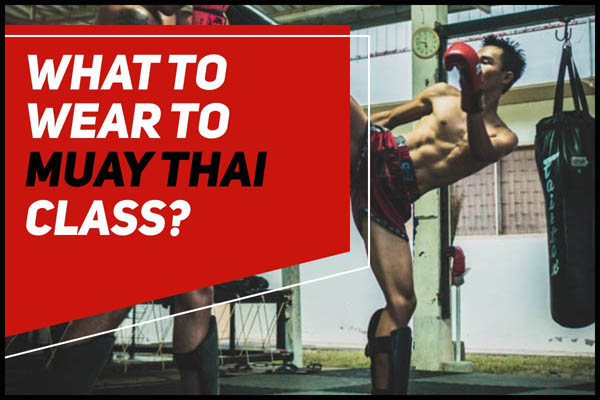 If you are interested in Thai boxing and thinking of attending your first Muay Thai class, it's pretty normal to be a bit unsure about what to expect. One of the first questions you may ask yourself is, "what should I wear to my first Muay Thai class?".
From training to competing in Muay Thai, I have provided a breakdown of the different items of clothing to wear and equipment you may need to take part in the sport of Thai boxing.
When attending your first class, you don't necessarily need any of these. After all, you may find that Muay Thai is not for you. You'll usually be fine wearing a t-shirt and shorts for your first few classes. However, if you've been bitten by the Thai Boxing bug and intend to devote yourself to Muay Thai long-term, then you'll find you will need some of the clothing mentioned below.
Whilst some clubs may let you borrow certain items of gear (boxing gloves, head guards), it's always better to purchase your own equipment for hygiene reasons and to ensure it's the right fit for you.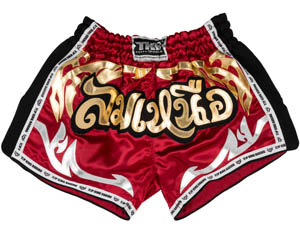 Muay Thai Shorts
When training Muay Thai (Thai Boxing), you want to wear something that is light enough not to slow you down but also gives you flexibility for the range of leg movements needed to execute head kicks and other kicking and kneeing techniques. Thai Shorts are specially designed to cater for unrestricted movement whilst the satin fabric keeps you cool as you train. The short length, wide-cut leg openings also allow air to circulate better therefore keeping your temperature down.
Thai shorts come in a variety of colours and some even have writing on the front which says Muay Thai in the Thai language. If you train at a club, they themselves might supply their own branded Thai shorts as part of their uniform so always check before buying your own.
Thai shorts are very recognisable and completely different in style to the thicker MMA board shorts that are more suited to grappling. In comparison, Thai shorts are lightweight with an elasticated waistband and flared leg openings. Thai boxers prefer short shorts and, in some cases, may roll up the waistband for an even shorter fit. Some fighters even wear their shorts with one leg rolled up to expose the muscle of their most powerful, dominant kicking leg.
Groin Guard
Worn under Muay Thai shorts, a groin guard is used by males to protect the groin area from any stray kicks that may land. Either used with a jock strap, tied over briefs or inserted into the front pouch of compression shorts worn underneath the Thai shorts, groin guards can be purchased in a range of materials varying from plastic to metal.
Whether you're looking for a groin guard for Muay Thai training or another martial art, the Diamond cup is known to be one of the best groin guards on the market, whilst others prefer the steel cups traditionally worn in Muay Thai that are made by the likes of Sandee.
Contrary to popular belief, being kicking between the legs hurts women too and thus you'll find some women also looking for groin protective products though these aren't as widely available for women.

Vest/Tee/Shirtless
What you decide to wear on top wholly depends on your taste and what the coach requires. Some people wear a t-shirt or vest, whilst others prefer to train shirtless, either bare-chested if you're male or wearing a sports bra if you're female. At Muay Thai fights, competitors are shirtless. With the sport of Thai boxing being quite intense cardiovascular activity, it's easy to get hot very quickly so wearing something light or going shirtless is often the way forward in order to keep as cool as possible during training.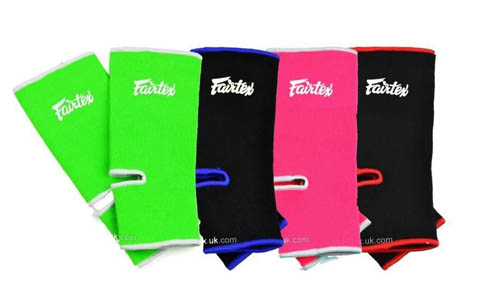 Anklets
If you've had an ankle injury or just need some extra support, then wearing anklets can provide that bit of reassurance you may need when training. Whilst anklets won't stop you from picking up or worsening an injury, they can help to support the joint, even if only mentally. Anklets are also worn to help prevent sweat from dripping onto the foot and floor, whilst others wear them purely as a fashion statement.
Prajioud/Kruang Ruang – Armband
In Thailand, a prajioud armband was originally given as a good luck charm from their mothers, or from masters to their students. Gyms in the West have adopted the armband as part of the grading system they have created (Thai boxers in Thailand don't follow a grading system).
Much like belts in other grading systems, again created by those in the West, the colour of the Kruang Ruang armband denotes what level you are in the syllabus being taught.
Mongkon – Headpiece
The Mongkon is a ceremonial headpiece to be worn when entering the ring for a Muay Thai fight. It is also worn whilst performing the Wai Kru Ram Muay ritual dance and prayer to provides strength and protection to the wearer for their fight.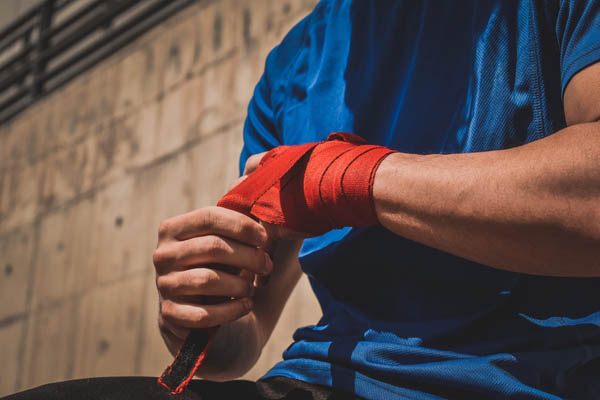 Pair of Hand Wraps
To protect your hands from injury when punching in Muay Thai, you'll need a pair of hand wraps. These are worn underneath the gloves to provide extra joint support for the hand when punching the bag, pads or sparring. With a number of small bones in the hand and the nerves and ligaments prone to injury, hand wraps help to keep the bones together and protect the hands. Most Thai boxers will wrap extra material in the knuckle area on the back of the hand as well as the wrist to provide the support these two key areas require.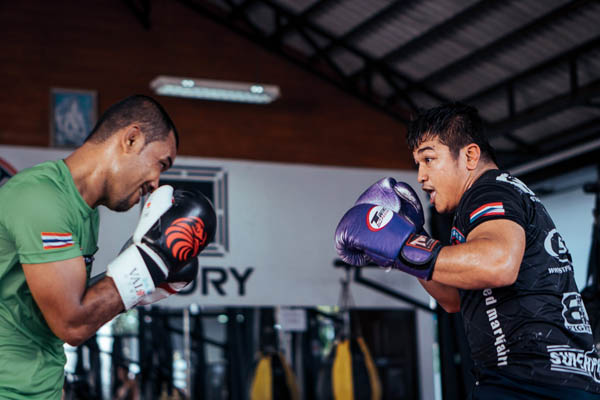 Boxing Gloves / Thai Gloves
Every Thai boxer needs at least one pair of boxing gloves in their arsenal in order to take part in the class. Whilst some classes may allow you to use club gloves on your first few lessons to see if you like it, it's highly recommended that you get your own pair as soon as you can, for comfort, protection and, most importantly, hygiene reasons!
When buying gloves to train in Muay Thai, you can use traditional boxing gloves but Thai brands have made Thai boxing specific ones that are tailored more towards the sport. Some of the best Muay Thai boxing gloves brands include Fairtex, Sandee, Windy, Boon and Twins.
Thai boxing gloves have been crafted in a slightly different way than traditional boxing gloves to allow the the mitt to be opened and closed thanks to more flexible construction, which makes them suited for gripping in the clinch. They also feature extra padding protection at the wrist and are shaped a little differently than the boxing counterpart.
In Muay Thai, you'll want a pair of gloves for bag work and pad work, and another for sparring. Using the same pair for both bag and sparring work isn't a good idea as the padding in the gloves will become compressed during bag work and therefore offers less protection for you and your sparring partner when training together. You'll also want different weight gloves for bag work, sparring and fighting.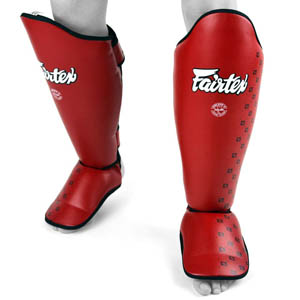 Shin Guards
If you're sparring in class, you may practice kicking and checking your opponents kicks whilst wearing shin guards to help protect your shins from injury. Amateur fights may also condone wearing shin pads but ultimately you'll want to utilise your shins sans guards as you would in professional fights.
Shin conditioning is an important aspect to Muay Thai but it's understandable that when starting out and training, you'll want to be able to practice and walk out of the gym for work the next day. As not all Thai boxers learn Muay Thai in order to fight or compete, some clubs may stick purely to sparring using shin guard protection.
Shin Guards are available in different materials, from the basic foam, elasticated shin guards to more durable, leather shin guards that will more than offer you enough protection.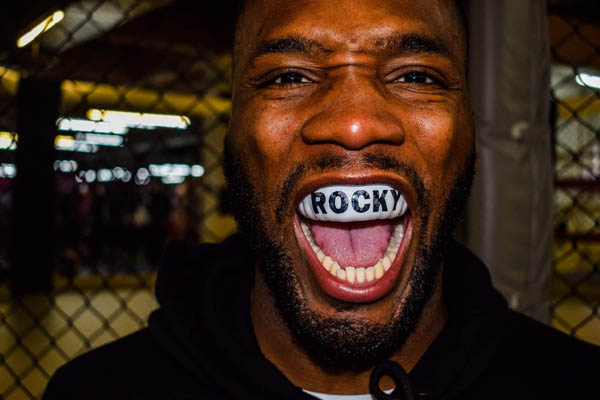 Gum Shield
When sparring or competing in a Muay Thai fight, the last thing anyone wants to do is chip or lose a tooth. Wearing a gum shield will help to protect your upper set of teeth from being damaged from any impacts to the jaw.
Gum shields are a super important piece of kit when it comes to buying protective gear and are used in all types of combat martial arts, not just Muay Thai.
There's a range of mouthguards available on the market, from the cheapest boil-and-bite gum shields to the custom-fit ones. If you're looking for the best option, I would always opt for a custom-fit gum shield as this is made to fit your mouth specifically from a mould they send you in the post, unlike the boil-and-bite ones.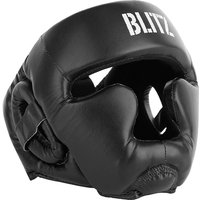 Head Guard
If it's your first time sparring at a Muay Thai gym, or you're an amateur competitor, then you may wish to protect your head from impacts when striking. Head Guards are there to offer you some protection from punches when sparring and are ideal for beginners. The head guards are padded, feature cheek pads and you can either choose ones with a chin bar or without.
Other Things You May Need For Muay Thai Class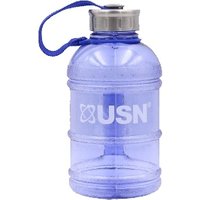 Water Bottle
One of the most important things to do during a Muay Thai class is to keep your body and brain hydrated! As Muay Thai is a very cardiovascular sport, you'll find yourself sweating a lot and so you've got to make sure you replenish the fluids in your body. Fill a water bottle or buy a bottle of water and take it with you to training. Always buy a bigger bottle if you're unsure so that you've got enough water to consume during your training session.
If you're training at one of the Muay Thai gyms in a hot climate then you'll need to keep hydrated more often.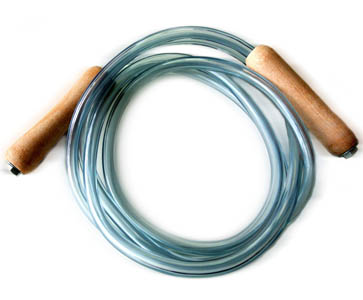 Skipping Rope
Like in boxing, skipping ropes or jump rope are used by Thai boxers as a great way to warm up and keep fit but also to improve footwork and strengthen the leg muscles. When jumping rope, you need to keep light on the balls of your feet and be coordinated to the rhythm so you know exactly when to jump. This is a perfect exercise to perform during class and is done so in many Muay Thai gyms across the world.
As with all martial arts, the better options for Muay Thai gear may cost more, but, like all things, if you want quality you often have to pay for it. Whilst it's recommended to always try to buy the best gear that you can afford, that doesn't mean you can't shop smart. With sales and special offers on throughout the year, you may be able to bag yourself some new boxing gloves at a reduced price so remember to shop around. By following us on Facebook and Twitter and by visiting our blog, we will keep you abreast with any special offer deals we come across!