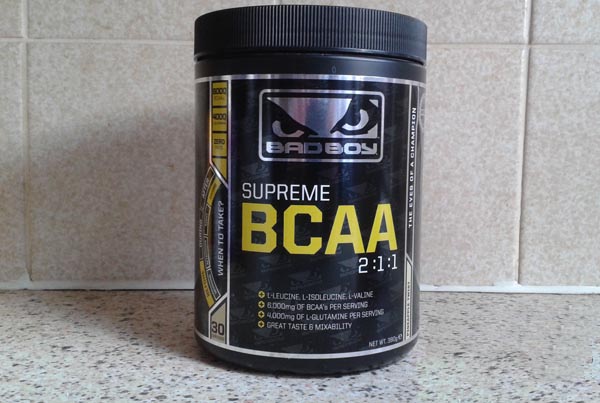 Recovery is an important part of training, whether it's in martial arts, weightlifting or sport, and getting those all important nutrients into our body as soon as possible helps to repair and grow the muscle.
In this review, I'll be taking a look at Bad Boy Supreme BCAA 2:1:1 in Pineapple Twist flavour.
Bad Boy Supreme BCAA 2:1:1 – Pineapple Twist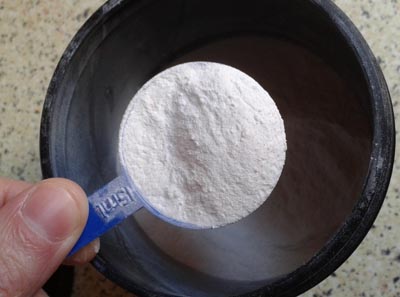 Bad Boy Supreme BCAA comes in a 390g tub which provides 30 servings of the Pineapple Twist BCAA powder. There's an unsual fruity scent when you open up the tub which doesn't exactly smell like pineapple. The powder itself is white in colour and super fine in texture.
Using the scoop provided, I add one level scoop (12.5g) of the powder to around 250ml of water. I like to use a full half-pint glass of water to mix my BCAA powders with. Adding the powder, it takes around 20 seconds to fully mix the BCAA powder with the water and what you are left with is a bold yellow drink full of branched chain amino acids.
The Bad Boy Pineapple BCAA drink is ultra smooth in texture with no lumps of powder to speak of providing you mix it completely. There's often a little bit of froth at the top of the glass but this is pleasant to drink. When I first tried the Pineapple Twist having used Black Cherry for ages, I wasn't overly keen on the strange pineapple flavour but now I find it quite nice. It tastes very much like pineapple and is very light and refreshing much like it's black cherry counterpart. You may find a small amount of powder sitting at the bottom of the glass but this is very minimal.
I find that the Bad Boy Supreme BCAA perks me up after training, especially the day after when I have it as a breakfast drink which wakes me up for the day ahead.
Ingredients and Nutritional Value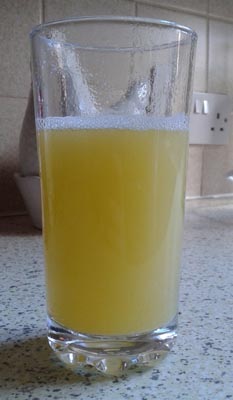 Bad Boy Supreme BCAA 2:2:1 Pineapple Twist flavour contains BCAA 2:2:1 Blend (L-Leucine, L-Isoleucine, L-Valine), L-Glutamine, Flavouring (Pina Colada), Citric Acid, Malic Acid, Tricalcium Phophate, Magnesium Citrate, Beta Carotene, Potassium Chloride, Trisodium Citrate, Inulin and Seeteners (Sucralose and Steviol Glycosides).
This BCAA supplement is not suitable for those with an allergy to milk, soya, gluten or egg.
Per 13g, Bad Boy Supreme BCAA 2:2:1 Pineapple Twist provides 189Kj / 45kcal of energy, 0g of fat, 0.9g of carbohydrates (0.03g of which are sugars and 0.87 of which are starch), 0.34g of fibre, 10 of protein, 3000mg of L-Leucine, 1500mg of L-Isoleucine, 1500mg of L-Valine and 4000mg of L-Glutamine.
Overall Opinion
The Bad Boy Supreme BCAA is such a refreshing drink that I look forward to consuming it. It's tasty and perks me up for the day ahead. When I've not taken it, I can feel the difference as I often feel tired and sluggish and my muscles can ache, symptoms which the BCAA seems to remedy. Though I can't know for sure, I definitely think my recovery has improved when taking this supplement. As a supplement product, BCAA is known to help repair damaged muscles which makes it a perfect post-training supplement. Whilst some whey protein formulas contain BCAA's, I much prefer to take separate BCAA supplements as the dosage is usually a lot higher.
A delicious, bold BCAA drink.
Rating: