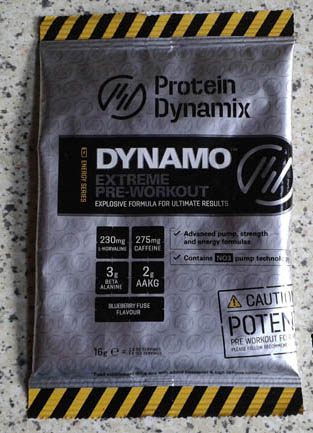 I love training in martial arts but sometimes the day's activities leave me a little tired or worse for wear and when evening Ju-Jitsu class comes around, I occasionally need something to perk me up to get me through the tough warm-up session of grappling, padwork and exercise. Other times, I'm looking for that edge to blast through and get the most of my workout, be it at home, at the gym or when competing. It's these sorts of moments that I reach for pre-workout supplements to energise my workouts.
In this review, I'll be sharing my thoughts on Protein Dynamix Dynamo Extreme Pre-Workout.
Appearance and Taste of Protein Dynamix Dynamo Extreme Pre-Workout
Opening the sample packet of Protein Dynamix Dynamo Extreme Pre-Workout Blueberry Fuse flavour, I smell a sweet, fruit scent though it's not quite apparent what flavour the powder is. The powder is fine in consistency and white in colour.
The sample packet contains 16g of the pre-workout powder which is the equivalent of two servings. As this is supposedly potent stuff and I'm training in the evening, I decide to opt for half the packet – one serving (8g) – and mix with 100ml of water as stated. If you're used to pre-workout powders and are looking for hardcore energy, then two scoops can be used (16g) with 200ml of water.
The pre-workout powder mixes very quickly and easily, turning the liquid into an aqua turquoise blue colour. Opening the shaker, I could smell a sweet, faint blueberry scent from the mixture.
Now for the taste test!
The Blueberry Fuse Protein Dynamix Pre-Workout drink is absolutely refreshing. It almost tastes like bubblegum flavour. There's no lumps at all, not even at the bottom of the shaker where some other branded powders like to congeal. The drink is smooth and tasty with a slight sweetness. As soon as the drink hits my lips, they begin to tingle slightly.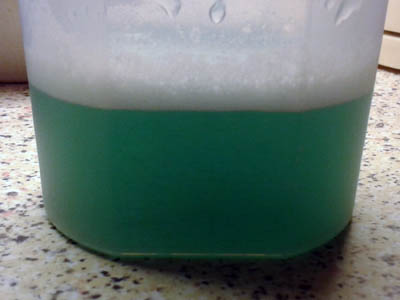 The Effects of Protein Dynamix Dynamo Extreme Pre-Workout
Protein Dynamix Dynamo Extreme Pre-Workout has a warning on the sample packet saying "Caution: Potent!". You'd better heed this advice because trust me, this stuff is the most potent pre-workout supplement I've ever tried! The sample packet contains a double serving for experienced users. Now, I'm not one to overdo the pre-workout, especially as I msotly take it in the evening and actually want to sleep at night. I decided to go for the novice dosage of one serving. I took it at 7.30pm and was wired until 4pm the following day. That's 20.5 hours that an 8g serving of this stuff kept me alert for. After this shocking experience, I decide to opt for a quarter of the packet – 4g (half a serving). I figured this might suit my needs better. Nope! Again, the potency of Protein Dynamix Dynamo pre-workout soon surfaced as I took the supplement at 7.30pm and eventually came down at 11am the next morning. Half a scoop kept me wired for 15.5 hours this time.
Unlike some other pre-workout supplements, you don't quite know that Protein Dynamo Extreme Pre-Workout is actually working. Besides from the little tingle on your lips after consuming the drink, you don't feel so much when actually training. There's no profuse sweating at all, which is a blessing. However, I noticed that when using the Protein Dynamix pre-workout I could push my body to the limit and beyond. Exercises were a doddle, rolling seems effortless, usual difficult sets of padwork routines seemed easier and by the end of a hard class, I still felt like I could train for a few more hours. It's not as though the pre-workout gave me so much energy that I'm running around the gym like a crazed maniac. Instead, I felt clear and alert, able to grasp what was being taught with a distinct clarity that improved my training experience. Even my fellow Ju-Jitsukas complained that I was choosing to do all the hard padwork and whilst they flagged, which I too normally would have, I was able to do multiple sets and still feel fresh afterwards.
Come bedtime, I managed to sleep but because the dosage was rather potent on both occasions, I didn't sleep too well with my brain working overtime. Waking up in the morning, I couldn't relax as my brain was on high alert, constantly assessing things. I will say one thing though, my work output certainly increased that morning which isn't a bad thing! 😉
When you eventually come down off the pre-workout, you don't feel anything as such. You just feel normal as opposed to feeling alert. The difference is ever so subtle but I could tell the difference between my normal self and that of still experiencing the effects of the pre-workout.
For competitions or hitting the weights or mats during the day, this pre-workout is a sure-fire winner. It's energy and concentration boost are so potent and long-lasting that you can keep going for rounds and still feel as though you can push your body. The clarity it brings is marvellous and allows you to analyse and perform so much better for longer.
Ingredients and Nutritional Information
Protein Dynamix Dynamo Extreme Pre-Workout Blueberry Fuse contains Dynamo™ Pump Amplifier (L-Citrulline, Arginine Alpha-Ketogluterate, L-Ornithine, Agmatine Sulfate, Glycerol Monostearate, L-Norvaline), Dynamo™ Strength Matrix (Beta Alanine, Creatine Nitrate, Betaine Anhydrous), Flavouring, Dynamo™ Energy Activator (Caffeine Anhydrous, Niacin (Nicotinamide)), Citric Acid, Grape Seed Extract, Sweeteners (Sucralose, Acesulfame K) and Colour (Blue FCF).
Per single 8g serving, Protein Dynamo Extreme Pre-Workout provides 131kJ/31kcal of energy, 0g of fat, 0.9g of carbohydrates, 0g of fibre, 6.5g of protein and 0g of salt. It also provides 1250mg of L-Citrulline, 1000mg of Arginine Alpha-Ketogluterate, 1000mg of L-Ornithine, 400mg of Agmatine Sulfate, 350mg of Glycerol Monostearate, 115mg of L-Norvaline, 1500mg of Beta Alanine, 1000mg of Creatine Nitrate, 500mg of Betaine Anhydrous, 137.5mg of Caffeine, 17.5mg of Niacin and 75mg of Grape Seed Extract.
Overall Opinion
Refreshing and not too sweet or overpowering, Protein Dynamix Dynamo Extreme Pre-Workout Blueberry Fuse is a wonderful pre-workout supplement and its extreme potency is to be admired. It might not be suitable for my evening Ju-Jitsu class needs, but it's certainly the go-to pre-workout formula for daytime training and for when I'm competing where I need to sustain my energy through a series of rounds and fights.
One of the best things about Protein Dynamix Dynamo Extreme Pre-Workout is that, in my case, I only need to take half a serving and still experience the potent effects which means the tub will last twice as long as usual. In a time where we all have to tighten our belts, this is a much-appreciated bonus. A 270g tub will give 33 8g servings so I'd get 66 servings out of it.
Keeping me alert without the excess sweating or any other weird side effects has made this particular pre-workout formula one of the best I've ever tried and certainly lives up to its extreme nature.
Rating:
Protein Dynamix Dynamo Extreme Pre-Workout is available in Blueberry Fuse and Raspberry Blitz flavour.
Check out our main site for any special deals and voucher codes for Protein Dynamix.