Anyone who knows me knows I have a soft spot for chocolate and my preferred way of getting that much-needed protein consumption after a hard session at CSW or Ju-Jitsu is by scoffing on a protein bar – a tasty, well-deserved treat. Upon hearing that Multipower had launched a brand new protein bar that contains chocolate, caramel and nuts, I just knew I had to try it out.
So here we have the review of the Multipower Power Layer in Caramel Peanut Crunch flavour.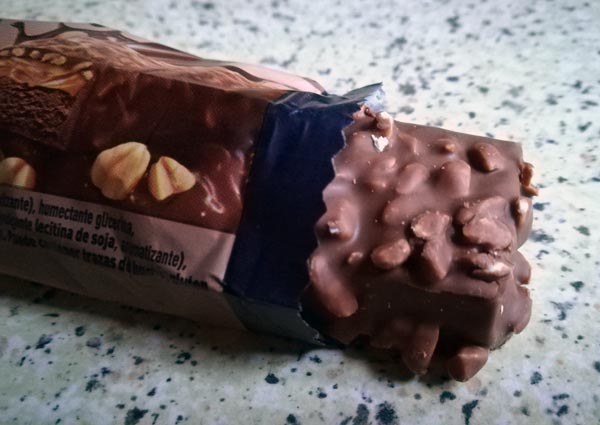 Multipower Power Layer Protein Bar
Packaged in a cool, brown wrapper, the 50g Multipower Power Layer measures 4 inches in length, 1.5 inches wide and with a depth of 0.75 inch. The nobbly protein bar is smothered with peanuts covered in a layer of chocolate, akin to a Lion bar. It looks absolutely delicious, especially to me as a chocoholic and to find that each 50g bar has 15g of protein (30% protein) is just the icing on the cake.
Biting into the Power Layer protein bar, it tastes super soft and chocolatey with a melt-in-your-mouth sensation. With it containing a fair amount of peanut on top of the bar, I expected it to be more crunchy and hard like a Snickers but it isn't. The different textures you can feel as you chew into the bar is incredible. You've got your chocolate covered peanuts, followed by a soft caramel layer and then another layer of deliciously smooth biscuity-chocolate. It truly is heaven in a bar and tastes as good, if not better, than the confectionery alternative.
If you've read my previous reviews, you'll know I spoke highly of Protein Dynamix DynaBar but I think Multipower have brought something here in the Power Layer bar that actually tops Protein Dynamix's offering. It just tastes so absolutely amazing!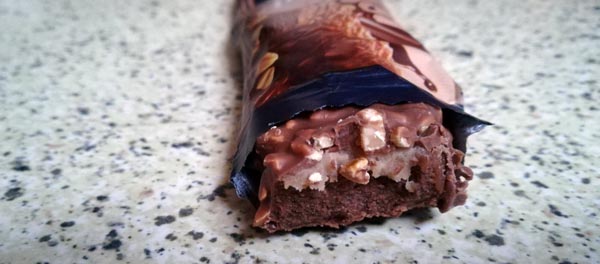 Ingredients and Nutritional Values
Multipower Power Layer Caramel Peanut Crunch contains Milk Chocolate (23%) (Sweetener Maltitol, Cocoa Butter, Milk Powder, Cocoa Mass, Emulsifier Soya Lecithins, Flavouring), Humectant Glycerol, Calcium Caseinate, Whey Protein isolate, Water, peanuts (5%), White Chocolate (Sweetener Maltitol, Cocoa Butter, Milk Powder, Emulsifier Soya Lecithins, Flavouring), Isomalto-Oligosaccaride, Palm Fat, Peanut Paste (2%), Cocoa Powder, Flavour, Sweeteners: Sucralose and Acesulfame-K.
This bar contains Lactose and may contain traces of Egg, Gluten and other Nuts therefore people with allergies to these particular products should avoid this particular protein bar.
Each 50g bar provides 794kJ / 190kcal of energy, 9.1g of fat (4.6g of which are saturates), 17g of carbohydrates (of which 1.3g are sugars), 1.9g of dietary fibre, 15g of protein and 0.12g of salt. The low sugar content and 30% protein content make it a wonderful protein snack to consume after working out to get that much-needed protein back in your system to help the muscles repair and grow.
Overall Opinion
Multipower have knocked it out of the ballpark with Multipower Power Layer with the silkiest, smoothest chocolate-flavoured protein bar I've ever had the good fortune to consume. It actually tastes better than most confectionery snacks out there but with the protein content that I need after grappling training. The handy size is perfect for chomping on after a class and it doesn't melt either when stored in my bag – always a bonus.
With protein bars like this, it's always a concern as to whether it's a crumbly bar or not. The Power Layer bar leaves almost no crumbs and is completely solid in its texture but soft as can be when you bite into it. It truly is heaven in every single bite. The only problem I have is trying to not reach for another one as soon as I've consumed one!
If you've got a soft spot for chocolate and are looking for a protein bar that delivers on more than just the protein content, I can heartily recommend Multipower's brand new Caramel Peanut Crunch bar. As of this review, it's my number 1 favourite bar and it's going to take some beating for any other bar to surpass it.
Rating: