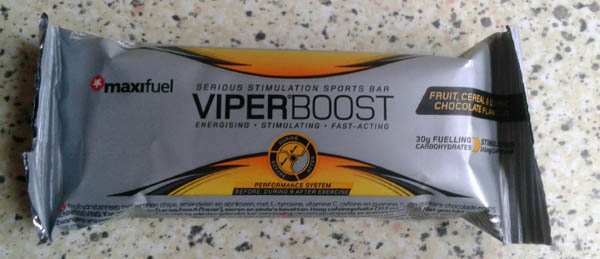 Sometimes we need a little pick-me-up before martial arts class or hitting the gym or it may be that we're struggling during the workout and need an extra lift. Energy bars are perfect for nibbling before or during exercise to help us get the most out of our training.
In this review, I'll be taking a look at the Maxifuel Viper Boost Bar in Fruit, Cereal and Dark Chocolate Flavour.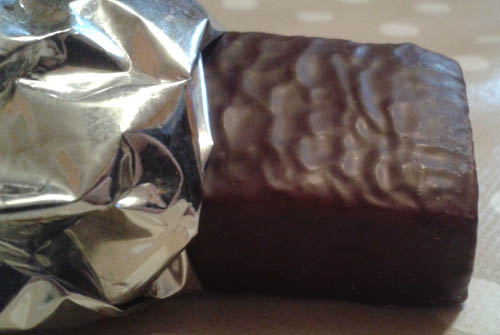 Maxifuel Viper Boost Bar
The Maxifuel Viper Boost bar measures 1.5 inches in width and 3.1 inches in length with a depth of 0.5 inches. The bar is coated in dark chocolate and looks quite appetising for an energy bar.
Biting into the bar, it's quite soft, moist and chewy with a definite chocolate taste. The fruit content soars through to the tastebuds and I can only say it tastes light and pleasantly sweet which must be down to the apricot content. The sweetness isn't too strong or overpowering, though the aftertaste seems more prominent than that whilst chewing the bar. Overall it's quite a refreshing bar with an uplifting taste complimented by a splash of dark chocolate.
Maxifuel recommend taking the Viper Boost Bar before or during exercise due to its fuelling carbs and stimulating 141mg caffeine content which will help push you through your workout.
The bar contains cereal crisps, almonds and apricots with L-Tryosine, Vitamin C, Caffeine and Guarana in a dark chocolate coating.
Ingredients and Nutritional Information
Maxifuel Viper Boost bar contains Sucrose, Rice Flour, Dark Chocolate (14%) (Cocoa Mass, Sugar, Cocoa Butter, Emulsifier: Soya Lecithin, Flavouring), Ground Almonds (13%), Maltodextrin, Fructose Syrup, Glycose Syrup, Cereal Crisps (5.8%) (Rice Flour, Sugar, Sunflower Oil, Emulsifier: Soya Lecithin), Humectants (Gylcerol, Sorbitol), Dried Apricots (3.1%), L-Tyrosine, Vitamin C, Flavouring, Dextrose, Caffeine, Colours (Beta-Caratene, Caramel E150c, Caramel E150d), Guarana Extract and Preservatives (Potassium Sorbate, Sulphur Dioxide).
Not suitable for those allergic to Soya, Almonds and Sulphur Dioxide. may also contain Milk, Gluten (Wheat, Barley and Oats), Egg and peanuts. Not recommended for children or pregnant women.
Per 100g, Maxifuel Viper Boost Bar provides 1789kJ or 425kcal of energy, 13.7g of fat (3.9g of which are saturates), 68.5g of carbohydrates (30.4g of which are sugars), 2.4g of fibre, 7.5g of protein, <0.1g of salt, 343mg of Vitamin C, 3001mg of L-Tyrosine, 313mg of Caffeine, , 17mg of Guarana.
Overall Opinion
Maxifuel Viper Boost Bar is just the right size to consume and is refreshing enough to satisfy my sweet tooth whilst also giving me the much needed carbohydrates and caffeine to help me push that little bit harder in class. I often feel a bit sluggish in the afternoon but eating the bar before Ju-Jitsu training definitely helped to give me the hit of energy needed to perk me up ready for the punishing rounds or padwork and rolling.
The fruit and chocolate content of the bar go together nicely although if you scoff it all down in one go the flavour can be a bit overpowering on the tastebuds due to the stronger aftertaste.
Rating: